By Jop Vos
Who Are the Brains Behind It? 
Matter was created by the Connectivity Standards Alliance (CSA). This 400-plus member group of tech companies includes all the big names such as Google, Apple, Samsung and Amazon. The members have been putting their heads together for years to create this new Matter standard that will make life much easier. CSA said matter "is a promise of reliable, secure connectivity. It is a seal of approval that devices will work seamlessly together—today and tomorrow. Matter creates more connections between more objects, simplifies development for manufacturers and increases compatibility for consumers."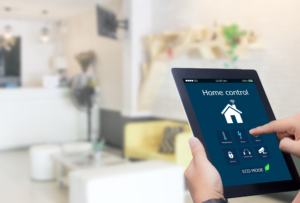 Life Before Matter 
The smart home sounds like a well-oiled machine full of smart devices that make life easier, but in practice this is far from the truth. Various devices require multiple apps and you can't control everything through the same smart voice assistant. Everything uses different standards like Zigbee and Z-wave and they cannot always communicate with each other. But Matter will solve these problems.   
Smart Home With Matter 
With Matter, two important things are about to happen for smart homeowners. First, it will become easier to install new devices because they communicate in the same way. Second, it will become easier to control devices because they work with the same app or voice assistant. This means that in the future, it really won't matter which manufacturer you buy smart lights, a smart security sensor or a smart TV from, as you can control them all through the same place in one household.  
Matter OverThread
Matter needs Thread, Wi-Fi or Ethernet to work. Thread is Matter's best friend, so to speak. The Thread mesh network is designed to make smart home devices work faster, better and use less energy. Even better, there is no need for a bridge and Thread is designed to be more reliable and connective and getsstronger every time a new device is added.
SmartWindow Coverings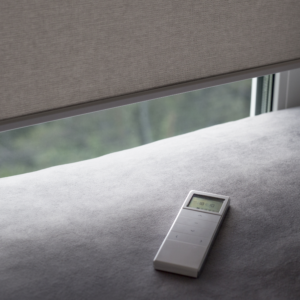 The first version of Matter—aka Matter 1.0—was released in October 2022. Blinds and shades have been chosen as one of the first product categories to be Matter certified. This is exciting news for the window covering industry because this means there is a new potential market that we can tap into. The growth of the smart home is accelerating at a substantialrate and in the next coming years we will see smart blinds and smart shades becoming increasingly popular all over the world.
Smart Shades in Action
What does a Matter-certified smart window covering, like Eve MotionBlinds,actually do? They can connect to any smart home ecosystem, without the need for a bridge, when a Thread border router is present. Set your blinds to open and close at any time you require, which means it looks like someone is home even when you are away. Let your smart blinds automatically adapt to changing temperatures inside and outside the home, helping to save energy.
New Window of Opportunity for the Industry
Matter really is a new window of opportunity for the window covering industry.At the Consumer Electronics Show (CES) in Las Vegas this year, we saw that Matter was the buzzword among smart home experts andwas one of the reasons why Eve MotionBlinds won a CES Innovation Award at this biggest tech event in the world. With smart home growth accelerating at a rocketing speedand all tech giants keen to get on board, smart window coverings will bethe future of ourindustry.
Jop Vos is the managing director of Coulisse in the Americas. 
Read this article in VISION's March/April Issue here.