Many businesses adopt the digital marketing approach these days to get as many customers or clients as they possibly can. This can be in app advertising, social media advertising, even teaming up with other businesses to market each other. So why don't you reach thousands of new customers by making an impression with VISION's exciting digital opportunities. Contract exclusive positions opposite the front cover, with demonstration videos or next to an article that highlights your products. VISION has several affordable options to maximize your marketing dollars!
---
Presentation Page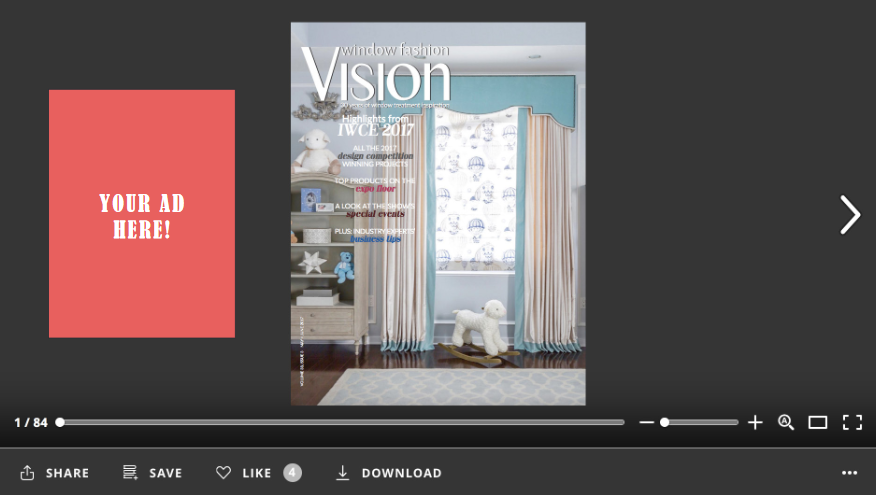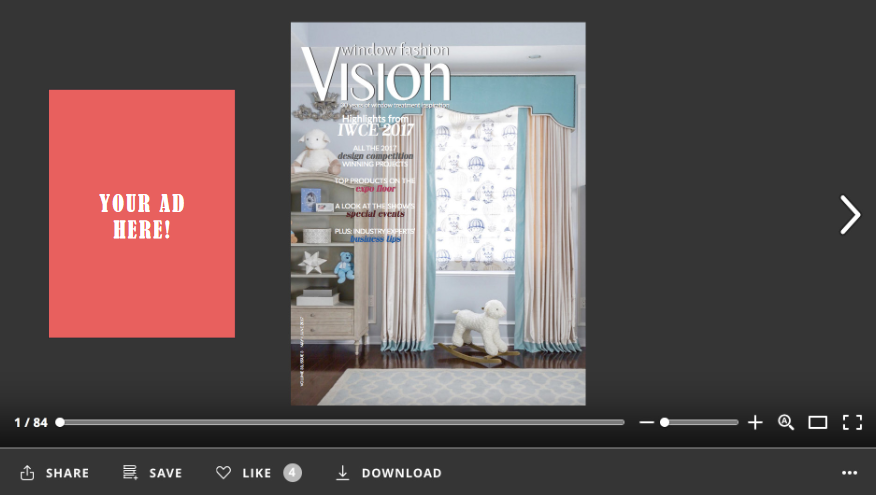 Available for the space to the left of the front cover, as well as to the right of the back cover. This can be any size you would like, as long as it is no larger than the issue itself (specified below).
| | | |
| --- | --- | --- |
| Inches | Pixels | File Format |
| 8.125″ x 10.875″ | 585 x 783 | PDF |
---
Videos & Slideshows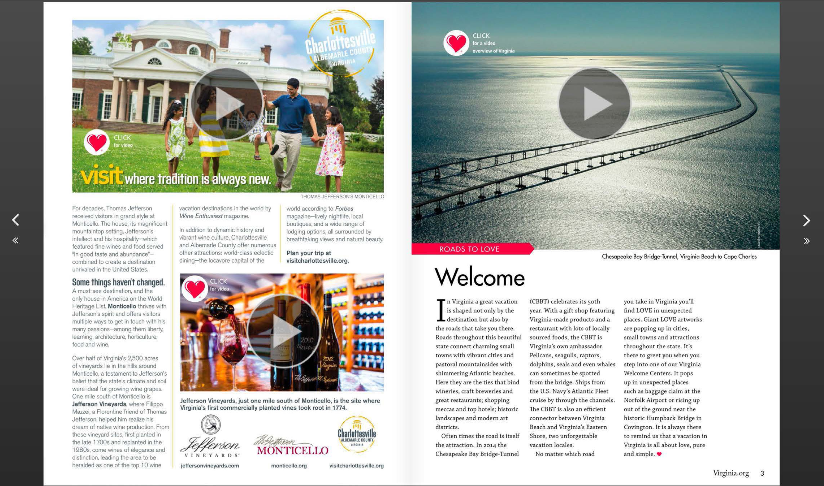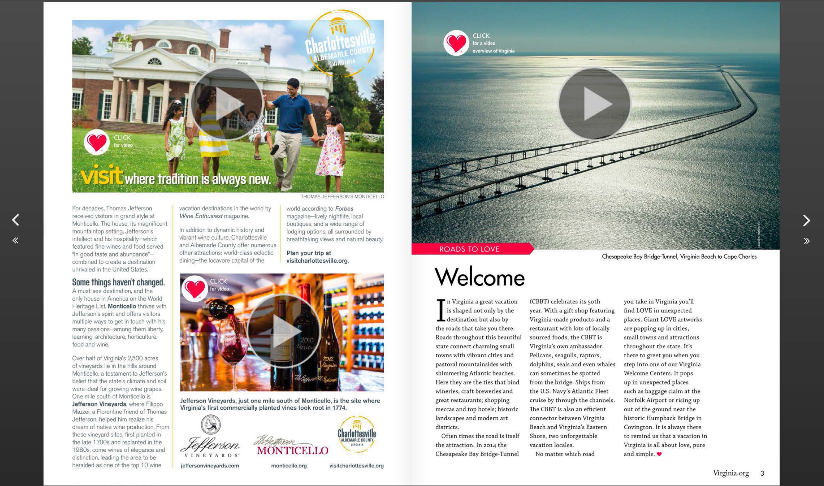 Videos:
Must be in MP4, F4V, or FLV video format with the following requirements:
Bitrate: The recommended bitrate is between 300kb/s and 700kb/s.
File Size: The maximum file size for a video is 100MB.
Duration: Videos must have a duration of 1 second or more.
Audio Codec: The only supported audio codec for FLV files is MP3.
Video Codec: MP4 files must use the H.264 or x264 codecs for video and the AAC or MP3 codecs for audio.
Slideshows:
Auto Slide:

True-Images will automatically transition from one to the next.
False-Left and right arrows have to be clicked in order to navigate through images.

Delay (ms): Determines how long each image displays.
Slideshow Finish Options:

Loop-Slideshow will loop after last image of slideshow.
Stop-Slideshow will end on the last image.

Display Type Options:

Embedded-Embeds the slideshow on the desired page.
Pop-up-Slideshow pops up and starts by clicking on a link.
Images must be .jpeg format. For better compatibility, please upload an image that uses RGB colorspace, otherwise your image will automatically convert to RGB colorspace.
| | | |
| --- | --- | --- |
| Inches | Pixels | File Format |
| 8.125″ x 10.875″ | 585 x 783 | PDF |
---
Margin Ads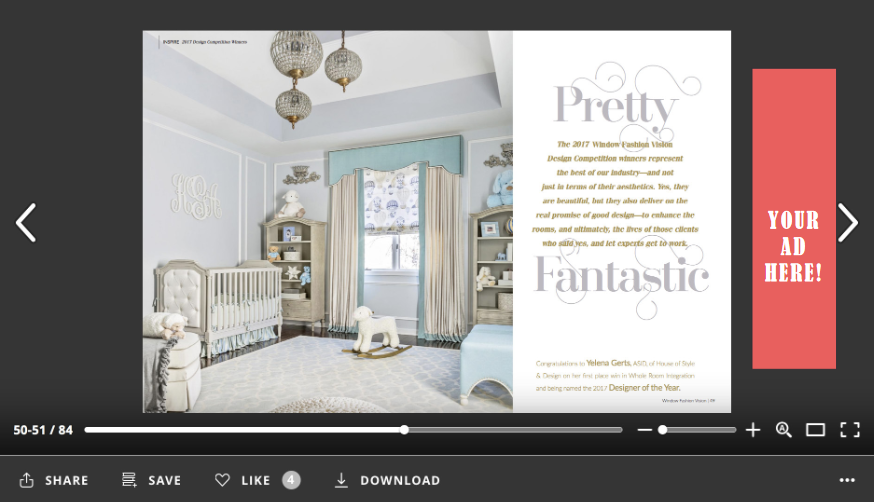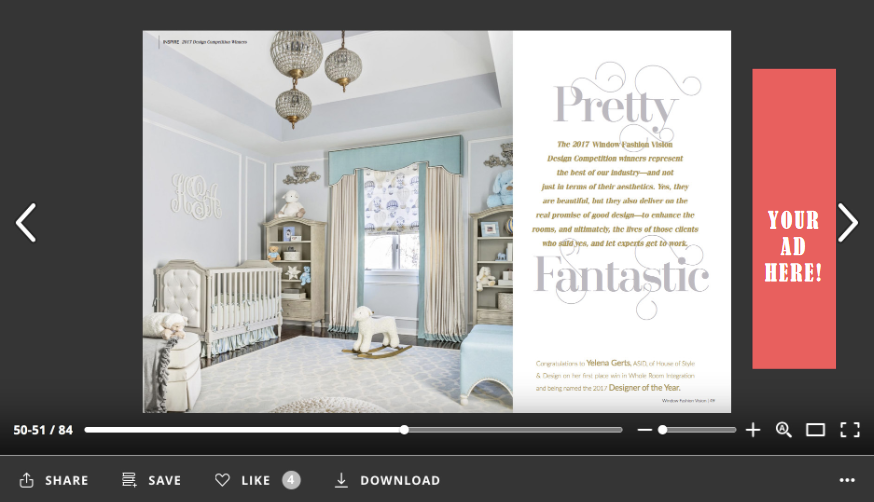 Place your message next to one of our popular columns so our readers see your company and products while they read the information-motivating them to buy your products!
| | | |
| --- | --- | --- |
| Pixels | Color | File Format |
| 160 x 600 | RGB | JPG |
---
Page Inserts
Add your story into the pages of VISION's digital issues! These affordable rates let you tell your story in our popular issues forever. Add a demonstration video for even more impact and let readers see your article as part of the issue you select.
| | | |
| --- | --- | --- |
| Inches | Pixels | File Format |
| 8.125″ x 10.875″ | 585 x 783 | PDF |
---
Discuss Your Options