From Oregon to New York and nearly everywhere in between, wineries are a lucrative business. Interior designers and window treatment professionals who want to work with them will find a wealth of opportunities in this hospitality-focused space. For this article, designers in California showcased two very different projects and talked about what it takes to woo winery clients — no wining and dining required.  
The Project: Aperture Cellars, Healdsburg Aperture Cellars is a project by Jesse Katz, the son of famed photographer Andy Katz. Perhaps, then, it is not surprising that Katz wanted a tasting room with the look and feel of an art gallery. The space needed to be simple, yet edgy, with as much thought put into form as function.
According to Palmer, the pinnacle of the roof in ultramodern space was designed to resemble the aperture of a lens. When she was thinking about her design inspiration, Palmer notes,
"I stood underneath it and looked out, and I wanted there to feel like there was open flow coming from that space, with few or no barriers." There also needed to be a strong interplay between the indoors and outdoors so people could view the vineyard and understand the origin of the product they were enjoying.   
To that end, the space has floor-to-ceiling windows in several of the private tasting rooms. While that provided the desired views, it also allowed the California sun to beat in at certain points of the day. To provide cooling and light-blocking, Palmer specified solar roller shades from Lutron and modern-looking hardware from J Geiger. The motorized shades can be quickly raised or lowered as needed while providing a neutral presence.  
Top Takeaways 
It's all about the brand.  
One of the ways that commercial projects differ from residential projects is that "everything starts with the brand," Palmer says. "The first conversations are, 'What is the brand? What is your message? What is the feeling? What are you trying to say, and what feelings are you trying to evoke?' The most important part of hospitality design is a feeling and a story, and that all comes from the brand." Only once you fully understand that can you start to develop a concept for the project. 
Strike a (technical) balance.  
One of the things Palmer loves about hospitality design is the technical side. In a winery project, it's vital to think about issues such as fire codes, the wearability and longevity of fabric, and compliance with local and state laws. Make sure you have some understanding of those requirements before diving into any project.   
Window treatments are key. 
Palmer is a huge fan of using window fashions in hospitality projects. "They soften the space visually," she says. "It makes everything feel a little more upscale. It's a great way to bring in pattern."  Window treatments can also act as functional objects.
"In hospitality, you have to be very conscious of sound bouncing from hard material, so (window coverings) offer a buffer from sound," says Palmer.
That is especially true in double-story rooms. Window treatments can also become an architectural element, dividing rooms into smaller spaces.  
The Project: Jordan Vineyard & Winery, Healdsburg  
Jordan Vineyard & Winery is one of Sonoma's most heralded wineries. In the brand's early days, Tom and Sally Jordan dreamed of building a French-style chateau atop a hill on their property. The resulting building, finished in 1976, graces every bottle of wine and is the center of the company's hospitality program. It includes three overnight rooms that were meticulously decorated with fine finishes and French antiques, many of which were sourced by Sally herself.  
When the space was ready for a modern update, the team at Jordan turned to Haidamus, a boutique designer who specializes in upscale residential projects. It was challenging to work on the project during the COVID-19 pandemic because it was impossible to travel to France or anywhere else to gather ideas. Instead, Haidamus says,
"My inspiration was drawn from the actual space. For the window treatments, I wanted beauty, finesse, and the highest possible workmanship and refinement."  
 To that end, Haidamus designed draperies and valances made from wool and silk—no synthetic fabrics—with simple, but effective, hardware. To make sure the treatments blended into the design, she chose fabrics with no pattern. Ornamentation was limited to a simple but French-inspired trim on the leading edge of a few drapes. The treatments were fabricated by Tom Malatesta of Malatesta & Co. in San Francisco.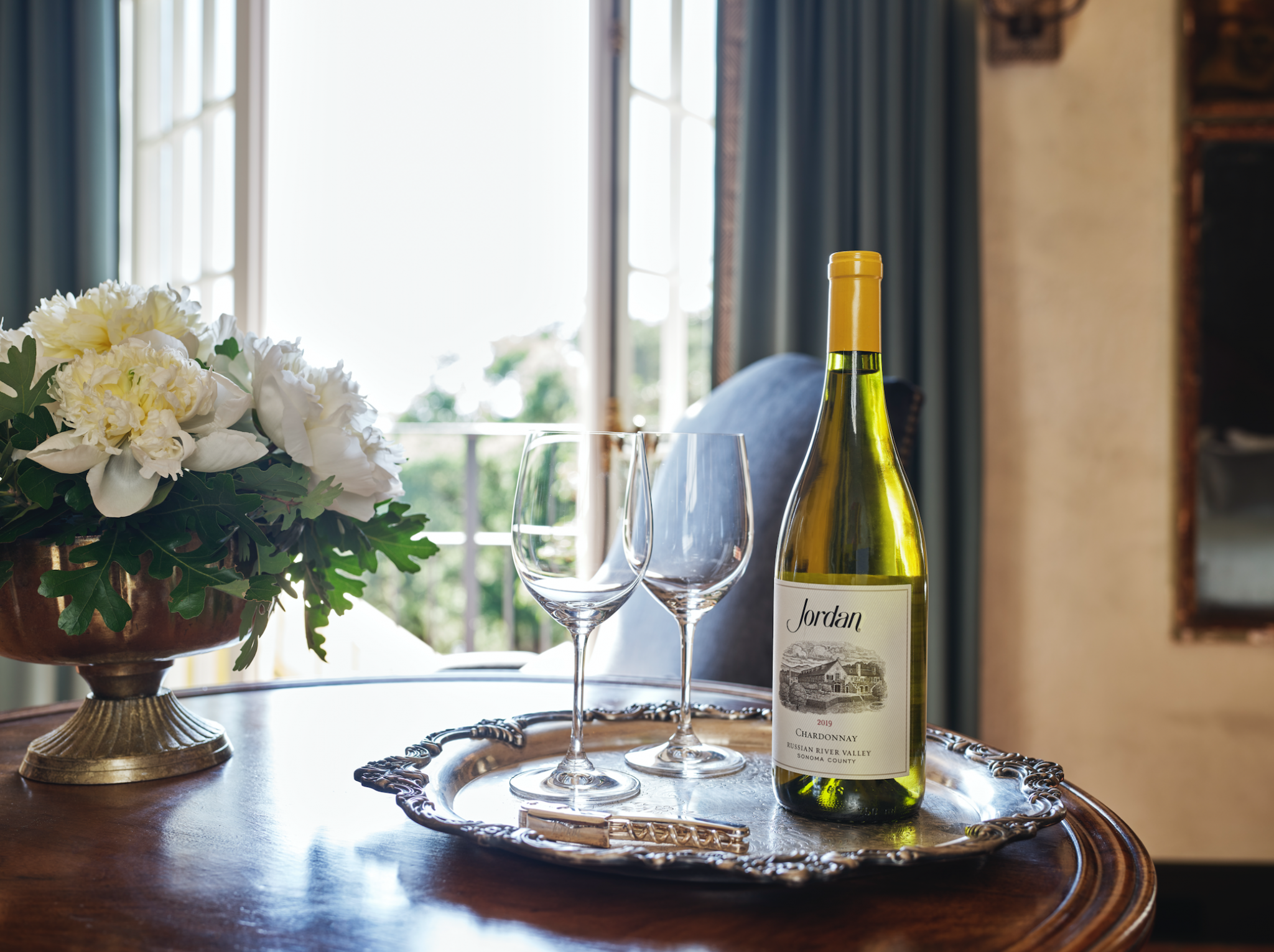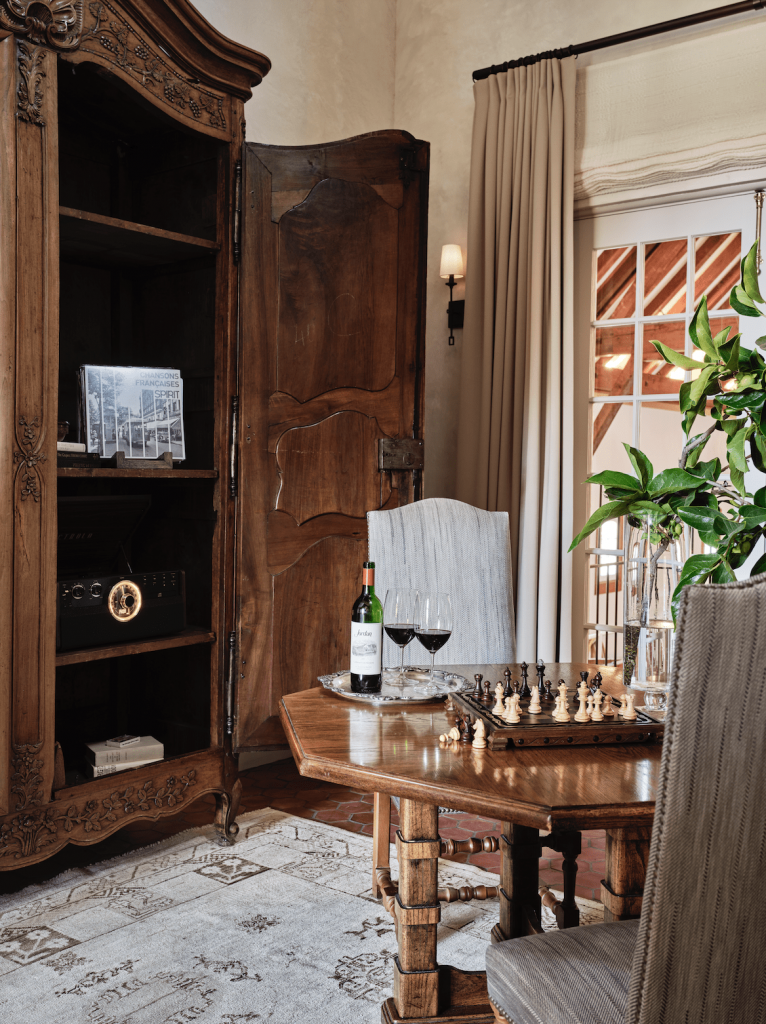 Top Takeaways
Trust your gut.  
Given that she hadn't done a lot of commercial projects, Haidamus was nervous to dig into the Jordan project. She quickly learned that trusting her gut was key. "It's very helpful when, as designers, we're confident with our vision," she says. "That confidence is very transparent, and the client feels it. That level of trust is such a key to a successful project."   
Wineries are more than wineries.  
Although Jordan is a winery, the portion of the project that Haidamus worked on was semi-residential, she said, because she was designing bedrooms and a sitting room. Especially for people without a lot of experience in commercial design, remembering this can boost their confidence and help them sell their skills.  
"When people think winery, they think tasting room, they think barrel room or reception area," Haidamus says. "For me, the suites are like home. I wanted the line between commercial and residential to be erased. I wanted them to feel like a space you can connect to. That's very comforting, and you do have a sense of belonging when you walk into a space that feels homey."  
Written by Sophia McDonald Bennett
Sophia is a former Editor-in-Chief of Window Fashion VISION magazine, and is an experienced freelance writer and editor, marketing instructor, and communications consultant. Sophia's main areas of interest are food and farming, wine, interior design, sustainability, reuse and recycling, and marketing communications. sophiamcbennett@gmail.com