Every summer Wolf Trap Foundation for the Performing Arts, the 117-acre US National Park located in Vienna, VA, hosts over 100 concerts and performances across all music genres in its outdoor theaters and venues. It is interesting to note, Wolf Trap is the only National Park whose mission is the presentation of the performing arts.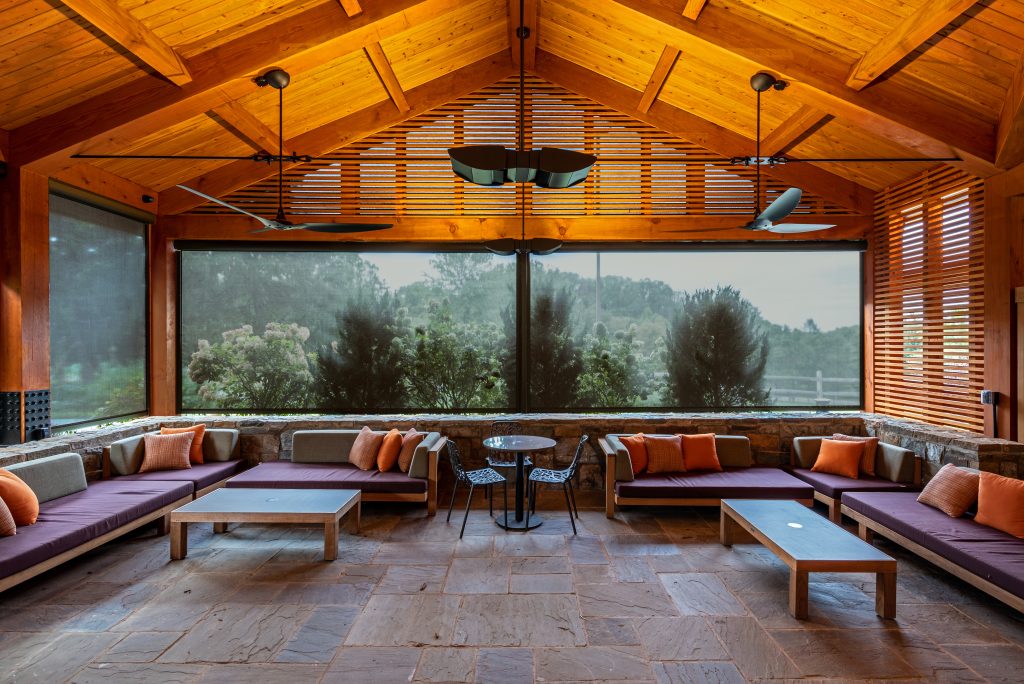 In addition to performances, Wolf Trap features four covered decks that are available for special event/occasion rental. And although these decks are covered, rain can still be an issue, especially on the decks' outer edges. Thus, to be considered an ideal outdoor venue, Wolf Trap needed a solution to be able to keep the rain out while preserving the majestic views of the park's natural surroundings.  
Working with Draper and Goodwin Brothers Shades and Specialities, LLC the necessary solution was found with the motorized FlexShade® ZIP shades.  
Traditionally, people think shades are only used to control glare and solar heat gain through windows, but they are also effective for other uses.  
"The rain doesn't penetrate the mesh shade fabric, and the 'ZIP' feature on both edges keeps the panel securely in place, so there's no leakage," said Clint Childress, LEED AP, solar control solutions product manager for Draper. "These shades allow Wolf Trap to create a controlled climate for a more year-round events space impervious not only to rain, but also to wind, insects and temperature extremes."
To maintain the visual aesthetic of the property, Draper selected a dark shade fabric with a 3% openness factor. The combined color and openness serve to provide protection while preserving the park's views as well as complimenting the design aesthetic of the venue.   
The FlexShade® ZIP shades are designed to also address safety concerns. "When you have a large number of people and objects in close proximity to the edge of the deck, there is sometimes a concern that a shade will deploy and cause injury or be damaged," said Childress. "We avoid this possibility by using radio-controlled obstruction detection motors. If a person or object is in the way of a descending shade, the unit senses the obstruction and reverses course."
The FlexShade® ZIP shades worked perfectly in providing protection for the elements while preserving the beauty and splendor of the Wolf Trap experience. 
More information:
Wolf Trap National Park for the Performing Arts Project Details

Product:

62 Draper FlexShade®

 ZIP shades

To learn more about Draper and the FlexShade ZIP visit

draperinc.com

To learn more about Wolf Trap National Park for the Performing Arts visit

nps.gov

 
Sponsored by Draper Inc