Unplug and Recharge 
Whether you want a more functional area for large gatherings or just a place to unwind when the workday is done, an outdoor living space often beckons; most of us spend much of our waking hours indoors. Now, researchers are discovering the health benefits of spending more time outside, making having an outdoor living space more attractive. 
In the busyness and distraction of our digital age, connecting with nature is a great way to slow down, unplug and recharge your mental batteries. Taking a break from digital devices and focusing on the natural landscape can help you forget about the stresses of everyday life and refresh your brain, reducing tension and anxiety. 
Digitally speaking, spending time outdoors can even help protect your vision! As the Journal of International Ophthalmology reports, it's well-documented that the blue light emitted by laptops, cellphones, televisions and other electronics can strain your eyes, especially when you use those devices for long stretches. In children and teens, too much screen time can increase the risk of developing nearsightedness. 
By stepping away from your electronics and focusing your attention on the beauty and wonders of nature, you'll give your eyes and mind a much-needed break from the continual distractions of modern life. Spending time with family or friends on a deck or patio or in a sunroom or on a lanai—without your cellphone or tablet—can prove restorative. 
Take Care of Your Body 
The pressures and pace of life can take a toll physically, leading to dangerous conditions like high blood pressure and heart disease. While health problems like these are rising, science suggests that spending more time outdoors can reduce your risk of developing them or help reverse their effects.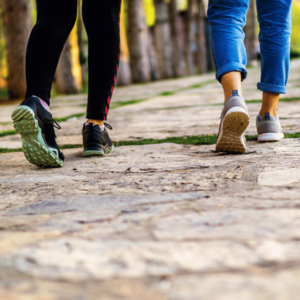 Researchers at the University of Cambridge found that taking a daily walk of just 11 minutes can cut the odds of premature death, while a study published in Scientific Reports found that spending just two hours a week outdoors can cut the risk of cardiovascular disease, diabetes and obesity. And if you're worrying about how to find a two-hour stretch, there is no need to stress: It's the total weekly time that counts! Adding a short morning walk every day or enjoying a meal on your screened-in porch are terrific ways to take in the sights and sounds of nature and take care of your body. 
Spending more time outdoors can even help you sleep better—and better sleep means better health. One study reported in Preventive Medicine found a connection between more outdoor time and improved sleep quality, especially for people who enjoyed green space, the ocean or other bodies of water and sunlight. With sleep quality connected to many health benefits, including improved cardiovascular health and a lower risk of obesity, that's a strong reason to invest in an outdoor living space that draws you to nature.   
Suppose you're wondering exactly how nature is connected to your health. In that case, Professor Richard Fuller from the University of Queensland, who studies the connection between green spaces and health, explained the reason in a recent QC magazine article: "Looking at natural settings produces changes in our brains and our blood, leading to less stress and better recovery from stress. Since focusing on nature requires our attention in a much different way than focusing on the demands of everyday life, it can make us mindful in a much healthier way." 
The implications for human health could be significant. As a study in Scientific Reports concluded, spending 30 minutes or more each week in outdoor green spaces could reduce the incidence of high blood pressure by 7%. And with hypertension connected to so many serious diseases, cutting down on the risk is a great reason to make outdoor living part of your weekly routine. 
The Sun Can Do You Good 
With concerns about the dangers of too much sun exposure and the connection to skin cancer, the sun often gets a bad rap. But there's evidence that spending a little time in the sun can boost your vitamin D levels, which is important to your health. 
Of course, it's never a good idea to spend too much time directly in the sun without protective clothing or sunscreen, especially when UV levels are at their highest. Yet, short stints in the sun can help your body produce natural vitamin D, which many physicians say is lacking in most adults. That's a big potential benefit since vitamin D is linked to better immune function (helping you fight off illnesses and infections), reduced inflammation (known to be a contributor to many health conditions), better calcium absorption (critical for strong bones) and lower risk of cognitive decline and of some cancers, as reported by the Harvard School of Public Health. 
Besides all the physical benefits, those sunny rays can contribute to better mental health. With the rate of depression, anxiety and feelings of loneliness skyrocketing, especially in our post-pandemic world, adding a little sunshine to your day could boost your mood and keep negative thoughts at bay. Enjoying your morning coffee on the deck or reading a book on the patio may be what you need to lift your spirits. 
Take in the Sights and Sounds 
What is it about being outdoors that's so good for our bodies and minds? It's the combination of what we see and what we hear while outside that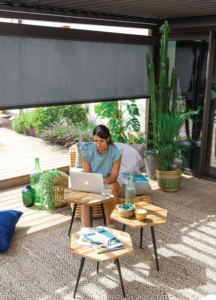 makes an impact. 
Gazing at a bright blue sky, looking out over a blooming garden or watching a bird land on your porch railing can have a calming effect. Listening to the evening crickets from your back patio or taking in the soothing sounds of your garden fountain can be peaceful and serene. All the more reason to add an outdoor living space that brings you closer to the sights and sounds of nature! When you can't get away from it all and flock to a lake, the ocean or a national park, having your own oasis from the noise and frenzy of everyday life can be just as uplifting. 
Even when you can't get outside, you can take in all that nature offers in other ways that are just as good for the soul. Sitting near a window while you eat lunch, working in a space with natural light and a view of the outdoors or downloading an app with soothing sounds of an ocean, a waterfall or a rain shower can calm your mind, bring down your heart rate and melt away your stress. It's the next best thing until you can escape those four walls!   
And, of course, bringing nature indoors is a great way to connect with the outdoors when you can't venture outside. Add different varieties of houseplants and potted herbs in planters that reflect your style to surround yourself with greenery. Just opening the windows and inviting in the breeze or the scent of fresh-cut grass can create a soothing, tranquil environment. 
As science supports, making nature part of everyday life is a prescription for better health. From recharging mentally to staying fit physically, the benefits are clear. Perhaps that's why outdoor living spaces are among the top home improvements on consumers' lists today.