We interview the Roetgering brothers, founders of Coulisse, and inspirational leaders in sustainable window covering product development and philanthropists of our future.
You both founded Coulisse in 1992. What was your inspiration for founding the company? 
Maurice Roetgering: Entrepreneurship runs in our family. Our passion has been with trade ever since we were young. We were very much determined to be one of the first companies to import window coverings from Asia. Those two combined became the initial inspiration for founding Coulisse.  

Christiaan Roetgering: Today, 30years later, Coulisse has matured into an inspiring international work environment and a company that actually makes an impact on many levels. All based on the belief that window coverings are much more than just a functional product, we are redefining our market to lift window coverings to a higher level together with leading partners across the world. 
What were/are your core values in respect to Coulisse? 
CR: Coulisse is a family-owned business with a dynamic and down-to-earth culture that is typical for the Dutch and even more so for our region. Although we have grown into a leading player in our industry, the same core values still apply. Integrity, respect, transparency, ownership and involvement are the foundation of how we work together as a team and how we present ourselves to the world. 
With a dedicated team, we create a professional, safe and healthy working environment with an open atmosphere. Our eyes are always on the future, and Coulisse is a place where people can be the best version of themselves and initiative is encouraged. As a passionate team, we are constantly on the move while having fun doing what we do. 
Coulisse has made sustainability a core focus. How do you advance sustainability? What are some specific actions or developments Coulisse is doing to advance that concept? 
MR: Sustainability has become an important topic over the past few years. We are happy to see this focus also in our line of business. For Coulisse, however, sustainable thinking has been part of the process for quite some time now. We aim to help make the world a better, safer and more comfortable living environment. Based on this belief, we continuously invest in sustainable product development, we take care of the well-being of all our employees and we take pride in restoring local ecosystems.  
We have so many new initiatives and ongoing projects that touch on the topic of sustainability on different levels. For example, our plans are to build a 700,000-square-foot, fully self-supporting, solar-powered Coulisse campus including the use of hydrogen technologies. This further adds to our sustainability goals, our efforts to promote the use of electric cars, our sponsorship with Trashpackers (a global platform that enables backpackers to join clean-up initiatives during their travels), or the recent restoration of the historical area where we were both born.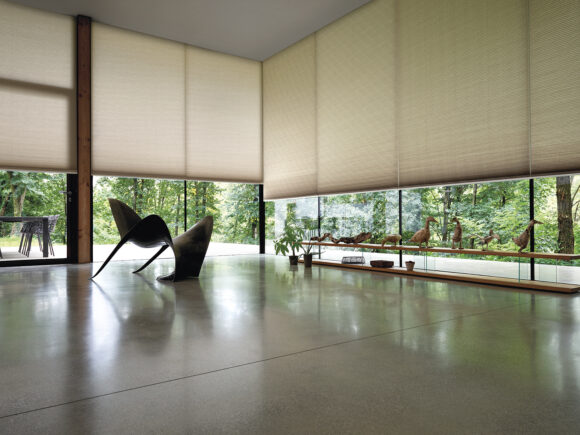 CR: Looking at sustainability from a product perspective, we aim to design window covering systems that are modern, safe, easy to install and easy to use. Our modular hardware concepts, for example, allow for creating different products with only a minimum number of multifunctional components. Since the components can be reused for multiple systems, we don't need to manufacture, transport and stock as many, making our industry more sustainable
And look at the phenomena of smart technology. We cannot imagine a world without it; smart technology is at the heart of modern society. Between smartphones, intelligent voice-controlled home applications and virtual or augmented reality, everyday life is filled with a wide range of digital comforts. Devices in and outside the home are more and more connected. People also want to include their window coverings in their connected home networks. Therefore, our team of engineers developed MotionBlinds, smart technology for the application of window coverings. Motorized window covering products not only offer comfort but also contribute to safety, well-being and cost and energy saving in homes and buildings, which adds to their sustainability.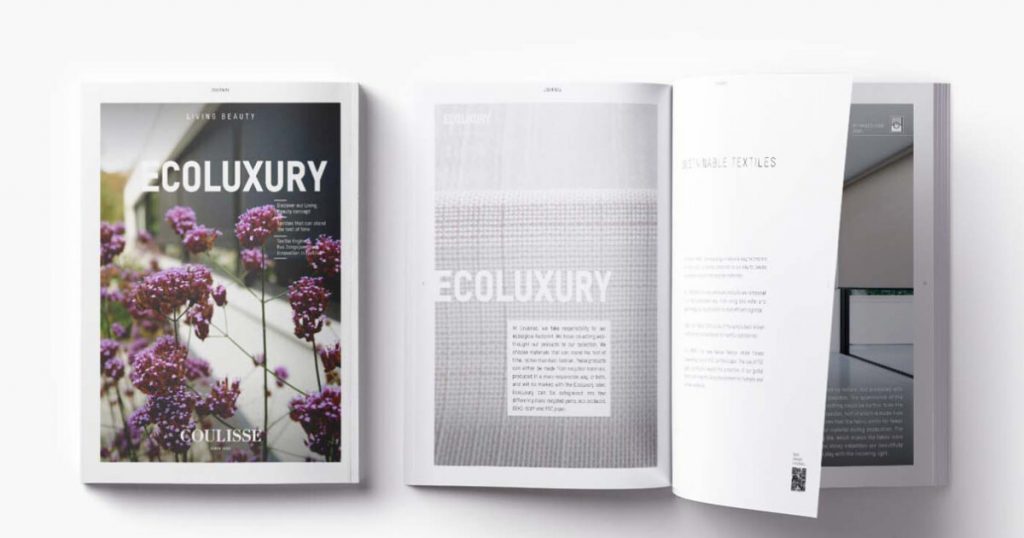 MR: We are also quite proud of our EcoLuxury textiles. As we take responsibility for our ecological footprint, we choose materials that can stand the test of time, rather than fast fashion. These sustainable window covering textiles are either made from recycled materials, produced in a more responsible way or both. EcoLuxury is built around four different pillars: recycled yarns, eco produced, OEKO-TEX® certified and FSC paper. Producing these fabrics has less impact on climate change compared to producing conventional polyester fabrics because less energy and water are needed.  
 Also sustainable, but more aligned with our views on corporate social responsibility, was the founding of Inclusive Production, a small-scale commercial manufacturing facility that employs people with disabilities and people from disadvantaged backgrounds. Here, staff members manufacture a range of products in limited quantities, guided by experienced team leaders who make sure the results are guaranteed to meet the Coulisse quality standards.  
How do you encourage and inspire innovative ideas within your company?  
CR: It is our mission to excel in window coverings and to put our partners ahead of the curve. From a unique design approach, we are developing advanced collections, innovative systems, and smart technology. All of us at Coulisse contribute to that in some way, shape, or form.   
Through regular internal communications, we make sure our colleagues are kept up to date on progress, new products and developments so they can incorporate that knowledge in their day-to-day business. For new colleagues, we have an extensive onboarding program that allows them to get to know the company and our way of working.  
 MR: We have an open culture, which makes it easy for people to just drop in and ask around. Coulisse colleagues are proud of their work and always willing to share ideas and knowledge or brainstorm on new initiatives or ideas. This is a source of inspiration and new insights for all of us.   
Also, we encourage people to learn about and understand the process of product development. With the Coulisse Academy, we have a great in-house e-learning tool to support this. Then there are trade show visits, trend seminars, trend books, etc. People take inspiration from all sorts of things, even their workspace. That is why our offices are designed to be an inspiring environment. They have proven to be rather fertile grounds for innovation. It is right there where we, from a unique design approach, are developing advanced collections, innovative systems, and smart technology. 
How is your employee base empowered so they align with your sustainability and product development goals? 
MR: Sustainable thinking is somehow part of our DNA. It is what we have always done, without a plan or agenda but because we care about people and our planet and because it is what we envision for our clients and automatically incorporate into our product development process. In all honesty, it would be good to put more effort into telling the Coulisse sustainability story, both to our employees as well as to the outside world. It is a beautiful and relevant story, now more than ever; we have just never felt the need to focus on telling it.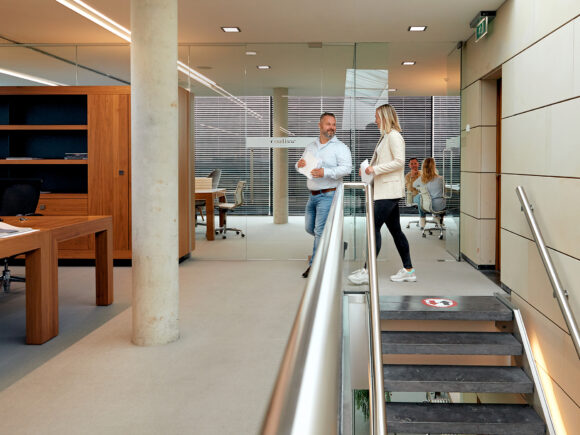 CR: Sustainability has become a major decision-making factor for a lot of our current and future stakeholders, including the recruitment of new people. As Coulisse is still growing, we are constantly looking for talented people who are very much drawn to companies with a strong vision on sustainability. Also, it is an important matter to many of our current employees. Our daily lunches, for example, are prepared by gourmet chefs with local produce close to the expiration date. This way, we enjoy culinary and healthy lunches and contribute to the reduction of food waste. We are currently looking at ways to further embed and secure internal alignment. And sustainability is on the corporate strategic agenda for the coming years, where it belongs. 
You have made it a mission to restore natural and cultural values, close to the village of Enter. What are some of these projects and what was the impetus for this? 
MR: Our origins lie in Enter, a rural area with beautiful landscapes that still inspire us every day. We believe this beauty should be preserved. So, we worked on the restoration of a farmhouse called The Pearl of Twente, located near the river and dating back to 1600. Also, we helped to restore the natural river landscape of the Reggedal (the Valley of Regge) into a beautiful and wide-area where water and nature are given plenty of space and biodiversity is rebalanced. We were able to restore the natural and cultural values to their former glory, which is something that we are very proud of and adds to the Coulisse legacy for future generations.   
Technology, automation, and digitalization are important concepts to Coulisse, both in terms of products and processes. How does Coulisse differentiate its company from others in the market? 
CR: In this fast and continuously changing world, technology, automation and digitalization are key. This is in line with the trends we see in the market: Consumers are online 24/7, having access to every product within a click, expecting immediate service. We are heavily investing in digitalization and are proud to say that we are ahead of the game in that aspect. 
We use technology to optimize, digitize and automate the business to let people, processes, data, and technology work together optimally. This includes internal processes. For example, the implementation of CRM software like Salesforce and the collaborative productivity software Monday.com, as well as our supply chain and warehouse. Our supply chain team is always looking for new production methods, suppliers, and transportation to shorten delivery times meet specific customers' expectations and demands.  
Where do you find inspiration? 
CR: I find inspiration during my travels but also when I listen to customers and learn about their challenges. That instantly inspires me to look at how we can accommodate them even better. In addition, by having meetings inside Coulisse, we have so many inspiring people in our teams, with wonderful, out-of-the-box, innovative, smart ideas. Finally, I look at other industries and apply their learnings and best practices to our own industry.  

While our focus is always on the future, we also like to stay connected to our heritage. A precious treasure we keep at our headquarters is a range of Italian textile books that originate from the textile region of Como in Italy (1900). These books are a timeless source of inspiration to us. To stay ahead of global trends, our design team regularly visits trade shows and attends inspiring trend readings, given by world-famous trend forecasters such as Lidewij Edelkoort and Christine Boland, who happen to be Dutch. 
As brothers, how do you complement each other in your work environment? 
CR & MR: We make a great team and are actually quite complimentary when it comes to skills and personality. Maurice focuses more on the purchasing part of our business, Christiaan on business operations and creative direction
How do you balance work and home life?  
MR: Having a healthy work-life balance is something many people struggle with, as do we. Running this business requires a 24/7 attention span and can add up to an 80-hour workweek. We have made it our priority to create a good balance between work time and private time. 
CR: Regular holidays, sports, and plenty of family time help us to keep up with the enormous power and speed Coulisse is operating with. It is a wonderful thing to be part of that, but we do take care of ourselves, just as we do of our employees.  
What advice would you give others in the window covering industry?  
CR & MR: Our advice would be to focus on smart homes, which will most definitely change our industry in the coming years. And to make an effort to contribute to a better world, in any way you can. As businesses and corporations, we have a shared responsibility toward people and the planet. Our children and future customers will be thankful for it.