Without fabric, where would we be? Luscious linens, sumptuous silks, cozy cottons … all of these, and more can be combined in stunning and unexpected ways to produce gorgeous one-of-a-kind window treatments that leave clients speechless with excitement. Add some unique trims into the mix, and we're talking knock-out curtains, valances, roman shades, and more.  
Keely Hersh, owner, and designer for Right at Home Interiors in El Dorado Hills, California, knows a thing or two about fabric. Her window treatment designs have won her multiple Window Fashion VISION Design Awards, thanks in part to her stunning fabric and trim combinations. Right at Home Interiors' eight window treatment designs are packed with eye-catching fabrics and trims finished with dazzling details. Get ready for some serious inspiration! 
#1 "These neutral drapes highlight the cream embroidery print with tassel trim on the valance and banding trim on the drapes. The finished curtains and valance are simple and stunning—the perfect complement for the dramatic red walls and ceiling."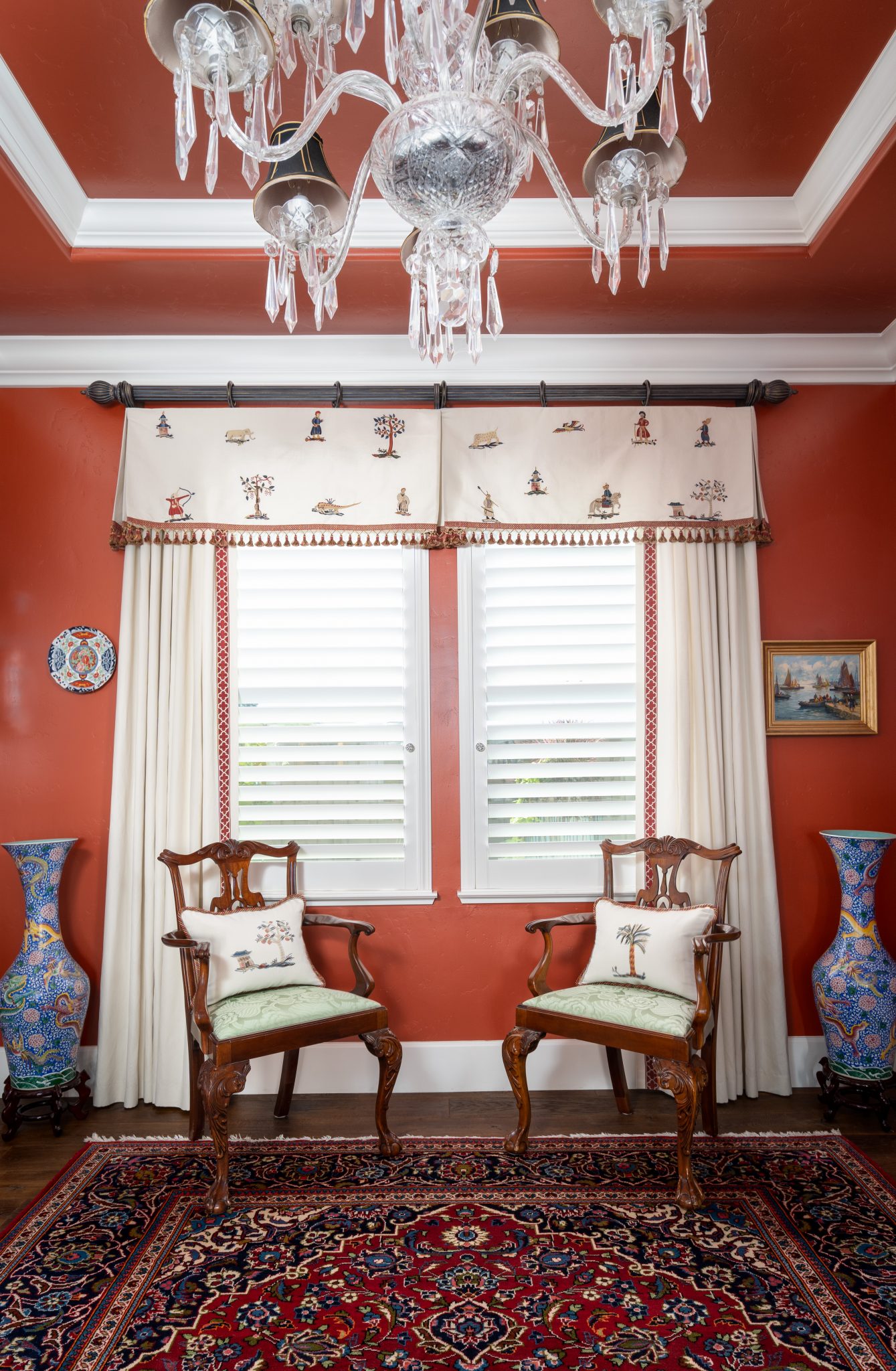 #2 "I love how this custom-made scroll headboard frames the bed and complements both the custom bedding and pretty drapes. The ruffled blue edge and flash of pink trim on the curtains add a coordinating pop of color to create a soft, spring-like look."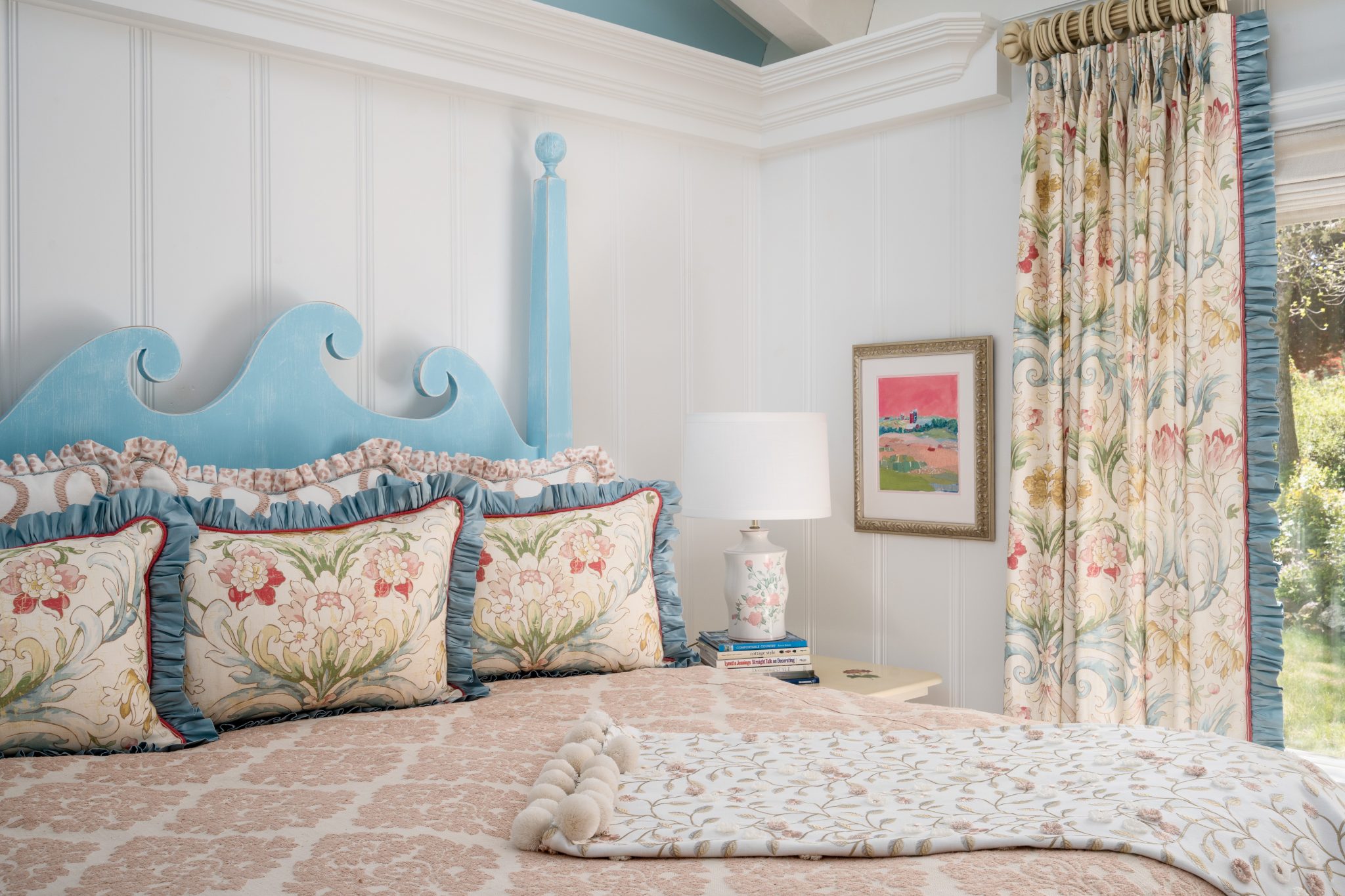 #3 "These bay window treatments make this cozy nook the perfect place to enjoy a warm muffin on a Sunday morning! The pattern repeat in this fabric creates an organic flow, and the box pleats and red banding are simple-yet-sophisticated touches that help the valances to really pop against the client's neutral walls."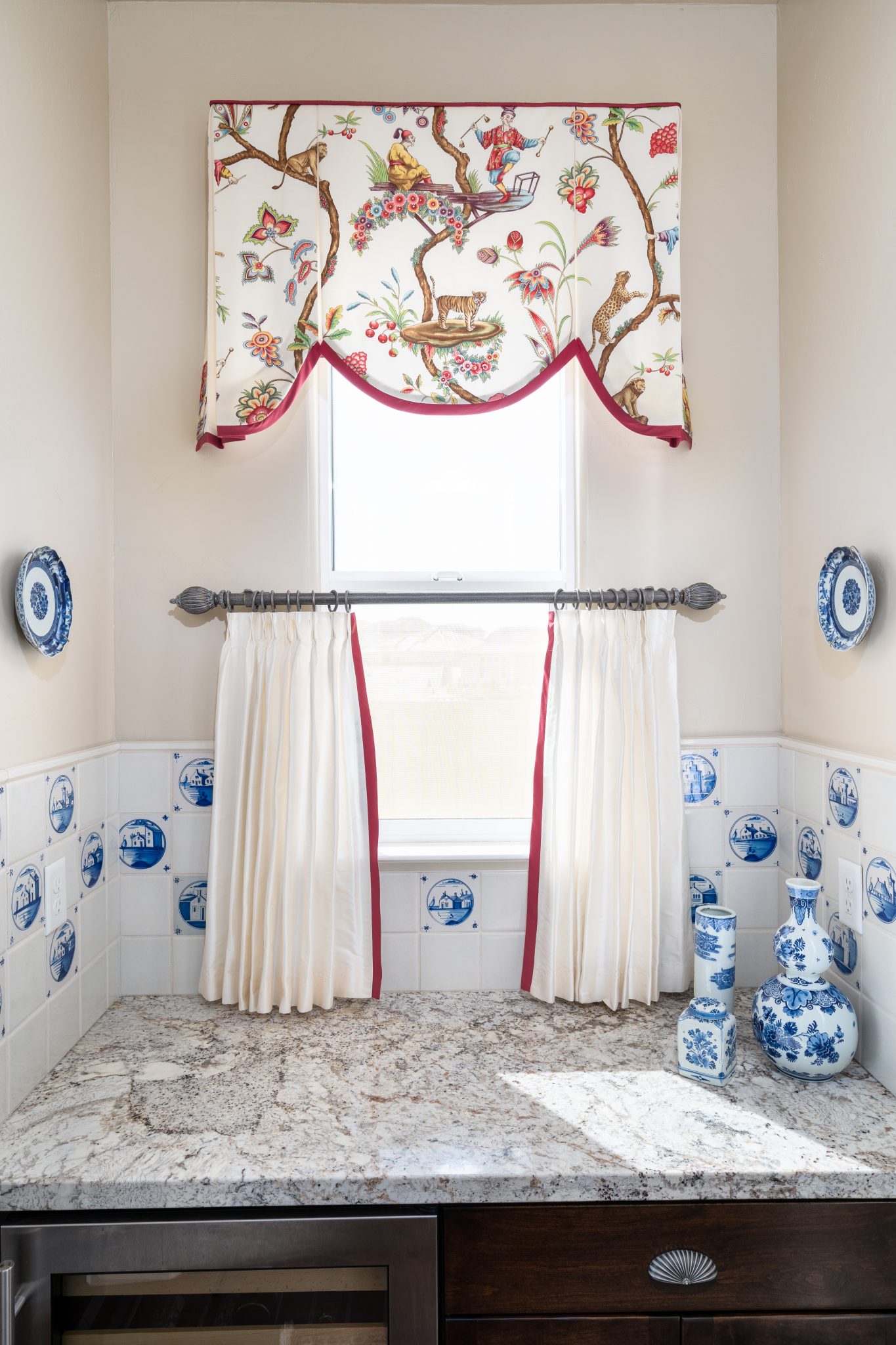 #4 "This design shows how small spaces can make a big difference. The eclectic pairing of antique tiles and airy window treatments brightens this little butler's pantry. This is an example of 'making it work' with fabric as I had just enough of the client's desired print to make this sweet valance."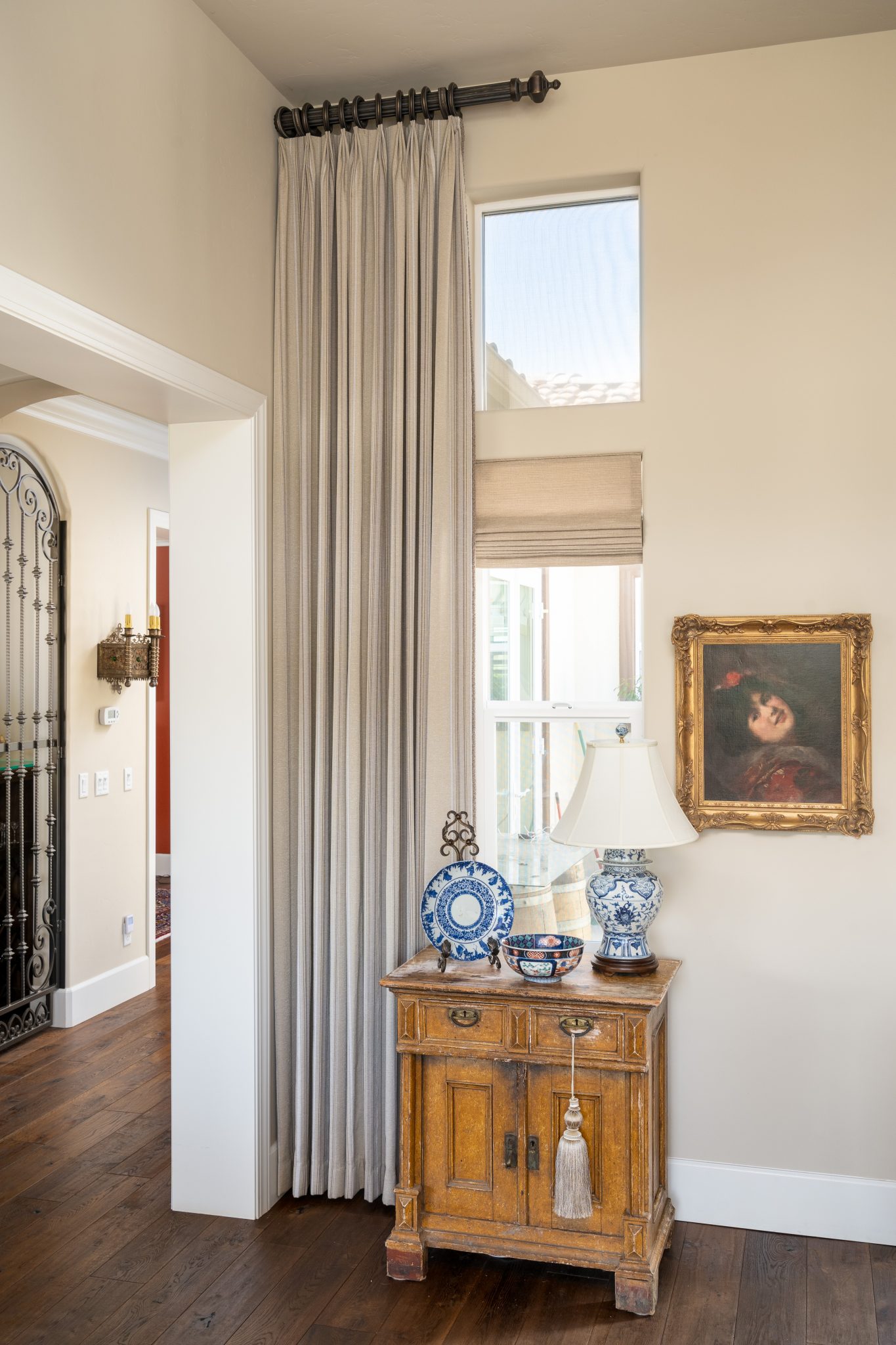 #5 "Sometimes simple is best, as is the case in this design. I created tall silk drapes and a roman shade in neutral tones to add elegance and refinement to this great room window. The streamlined shape of the drapes emphasizes the height of the room, and the roman shade provides functionality to block the sun when needed."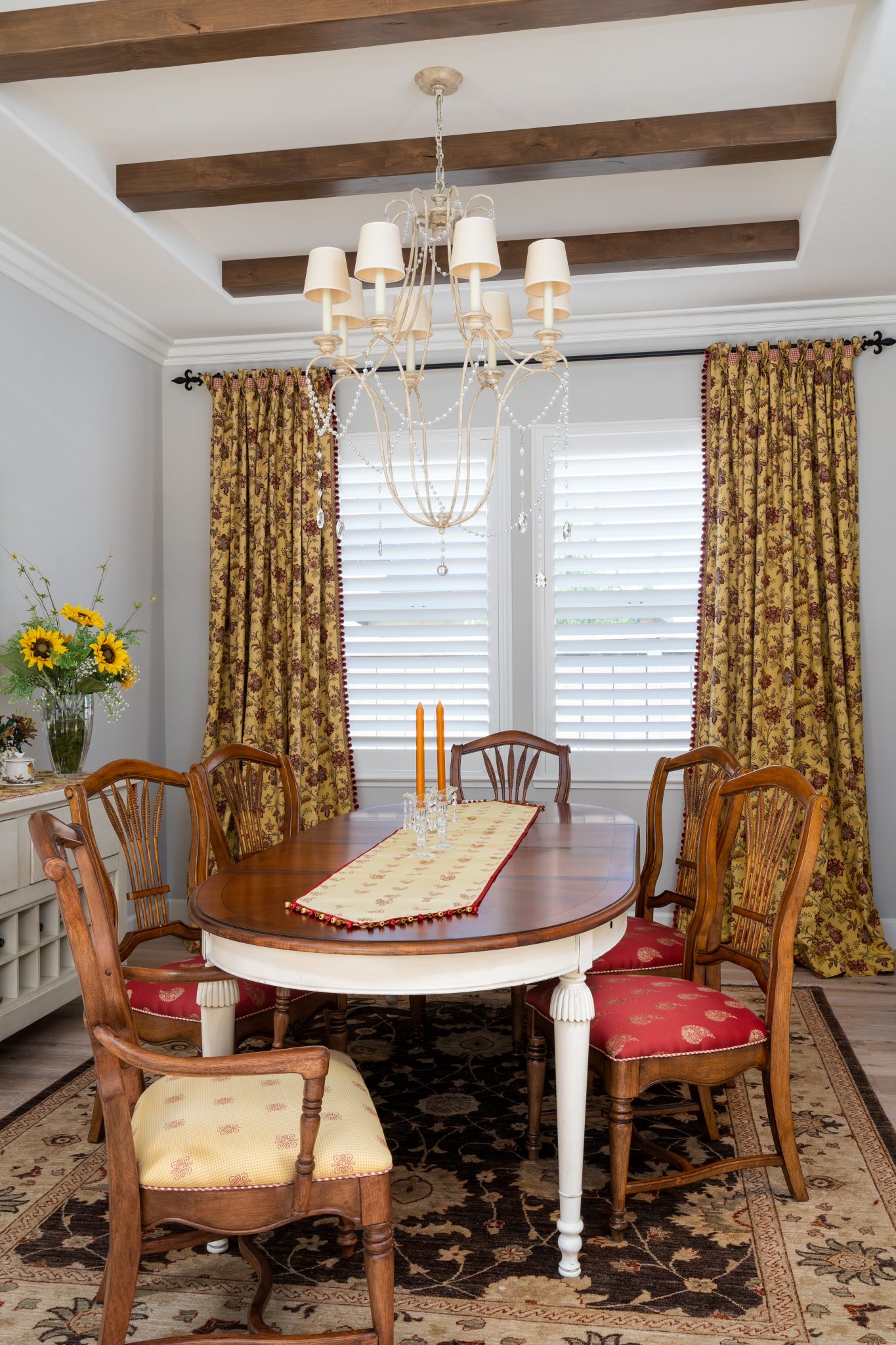 #6 "In this French country style, a red pom-pom fringe frames the drapery print. The drapes hang on a classic black iron rod with fleur-de-lis finials. If you look closely at the drapery heading, you will be able to see a special flip-over between the pleats."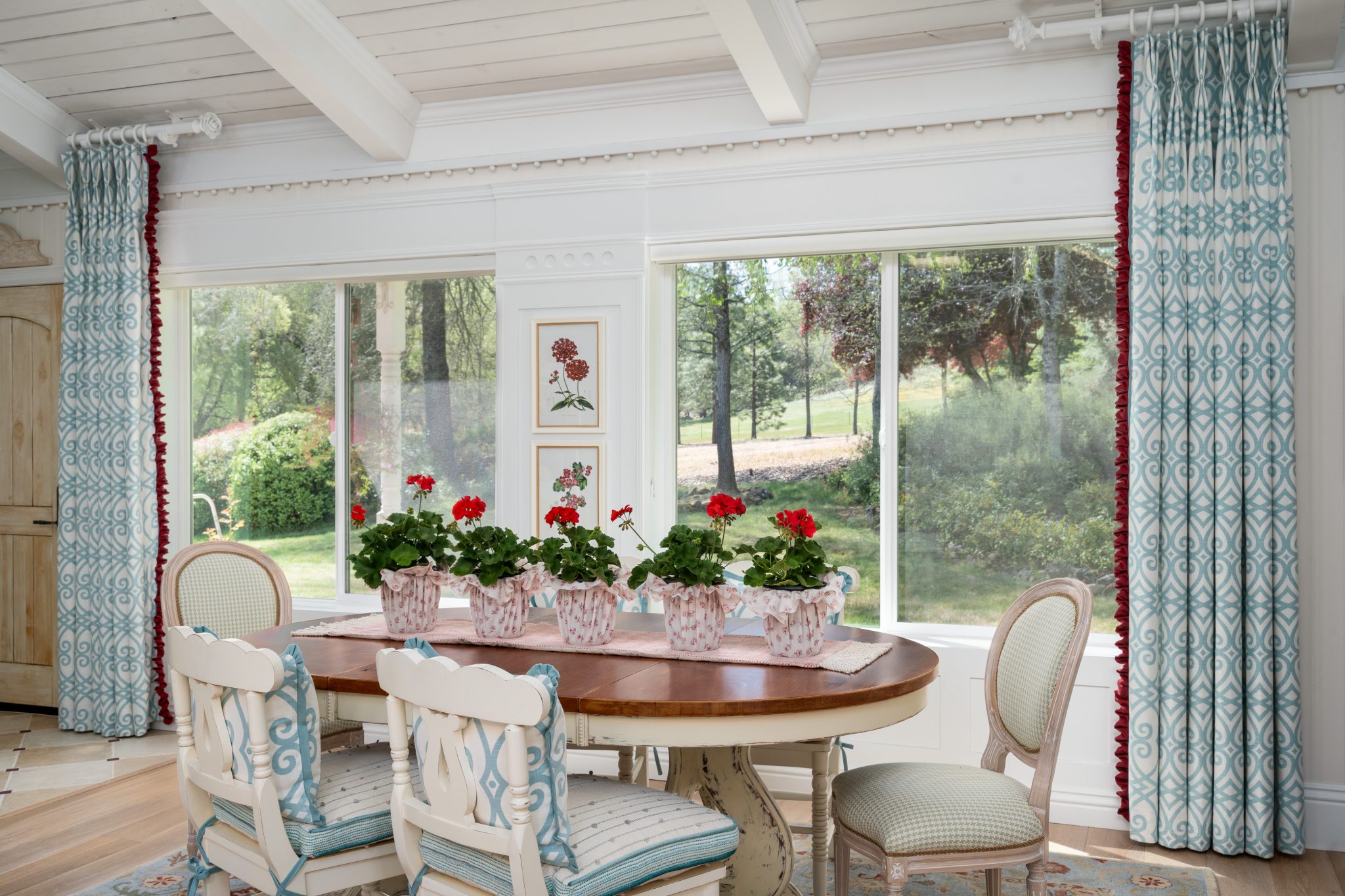 #7 "I installed custom window trim with a sleek silhouette for this dining room design. But the real stunner is this set of drapes with my signature 'pop edge.' I love to be able to offer couture details like this to my clients. It gives the finished design that little something special that they won't find anywhere else."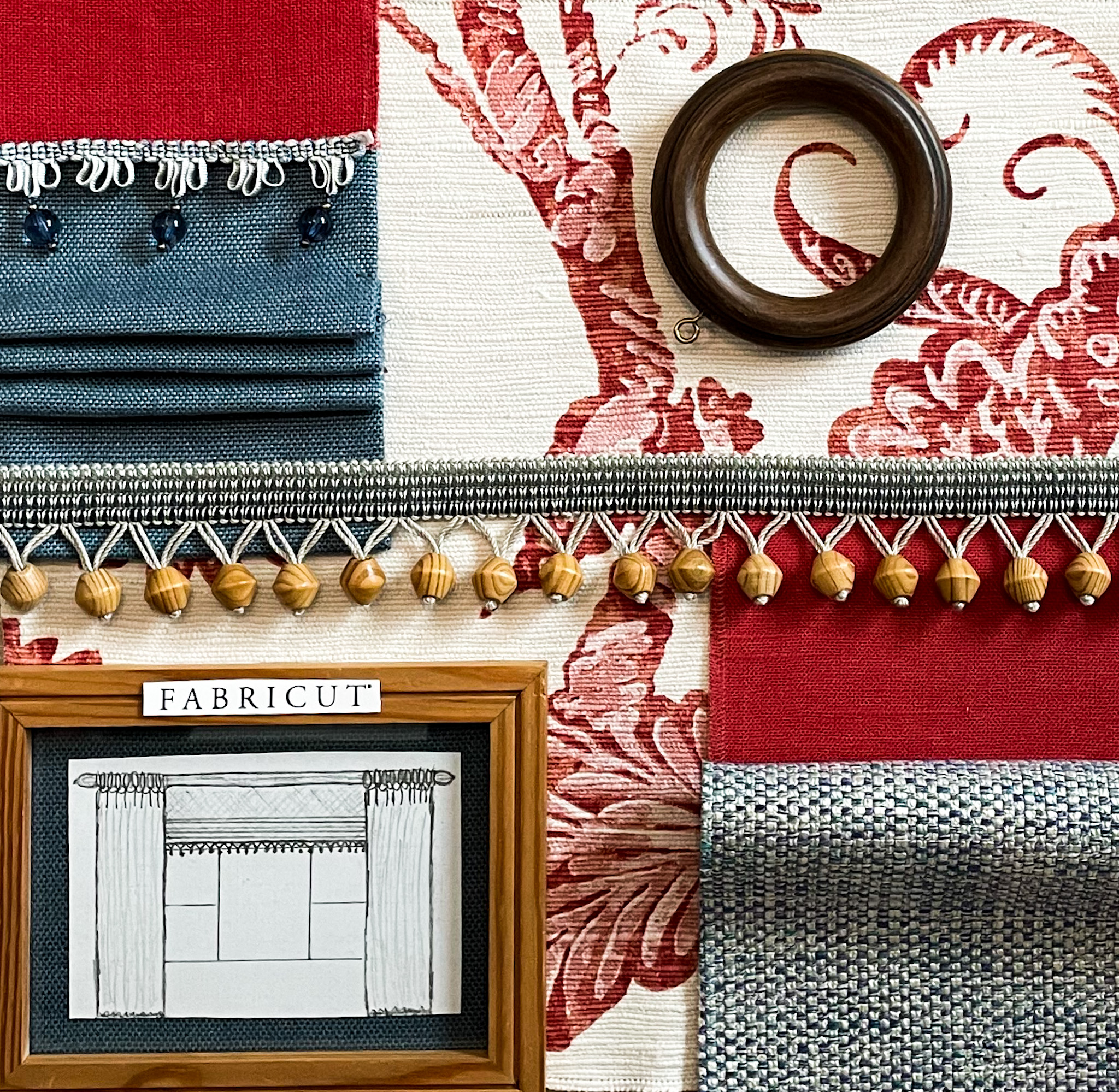 #8 – Fabricut's Trim Contest Entry "I was so grateful to win Fabricut's recent Mood Board Trim Contest with Vern Yip's gorgeous bead trim from Fabricut. The drapes are underway in my workroom! I'll be sure to share the finished look when the project is complete."
The right fabric changes everything. As you continue in your business, think about how you can incorporate new and unexpected fabric and trim combinations and design techniques to take your window treatments to the next level.
Happy designing!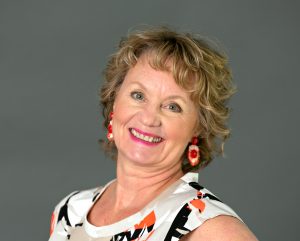 Keely Hersh, owner of Right at Home Interiors, is a true authority in window treatments and interior design. In her 30 years in business, she has earned her reputation as a detail specialist with custom-made drapes, roman shades, bedding, pillows, and more. Her designs are consistently picked up and shared on social media, and she's been featured in multiple local and national publications as a subject expert in fabrics and trims, drapes, and interior design. A five-time VISION International Design Awards winner, Keely helps clients achieve a look they love through small changes, large renovations, custom pieces, and everything in between. 

More of Keely's designs can be found on her website!