It's no secret that interest in outdoor living has grown tremendously since the beginning of the COVID-19 pandemic. People in hot locations are installing swimming pools, those in colder climates have been installing space heaters and firepits, and those in rentals have been making as many upgrades to their outdoor living as possible. It's also well-established that people are paying a lot more attention to how they're furnishing their outdoor spaces-including what types of window coverings and other shading products they want. Additionally, french doors have experienced a much-welcomed renaissance.
"Outdoor window coverings are all the rage because everybody wants to beautify their outdoors," says Vita Vygovska of Vitalia, Inc., a workroom in Richboro, PA. "We're not traveling much these days, so everybody's putting their money into their backyards because that's where everybody's spending their time."
Vygovska and Eric Cohler of Eric Cohler Design, an interior design firm in New York that also services San Francisco, Palm Beach, FL, and London, shared their thoughts for creating outstanding outdoor installations that are attractive and functional.
Outdoor draperies
Both professionals prefer outdoor draperies fabricated in neutral colors. Even though it's possible to purchase fade-resistant fabrics, they will begin to lose color over time, Cohler points out. "When the drapes are closed, they'll get sun on the areas that are exposed but not on the other areas. That will lead to irregular fading on the fabric and give almost a striped or blotchy effect."
If a client wants color in an outdoor space, add it through pillows, seat cushions or furnishings instead of curtains, Cohler says. Another option is to add a trim made from solution-dyed acrylic along the edge. It's an easy thing to replace when it fades; DIYers who own a sewing machine can even do it themselves.
Cohler prefers functional drapery panels to stationary ones. "People like to be able to adjust and move outdoor fabric around," he says. Curtains help to keep out some sand and bugs, block light and provide a sense of privacy. He typically includes tiebacks so homeowners can secure the panels when they're not needed.
In fact, many people prefer pop-up canopy tents – see here – over draperies or permanent pillars and constant shade that they can use to sit outdoors on their deck/patio at any time of day. It might give them the convenience of adjusting everything to their liking. It can protect them from harmful sun rays; however, on a cloudy day, they may prefer to enjoy the sun. As a result, a canopy could help them in adjusting their comfort based on the weather.
Anyway, coming back to fabricating outdoor draperies, "definitely use Sunbrella or a fabric that's appropriate for the outdoors," says Vygovska. "Use threads that are outdoor-appropriate."
Cohler is a fan of solution-dyed acrylic or marine-grade canvas for outdoor draperies. What he chooses depends both on the look the client wants and the requirements in terms of durability. "In California, clearly fabrics are going to stand up better than in New England," he says. "Down in Florida, we have to worry about mold and mildew on curtains."
Although he specifies many draperies from opaque fabric, Cohler also loves sheer versions. They create an ethereal, ephemeral space, one that's perfect for relaxing and daydreaming. "There are so many great outdoors sheers that you can use that are spun out of solution-dyed acrylic. They're fabulous," he adds.
No matter what type of fabric is used, it's important to use curtain mounting hardware that's specifically designed for outdoor use. "You cannot use your regular drapery hooks because they will rust and leave a mark on the drapery," says Vygovska. Look for products made of plastic or metal intended for outdoor use.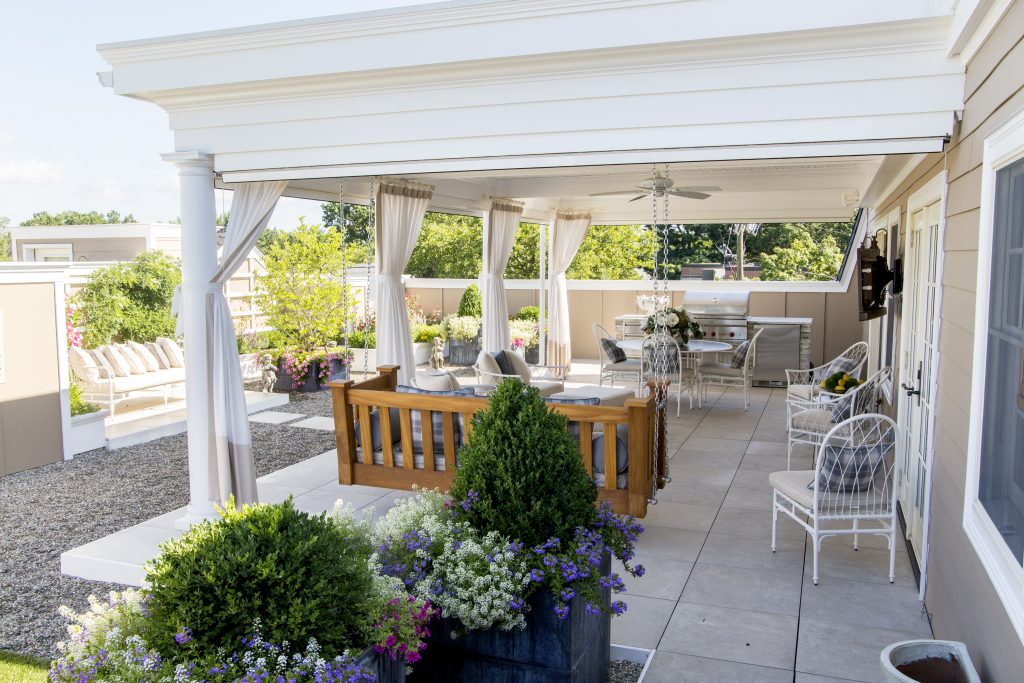 Outdoor shades and screens
"Roller shades really are all the rage for the outdoors," says Vygovska. They're easy to clean to remove dirt, pollen and insects, which is a big consideration for outdoor window coverings. "Roller shades can be motorized so they can be raised and lowered at the push of a button, so they're super-practical." When she creates them, she likes to use SheerWeave fabric from Phifer, which comes in a wide range of colors and opacities.
Learn more about solar shades with this article from Window Fashion VISION.
Cohler is a fan of Phantom Screens, which can be pulled down when needed but disappear into a pocket at the top of a structure when not in use. "They can be motorized, or they can be manual on a clutch roll and you can roll them down," he says.
The question of whether to motorize these products comes down to client choice, of course, but also the region to some extent. In Cohler's experience, people in warmer climates-Hawaii, California, Texas-are more likely to want motorization because they're using their outdoor spaces year-round. In cooler climates, like the Northeast and Pacific Northwest, people may balk at paying for motorization if they'll only be using their shades a few months out of the year. Again, make sure to specify motorization hardware that is appropriate for outdoor use.
Outdoor shutters and blinds
When it comes to shutters, Cohler likes to use long sets that can be pulled out consecutively and wrapped around a whole structure, closing off one side or even the whole area. "If you open the slats of the shutters, you can get as much light in as you want," he says-or they can be kept closed for sun control. Also, Plantation Shutters can help you keep in check the amount of light coming into your home.
"There are also venetian blinds that are made of vinyl (that) look like real wood," he adds. "We'll use those sometimes inside a screened porch. You can close those for privacy, or you can open them to get the breeze, or you can use them to scoop the light in." The benefit to vinyl blinds (as opposed to wood ones) is that they eliminate concerns about moisture and rot.
Top image: A home in Southport, CT, designed by Eric Cohler Design