Many years ago, a good friend asked me to repair his boat cushions for him, and I thought, "Why not?" I thought outdoor cushions would be similar to other indoor cushion projects, so it seemed easy enough.
I cannot remember all the particulars about this project, but I do remember that after the first season or two of use, the thread began to break. It never occurred to me that boat cushions used specific materials designed to prevent rot and handle extreme weather conditions, sunlight, harsh cleaning agents and salt water. Thankfully, I have not made that mistake again!
Since that time, I have learned a few things about the fabrics and materials used to create outdoor furnishings that will last longer than a season or two. Let me simplify this for you.
Thread and Needle Sizes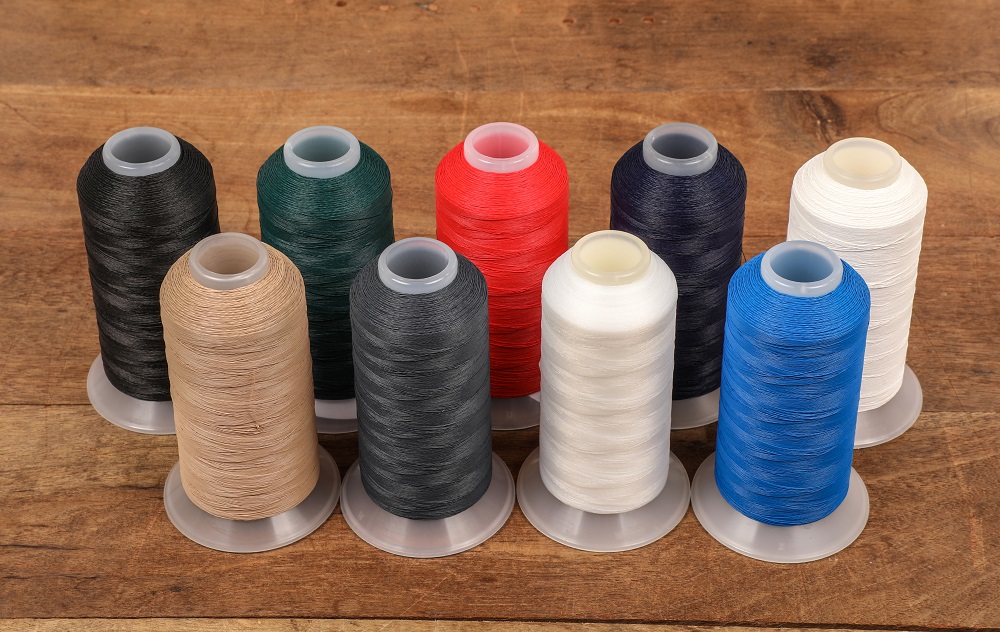 The number you find on a spool of thread tells you how thick the thread is. The larger the number, the thicker and stronger the thread. Thicker threads make the stitching more visible, and the tension on your bobbin case and tread guide may need to be adjusted.
There are three different measuring systems for thread.
Tex – T: Tex uses a fixed length to measure the weight of thread in grams. The measurement is found by determining how many grams 1,000 meters of a particular thread weighs. The higher the Tex, the thicker the thread. An average weight of thread for outdoor cushions is 70 or 90 Tex.
Denier Count – Td or d: Denier also measures thread at a fixed length. It is the weight in grams of 9,000 meters of thread.
Commercial Sizes – V: Commercial sizes are determined by dividing the thread's denier by 10. The sizes generally used in outdoor and marine applications are 69, 92 and 138. The higher the number, the heavier or thicker the thread.
There are many outdoor threads on the market that are polyester. Polyester threads have the same inherent properties as polyester fibers. They are strong and provide UV fading, as well as mildew and abrasion resistance. When selecting thread for outdoor use, make sure you select a polyester thread that is specifically created for outdoor use.
For situations where cushions, shades, biminis or awnings are going to be exposed to extreme conditions such as long hours in the snow, sun or being placed near salt water, you will want to use a UV-bonded polyester thread. Sailrite has two different products in its Lifetime Threads line that offer a lifetime warranty when used in these types of situations. Sailrite Lifetime Threads can be used with a sewing machine that has an oscillating hook or rotary hook. Tenera is best used with a rotary hook sewing machine.
Another good option for outdoor thread is WeatherMAX outdoor sewing thread by A&E. This is also UV and weather resistant, very strong and easy to work with.
Cording for outdoor furnishings
Fortunately, selecting cording to create fabric-covered welting is much simpler than determining which thread to use. The main thing to remember is not to use cotton cording for outdoor applications. Other materials such as polyester, polypropylene, vinyl and foam piping can be used outdoors with great success.
Foam terminology and properties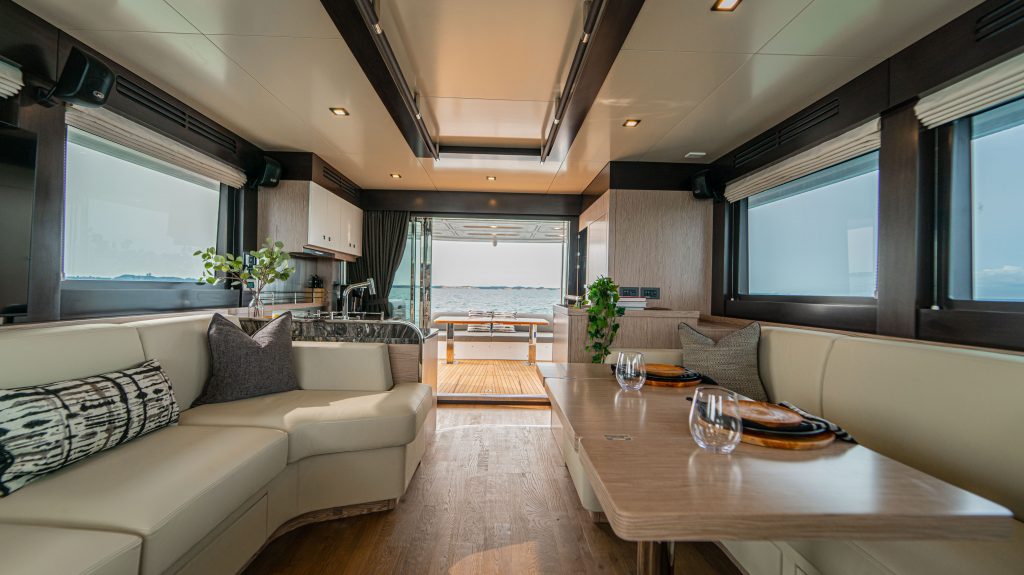 Density: Foam density is a measurement that tells how many pounds per cubic foot polyurethane foam can support. The denser the foam, the more support the foam will provide, which will increase the life expectancy of the product. For example, if the density is 1.8, every cubic foot of the seating cushion can support 1.8 pounds.
Compression: Foam compression is how many pounds it takes to compress foam by 25 percent. The higher the number, the firmer the foam; the lower the number, the softer the foam. Compression also refers to the softness or firmness of the foam, and how it feels when a person sits on it.
For an interior residential window seat, for a 3-inch foam, 35 would be a good medium compression to select. If you were using foam under 3 inches thick, you may prefer a compression of 50 to make sure the seat is firm enough and not compressing the cushion too much. For a commercial space, 50 is a good compression because it tends to recover quicker after someone gets up.
Open Cell Microbial Foam: This foam has large, open cells that allow for water to flow easily through it. It is quick drying, microbial, water resistant and three times firmer than polyurethane foam. It has more plastic in it, which allows it to hold up in extreme types of weather. This type of foam is manufactured in #30 soft, #50 medium and #70 firm densities. Most vendors only carry one.
Open cell microbial foam has several different brand names depending on where it is purchased. Sailrite's name for this foam is Dry Fast; U.S. Foam Corporation of Indiana has named its Ever-Dri.
Polyurethane Foam: This is a polyurethane-based foam product that will remain mold and mildew free unless it is left wet and outside for an extended amount of time. Cushions made out of polyurethane foam will soak up moisture, so it is recommended to use in covered areas or to bring in the cushions during rainy days.
Polyurethane foam comes in a couple of different types. The one that is best used for outdoors has antimicrobial properties and is referred to as marine foam. High-density polyurethane marine foam is a good choice for boat cushions that are covered with vinyl, but not for woven fabrics, since the foam will soak up water like a sponge.
Silk Film: Silk film is a noiseless plastic that makes cushion foam easier to install inside the cushion cover. It also protects the foam from moisture due to seam leakage. The silk film creates an airtight layer, allowing you to apply a vacuum to the foam and suck out the air, drastically shrinking the foam and making it easy to slip inside the cushion cover. If your cushion has a zipper, you will need to leave a section of the cushion (typically the zipper plaque) free from the silk film to allow air to escape when the cushion is sat on.
For a backer board cushion, the slipperiness of the silk film allows for easier positioning of the vinyl before the vinyl is stapled in place. You do not need to be concerned with air getting trapped in the cushion because the backer board has holes drilled into it that allow air to escape.
A vinyl cushion cover paired with an antimicrobial polyurethane foam and silk film is the best defense against the growth of mold and mildew.
Floating Foam: A closed cell foam that is made from Polytech Vinyl Nitrile (PVN) and is typically found on boats. It resists moisture absorption, which makes it buoyant, and is antimicrobial. This type of foam is good for sailboat cockpit cushions because it floats, so the cushions can be used as flotation devices if needed. Closed cell foam is also very thin and firm, which makes it easy to step on as you are getting in and out of the boat.
Pillows for outdoor furnishings
For outdoor use, it is best to use a polyester fiber fill since polyester is inherently hypoallergenic, washable and resists mildew. Harris Pillows has a wonderful Micro Gel pillow that can be used indoors or out. These pillow inserts are made from very small pieces of fiber to give them the feel of synthetic down. You will love them.
Kathryn Dillon owns and operates Kathryn Dillon Drapery & Design, LLC, a full-service window treatment and soft goods design and fabrication business based in Marietta, GA. Over the past 24 years, she has created lasting relationships with repeat clients and those that value attention to detail throughout the design and fabrication process. In addition, she travels to other workrooms to provide an extra set of hands or creates customized education to workrooms to fill a knowledge gap. Kathryn has been a local and national WCAA member since 2005 and she currently serves as the WCAA Virtual Chapter President.
All photos courtesy of Sailrite