Large windows in a home or office can provide plenty of natural light and beautiful views. It is really hard to dislike large windows, especially when they resemble the Victorian style. The truth is that, nowadays, most buildings are seen adapting to this trend of large windows.
These designs have become so popular that house owners are often heard specifically asking their contractors (who might be from firms similar to Multi-M Contracting, Inc) to construct large windows that can suit their tastes. While look-wise, these windows can be beautiful to look at, all that sunlight can make it hard to sleep, cause furniture and other home products to fade, and lead to other less-than-desirable consequences.
Enter UV and sun-shading window treatments, which can be an owner's best friend. "UV products provide protection from the harmful effects of the sun's UV rays or ultraviolet radiation," says Kim Newby, marketing lead at Insolroll. "UV is the part of the sun's spectrum that causes skin and eye damage, as well as fading and degradation of home finishes, artwork, and decor." To prevent this, "solar screen fabrics are woven to precise openness standards to block a specified amount of the total UV radiation while maintaining a great deal of the view and connection with the outside environment."
Sun-shading products have some other plusses, such as reducing glare for improved eye comfort and use of electronic devices, says Bill Strickland, senior national market manager of sun control products at Phifer. In addition, they have some meaningful benefits for people concerned about their impact on the
environment.
"Modern design means big windows and light, but anyone with large windows knows that they can also make interior spaces uncomfortably hot and bright," says Newby. Solar shades lessen the burden on cooling systems and the cost that goes with them. They also decrease the need for artificial lighting, further decreasing a building's energy consumption. One can also incorporate other tools and fixtures to reduce energy usage at night, such as outdoor LED Luminaires from companies like Olympia Lighting or similar eco-friendly brands. Similarly, using solar shades can be an advantageous sustainable technique to be adopted during daylight hours.
UV-blocking window treatments are often associated with parts of the country subject to extreme heat or sunlight. However, people in cooler regions are finding advantages from solar shades as well. "A good example is an uncomfortable glare from the diffused light of high clouds in the Pacific Northwest," says Newby.
"Solar shades tame that glare without blocking the view or too much of the available light. People living in areas with lots of snow also wrestle with a glare that can be severe, and solar shades provide relief without blocking the view."
There's no doubt that consumption of sun-shading products is growing. "While the environmental benefits of solar shading have been recognized for many years by architects and designers developing commercial spaces, through experience and education, homeowners represent the next frontier in growth as individuals make more informed choices in how they can contribute to sustainability goals for themselves and their communities," says Strickland.
Newby notes that Insolroll has seen significant growth in the multiple dwelling unit market. In addition, "as we see more effects of climate change, the pursuit of energy efficiency in new and existing construction becomes more urgent," she says. "More cities and states are requiring higher, quantifiable levels of efficiency and sustainability in the design of new homes and commercial buildings, and that puts solar shades in high demand."
Here's what you need to know to sell more of these products to eager buyers.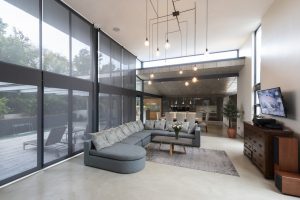 Products to watch for
Motorized shades and blinds are an ideal candidate for motorization, and companies are responding with new technology. The new BLISS Automation system from Alta allows customers to program shades to raise and lower as needed to block intense rays. The company also has a new roller shade program with a wide range of new fabrics.
"Insolroll is excited to unveil new solar and rechargeable battery motor options in early 2021, along with a fast-connect radio motor wiring solution," says Newby. "We'll introduce new energy-efficient solar screen, FR textured blackout and translucent roller shade fabrics to our curated fabric collections, as well as new premium patio shade fabrics."
While solar fabrics offer great performance, "in the past, homeowners looking for solar screens were often faced with making concessions-function or style?" says Claire Nelson, vice president of marketing for Alta Window Fashions. "Many of our Alta screen fabrics meet both demands with hardworking fabrics that beautifully enhance nearly every decor. Alta offers dozens of different styles, including basketweaves, jacquards, decorative and blackout."
For designers and homeowners who prefer a more textile look, Serge Ferrari recently introduced a new product called Soltis Touch. "This is an indoor material with interesting colors and weaves for designed spaces, and with all the great performance expected from Serge Ferrari," says Elfriede Willson, marketing and communications manager. An added benefit is that it offers excellent acoustic performance.
While not new, Phifer's SheerWeave Style 5000 fabrics address the same complaint about solar shade fabric being less design-friendly. "(This line) meets all of the standards and benefits of our traditional solar-shading fabrics with an added level of design and sophistication," says Strickland. "Offered in 36 unique jacquard patterns such as linen, chenille, jute, and bamboo, Style 5000 fabrics are as beautiful as they are functional. Though these fabrics have a softer and more textured hand, they are no less durable and easy to maintain."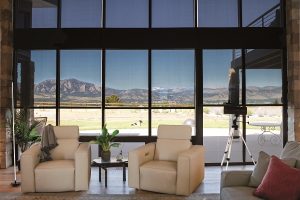 Spotlight on eco-friendly benefits
"Sustainability is an important part of Serge Ferrari's DNA, from manufacturing to end of life," says Willson. "We have, for decades, recycled our own materials with a system called Texyloop. Serge
Ferrari is in many markets where this is important. For example, we supplied material for many of the buildings built for the London Olympics, and we took back that fabric and recycled it when those buildings were dismantled after the Olympics." The recycling program is currently in transition; more details should be available later this year. Like most manufacturing companies, Serge Ferrari group is also becoming more conscious of being environmentally friendly. Some industries may also hire environmental consulting groups like RSB Environmental to make sure they are compliant with relevant environmental laws and regulations of the nation. Sustainability is a wide concept that involves various types of industries and material technology company like Serge Ferrari is important among them.
Phifer, too, has materials that speak to people's desire for green and healthy homes. "Products with unique features such as biobased ingredients found in the SheerWeave 4000 series with Dow Ecolibrium, antimicrobial benefits found in products that include Microban and recyclable fabrics such as Phifer's Infinity2 and Style 8000 options can all play a part in sustainability efforts," Strickland says. "Our continued expansion into products and features that have a positive environmental impact reflect this growing interest."
Advice for retailers and designers
Manufacturers provided some tips for retailers and designers interested in selling more UV products. "We've all invested a lot in our homes, from hardwood floors to furnishings, artwork, and paint finishes," says Newby. "Controlling UV extends the life and beauty of all of the layers of our design, protecting our investment. And that pales in comparison to protecting your skin and eyesight. Making the UV protection of solar shades part of your home is a wise investment that goes beyond a shade in the window." Convey to customers that sun-shading products provide the perfect solution to maximize
personal and property protection while maintaining beloved views.
"Highlight the broad range of added benefits that consumers may not be aware of," says Strickland. "Beyond managing solar heat and glare, solar shades can protect against the growth of bacteria, mold,
and mildew to maintain cleaner shades, incorporate sustainability features such as bio-based ingredients and recyclability, protect interior surfaces from damaging UV while allowing outward views, and provide a level of durability and an ease of maintenance rarely found in window treatments." The concern of mold is not a new one, with many homeowners potentially having to seek out a company that offers Mold Remediation Services to help them tackle the problem of mold that has started to grow in areas of their homes. Having specialized solar shades may be a good option for homeowners if this is a regular concern for them.
Gain at least a basic understanding of how solar fabrics work so you can offer some recommendations to clients based on the direction of their windows, their desire for privacy, and other considerations. "Light colors, such as white, reflect solar energy away from interior spaces and transmit diffused natural light toward the interior," says Nelson. "Due to high reflectivity, light colors will limit outward views. Dark colors, such as black, absorb solar heat and light for significant glare reduction and excellent outward views. Solar heat gain is not as significant with dark colors."
Keep in mind that solar fabrics can provide a solution to people looking for exterior window coverings as well. "One of the great benefits of Soltis screens is they can be used both indoor and outdoor for a cohesive look throughout the building," says Willson.
Whether inside or out, "today's shade fabrics can be elegant and decorative and an essential part of interior design," says Strickland. They can be an element in a layered window treatment or create
standout coverings all on their own. Look for ways to get creative and use these products to craft applause-worthy designs. Owners, their furniture and everything else in the house will thank you.
Main photo provided by Alta Window Fashions