Working with a family member can be the best thing in the world or a chance for long-standing tensions to come up at work, not just around the dinner table. Fortunately for Sharon Falcher and Sherica Maynard, owners of Interior Design by S&S in Conyers, GA, that first scenario is their reality. The mother-daughter pair have complementary skills and a deep respect for each other that makes their partnership work well (until their strong personalities clash… but more on that later). The award-winning designers shared their thoughts on current window treatment trends, best practices for digital marketing and what the home of the future looks like.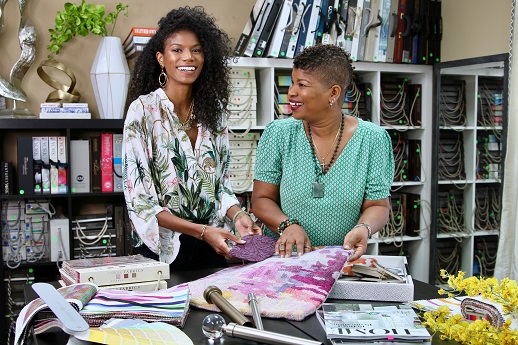 Photo by Lew Falcher
Sharon's Story
Growing up in Trinidad and then Toronto, Falcher always looked forward to her family's tradition of transforming their house at Christmastime. "My job was to make the window treatments and make the tablecloth," she says. "I didn't know what to call it, I just knew every Christmas I looked forward to doing my thing."
When she moved to Atlanta as a young adult, the first thing she bought was a sewing machine. She worked for a designer making window treatments, and after nine months, that designer told her, "You need your own business." Once she went out on her own, her business quickly grew to more than making drapes. "I would go into people's homes to install the treatments and I would start moving furniture," she says. Soon people were hiring her as a full-blown designer.
That worked well until the recession hit in 2007. As business began to slow down, she went back to work for a design company while pursuing an interior design degree. Her goal became to buy a Decorating Den franchise so she could take advantage of the company's wholesale relationships and other tools. But she wasn't sure how she would ever be able to afford one.
Then her mother won the lottery. She gave the prize money to Falcher so she could buy her franchise. She became her own boss again in 2013.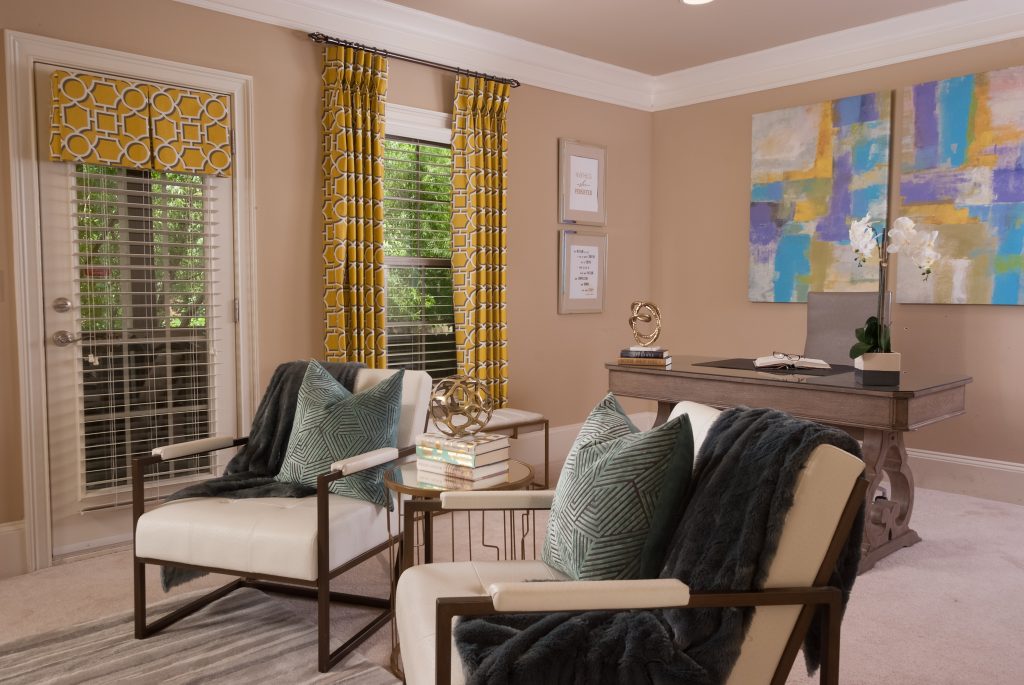 This image and all remaining images by Scott Johnson
Sherica's Story
The oldest of four girls, Maynard was always her mother's second-in-command. She began helping with sewing and window treatment installation at a young age, and she picked up her on mother's love of design quickly. "Most people on a Sunday, they would relax and hang out," she says. "We would go to model subdivisions and check them out and come home and say, 'Let's knock down this wall!' It was a hobby for us to redesign spaces."
Maynard went to Georgia State University intending to study architecture. But a year into her program, she was offered an opportunity to move to New York and become a professional model. "I went for the summer, and the summer turned into one semester off, which turned into 10 years later," she says. She traveled the world, doing shows in places like Milan and Cape Town, while simultaneously earning her BFA at the Parsons School of Design. She gave up the runway and joined her mom in 2016.
The career transition has felt natural. "The home is really like a home fashion for me," she says. "Before I was the canvas and people were dressing me. Now I get to be the designer and dress people's homes."
Views on Current Window Treatment Trends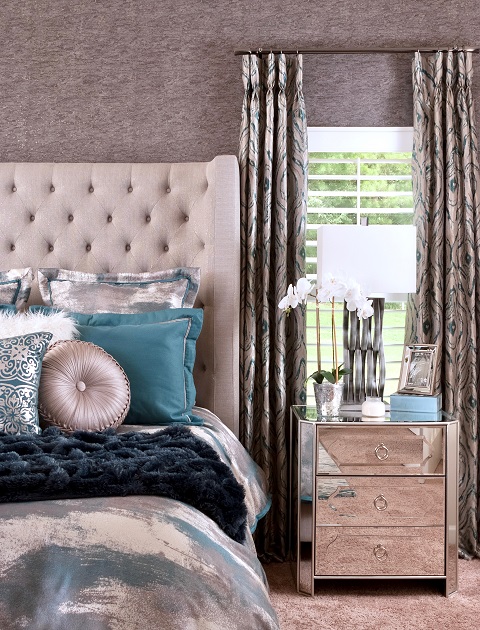 Falcher has been making and specifying window treatments for over 30 years. In that time, she's seen many trends rise and fall. Right now, the focus is on simpler styles. "People don't want all the fussy window treatments," she says. "They just want simple. We're doing a lot of top treatments. A lot of people like plantation shutters. But most of the time it's paneling. They're all about keeping the natural light in."
She typically insists on blackout lining for her clients' draperies, though. "If I'm selling them fabric, I want (the color) to stay true for years, but that sunlight beating through it is not good for it," Falcher says. And most of the time, she is installing curtains with vibrant designs and colors these days. "We very rarely do a solid panel, and we very rarely do neutrals."
Homeowners are often afraid of colorful window treatments at first, Maynard says, but their nervousness quickly fades. "Fabric is a big part of the space, and the window treatments can really add character. When we show them that window treatments can almost be a piece of art, they're more open to it."
Family Matters
Falcher and Maynard love working together. "Sherica brings a younger approach to things than I would have thought of," Falcher says. "She has some fresh ideas. And she knows me. If I say to her, 'I'm not really feeling that,' she knows it's not to knock her down. It's to do a better design."
"I've definitely been blessed to work with someone who has the amount of experience she has," Maynard says. "Coming into this industry, there's a lot that school doesn't teach you that she just knows. Not just window treatments or scale or pattern, either. She knows construction. Sometimes I feel like the contractors are intimidated by her because she knows construction."
Both women appreciate having a colleague they can trust without fail. "Sometimes when you do a bigger project, it's helpful to step away," Falcher says. "But if you don't have that time to step away and refresh your eyes, it's good to have someone who has a fresh eye and can make sure it doesn't become stale."
Tensions inevitably rise, though, and they have a slightly different tenor given the family dynamic. They're both stubborn, and their natural tendency not to budge can lead to conflicts. "My mom is used to doing things her way because she's done them her way for so long," says Maynard. "She's had her business without me, so she does things in a certain way. Sometimes it kind of bothers me because I want to do things a different way."
"Sherica is very firm and she knows exactly what she wants, and I like to her to bend because I am mom," Falcher says. "But she's very confident in what she's doing as a designer. I trust what she's doing, and I really value her input."
Advice for Digital Marketing
Falcher and Maynard rely on Instagram to publicize their company and attract clients. When using the platform as a branding tool, "make sure the page is clean. You don't want too much personal info," Maynard says. (Save that for Stories or other ephemeral tools.) "Make sure people can know what you're about, what your style is. Post pictures that show how you want to be perceived in the industry. You might do a client's home and it's not your style, so that might not be something you put on your page. If there's more than one person on your team, highlight their work too. No brand is built by an individual. It's built as a team."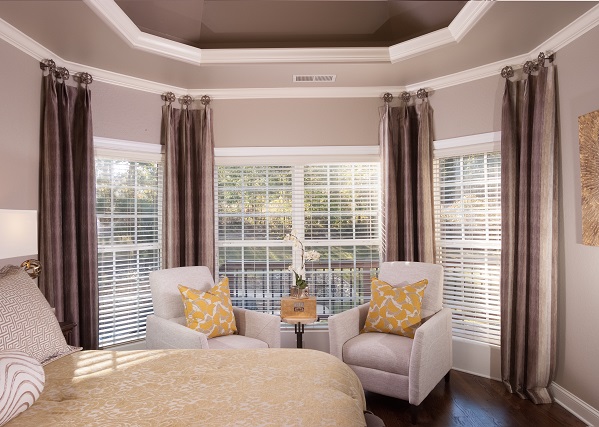 Besides sharing your own work, post information that's relevant to the design industry and positions you as a knowledgeable resource within it. "As design professionals, we're the leaders in our industry, and people come to us knowing that we know what's next and what's the trend," Maynard says. "Not everyone can afford an interior designer, so they're looking for inspiration for what they can do themselves as DIYers."
Falcher and Maynard also have a YouTube channel. That site is a great resource for pulling back the curtain and showing how a beautiful room is made. "We'll show an installation or do a Q&A. With that video, you can see all the moving parts it takes to bring a vision to life," Falcher says. Besides helping clients understand how their design process works, videos are a great to demonstrate their level of customer service and how they interact with each other. "A lot of people say it's fluid. They don't feel like I'm the boss or Sherica's the boss. It's just a team of women doing the job."
Anyone interested in doing TV should spend some time with YouTube first, Maynard says. It's a good chance to experience working on video, and it can show you things like your best angles, what words you overuse, how fast you talk and other things to work on. YouTube is also a great spot for firms with plenty of personality. They like to do outtakes and blooper reels, dance-offs, DIY demos and other things that allow people to get a sense of their personalities.
The pair were recently recognized by Window Fashion VISION as top Window Fashion Influencers. Maynard shared a few thoughts about what it takes to reach "influencer" status. "If you're using social media as a platform, it's not just a portfolio, it's about being social. It's not just about getting likes, it's about engaging with the design community." Use hashtags to find people interested in the same topics as you. Like, comment on and share posts from people you admire, including writers, editors and other bloggers and influencers.
Thoughts on the Home of the Future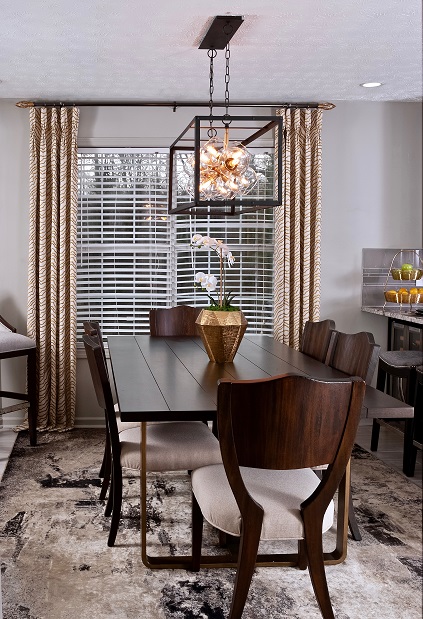 Maynard believes homes in the future will be smaller, with open floor plans and more casual décor. They will contain fewer tightly programmed spaces, with people choosing greater flexibility to alter rooms as their needs change from day to day. "People are doing less formal living rooms that can be converted into conversation rooms," she says. "In big spaces, they like to have multiple seating areas that can be programmed in different ways. A lot of our clients are trying to find work space within their livable space because they're entrepreneurs and are working from home."
Interest in motorized window treatments is growing among people of all ages. "For the older demographic, technology can be complicated," she notes. Maynard continues, "It's our job as designers to show them how simple it can be and how it can be integrated into the house. Motorized treatments help with privacy, save energy and can be easier to operate, especially with two-story windows."
"The thing that I find with this generation as opposed to when we were growing up, is they're really interested in making their house a home," says Falcher. "They're interested in investing in their space. My mom was about working, working and saving. Younger people want to work and invest in their home so it's beautiful, so when they come home they can see what they're working for."