FOR IMMEDIATE RELEASE 
Monday, August 7, 2023
ATLANTA, GA — Forest Drapery Hardware is pleased to announce that Cali Rogers has been promoted to the position of National Sales Manager. This is a new position at Forest and is indicative of the company's focus on customer relationships and its commitment to sales growth.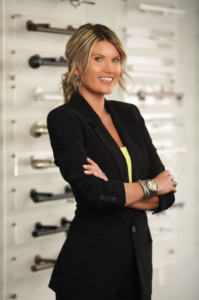 Cali has quickly climbed the ladder at Forest in the seven years since she began working for the company. Her career started in customer service, grew into outside sales and, most recently, she held the position of National Accounts Manager. As National Accounts Manager, Cali brought in many significant new customers, including Carole Fabrics, RM Coco and Blinds.com. Her achievements in the industry earned her a VISION 20 Under 40 award in 2020.
In her new role, Cali will lead the customer service and outside sales teams as they work together toward our goal of providing elite service to our valued customers. New developments will include the addition of a remote salesperson to better serve growing territories and the launch of an online ordering portal. Please join us as we celebrate Cali's new role at Forest! Her accomplishment is not only a personal milestone but also a significant step toward achieving the excellence in customer service that we strive for at Forest.
Forest Drapery Hardware USA is a distributor of high-quality innovative drapery hardware systems. Best known for its track systems, which are installed in more than 100 countries worldwide, Forest also specializes in decorative pole sets, hand-drawn and motorized traversing systems, roller shades and roman blind hardware. Forest is headquartered in Deventer, the Netherlands, with additional sales offices in the United Kingdom, the United Arab Emirates and Poland. ForestDH.com. 
MEDIA CONTACT:
Burna Wright
770-843-1082
wrightdesign@icloud.com