Business owner leverages location for more than 30 years.
Nestled in the tight-knit community of Bellingham, WA, Lorraine Vinish, owner and operator of Lorraine's Window Coverings, has become a window covering destination for all in the surrounding area. With 12 large windows, her storefront, chosen specifically for its visual opportunities, is a living, breathing example of her work.
A combination of working in the corporate world and welcoming her first child in 1990 led Vinish to start her own business out of her home in 1993. She didn't want to go back to the traditional nine-to-five, so she decided to bet on herself and take a chance on her creative side. "We actually needed window coverings for a home that we had just moved into, so I did a bunch of research and I took some classes—and I opened up my own business," Vinish said. She continued to work out of her home until 2018, when she transitioned to a professional showroom. 
Her staff consists of six employees, including family members, which hasn't presented a challenge yet. Her installer is her son-in-law, one of her sales consultants is her daughter-in-law and her daughter helping out with social media. They chose to spend time together outside of the office, enjoying company happy hours on top of family get-togethers. 
Vinish regularly spends time in the store, encountering new clients and those she helped some 20 years ago. Call their phone number and you might speak to Lorraine herself, ready to suggest window treatment solutions for whatever your project requires.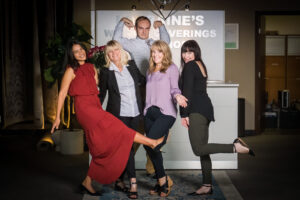 WINDOW FASHION VISION: What is the key to retaining customers and attracting new customers? 
LORRAINE VINISH: We have previous customers coming back all the time saying that we did their blinds 20 years ago and now we want them redone by us. Even though we've updated our computer software, we have an old computer in the back that stores all those orders. Recently, I was able to pull up someone's project that I did 20 years ago. 
For new customers, I've been doing radio for about 15 years and I do it regularly. We live in a very small community, but we have a lot of people moving here from the big cities and out of state. Referrals and word of mouth are very important, as is Google and social media. 
WFV: How do you sustain your team and sales talent? 
LV: We have regular staff meetings where we share information with each other on all of our jobs. I have three sales consultants, who go out on their own appointments and make their own schedules. They don't feel like they're being micromanaged and that makes them happy. Our installer also joins our staff meetings. 
WFV: What challenges have you experienced? 
LV: We never want the customer feeling like we left them hanging. We go above and beyond so that they're happy, sometimes we lose on projects. Draperies are more difficult than hard window coverings. The way we describe it, when there's an adjustment that has to be made, it's like a wedding dress. Sometimes we'll have to lower the drapery hem, sometimes we have to raise it.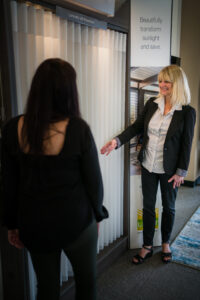 WFV: What benefits does your showroom bring to your business?
LV: In my space, there are 12 large windows, which was what I wanted. I have all these window coverings mounted in the windows, mostly motorized. A person can be on the inside and see the window coverings from the inside to the outside because the showroom is level outside. I have every style of window coverings so everyone can see how they all work. I'm working on taking out anything with cords on it. 
WFV: Do you have a piece of advice for retailers ready to grow their sales team and their product line? 
LV: Make sure everyone is well-trained. If there are any seminars that are coming up, even if you have to travel to them, take your staff. Just make sure to go even if you have to shut down your store for the day. It excites them to see the products and to be part of the behind-the-scenes, what goes on and what I've been doing all my life with this business. 
WFV: What about someone who's looking to introduce outdoor products to their existing interior line? 
LV: Do your research so you can stand behind the product of the companies you're buying from. We test things first on our own homes before we offer them to clients. We've been doing outdoor screen shades for a number of years, but we are looking into selling louvered roofs, a more permanent structure. 
WFV: Why is being a window treatment professional a great career in 2023? 
LV: You get to interact with the most wonderful people that live in your community. You get to go into their homes, meet them and find out who they are. They tell you their story. It's a lot of fun … A woman came into the store and I was showing her all the new blinds that we have in store and how they work. She just couldn't believe it. She hadn't gotten blinds for 20 years. So, it's so much fun showing people what can be done.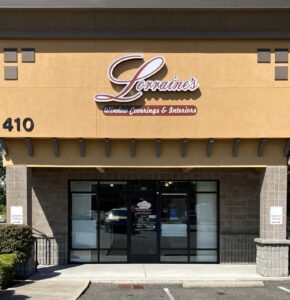 WFV: Do you still feel the same excitement that you did when you started your company?
LV: Absolutely! I think it's even more exciting now. The product is so beautiful and what they can do, it's pretty cool. Seeing the upgrades in motorization with rechargeable batteries, it's mind-blowing. People would have to take out all these batteries and replace them, now you can recharge your blinds just like you do with your phone.