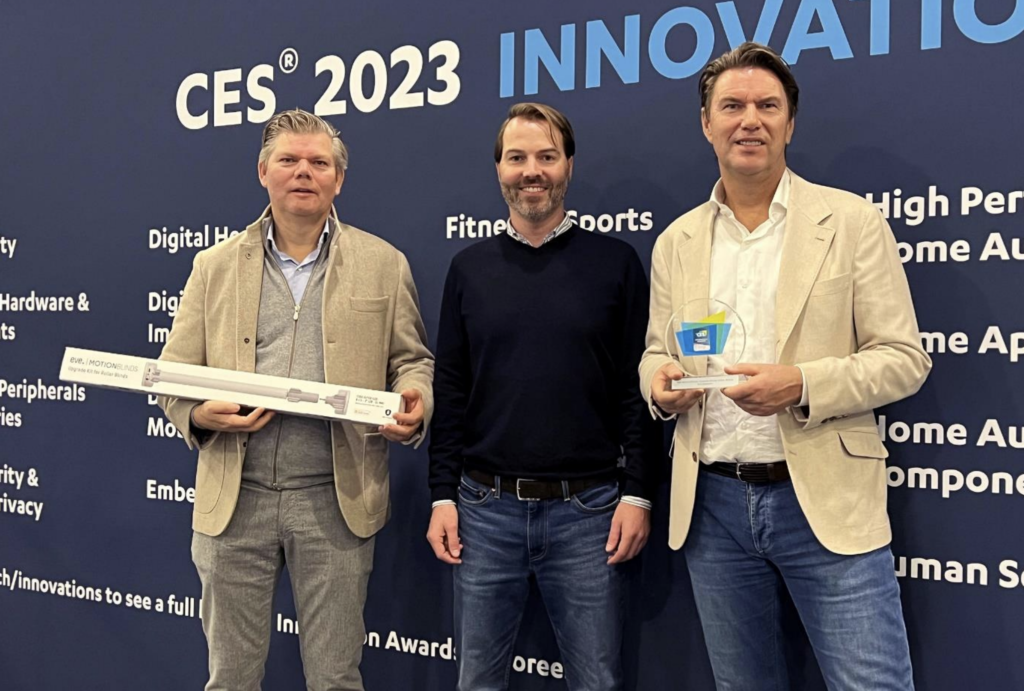 LAS VEGAS, NEVADA, JANUARY 5, 2023 – Eve MotionBlinds is named "CES 2023 Innovation Award Honoree" in the smart home category for its Upgrade Kit for Roller Blinds. The pioneering smart window covering brand from Dutch company Coulisse will celebrate with new Matter firmware updates in Q1 this year to make Eve MotionBlinds the first smart blinds motors on the market to use Matter-over-Thread. Following the introduction of Eve MotionBlinds a year ago, these innovations mark another breakthrough in smart window coverings.
Tech pioneers: Coulisse and Eve Systems
Dutch window covering specialist Coulisse launched Eve MotionBlinds a year ago in collaboration with German smart home specialist Eve Systems to expand MotionBlinds, Coulisse's leading concept in the market for smart window coverings. Seeing the gap in the market, the two companies put their designer and engineers together to create the first-ever smart window covering motors that support the latest smart home technologies Thread and Matter and work seamlessly in any smart home. Smart shading increases comfort, enhances security and helps save energy, making it an essential smart home product category. "We are extremely proud to be the first company in the world to integrate Matter-over-Thread technology into motorized blinds," says Christiaan Roetgering, Founder and Owner of Coulisse. "This allows our products to work seamlessly with other devices that support the universal smart home standard Matter, which is being developed jointly by Amazon, Apple, Google, Samsung, and others. Being honored with an award is a major recognition of our forward-thinking developments in smart window coverings."
Coulisse is presented with the innovation award for its Eve MotionBlinds Upgrade Kit for Roller Blinds at CES 2023 in Las Vegas, the world's most influential tech event taking place from January 5-8. Eve MotionBlinds joins other CES 2023 innovation award honorees including Samsung, Sony, LG and Microsoft.
Celebrating thirty years in the window covering industry, Coulisse is known for its design, creativity and innovation. Having entered the smart home technology market with MotionBlinds in 2018, the company is now taking the next step to become the global leader in smart window coverings.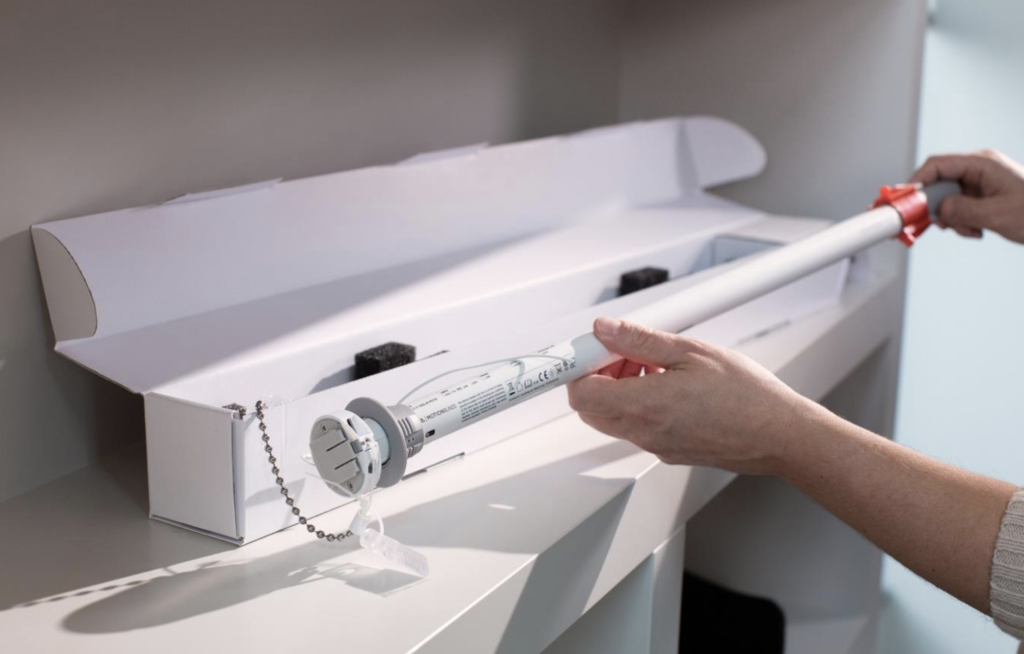 Award-Winning Eve MotionBlinds Upgrade Kit for Roller Blinds
Eve MotionBlinds Upgrade Kit for Roller Blinds is yet another first-of-its-kind product. The retrofit solution enhances basic blinds everywhere with Thread technology and the rich feature set of Apple Home and the Eve App. The kit can be easily installed in existing roller blinds without any wiring or technical know-how. Included are mounting brackets, covers and a set of innovative adapters that make the motors fit into a wide range of roller blind tubes.
Matter comes to Eve MotionBlinds
Coulisse and Eve are working towards releasing a Matter firmware update for all Eve MotionBlinds products in late Q1. The original Eve MotionBlinds motor for roller blinds, launched at CES 2022, has already passed Matter certification. This delivers plug-and-play interoperability and platform independence. Matter will enable Eve MotionBlinds motors to work with all four major smart home platforms, including Apple Home, Google Home, Amazon Alexa and Samsung SmartThings.
Eve MotionBlinds Options for Honeycomb & Venetian
Expanding the Eve MotionBlinds range for custom-made roller blinds, available through a global network of Coulisse partners, Eve MotionBlinds is now also available for custom Honeycomb and Venetian blinds. Eve MotionBlinds for Honeycomb is a multi-functional motor for high-performing cellular shades with excellent insulating properties, contributing to optimal thermal and acoustic comfort while the horizontal lines of the fabrics create a modern effect. Eve MotionBlinds for Venetian is designed for both tilting and lifting wood and aluminum blinds; a timeless classic that lets you play with light and create any desired privacy.
Availability of Eve MotionBlinds
Eve MotionBlinds for custom-made Roller shades, Honeycombs and Venetian blinds is available from a global network of retailers, which can be found on the store locator at motionblinds.com/eve. Eve MotionBlinds Upgrade Kit for Roller Blinds will be available from Evehome.com starting on March 28. To learn more about Eve MotionBlinds' CES announcements, stop by our table at Pepcom Digital Experience or contact us to meet at CES 2023.