The continued demand by homeowners to better utilize their homes' outdoor spaces has created the need to provide more effective shading solutions. Rollease Acmeda has been very successful with its outdoor shading products that allow for the creation of flexible indoor/outdoor living spaces.  
Its best-known product Zipscreen uses its patented core technology of the system, the Z-Lock, which is a specialized zipper system for the enclosure. The technology of this system design is now considered the benchmark for the exterior tensioned product category.  Zipscreen unlocks the potential of a home's outdoor space by having the flexibility to add an outdoor haven, hassle-free. From the summer's heat to the chill of winter, Zipscreen protects any pergola, lanai, alfresco or balcony and allows for open-air living all year round.  Made from high-grade aluminum parts, Zipscreen is an ultra-durable solution. Its signature no-gap finish ensures the perfect seal and complete protection from outside elements. The award-winning Ultra-Lock v2 mechanism, which securely locks the system in place, adds safety and security to the space.  
What makes Zipscreen a unique outdoor solution is its zip-fed side fastening system.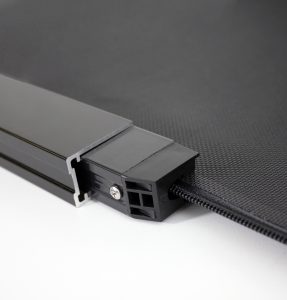 The fastener is welded onto the fabric and fed into the side rails of the system, ensuring it is securely guided up and down during operation. The zip welding technique also allows for a smooth fabric finish that eliminates unwarranted wrinkles and makes for a taut and sleek appearance. This fastening system provides the necessary stability and protection required in outdoor shades.  
Usability and control are dependent on user preference and a project's budget. Whether the product is operated manually, motorized or automated, the system allows for ease of operation. 
For a cost-effective solution, manual Zipscreen systems incorporate Rollease Acmeda's spring system technology with its low-pull force or crank gear configuration for comfortable operation.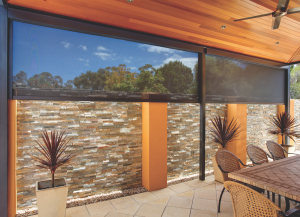 For those seeking a motorized option, Rollease Acmeda's Automate FT line of motors allows for seamless operation at the push of a button using the Automate Push 5 remote controller. These motors have built-in Zipcreen obstacle detection technology that automatically redirects the shade position if the hem bar hits an obstacle. This motor line is compatible with other Automate home motors and allows for the creation of a cohesive whole-home shading system.  
For an automated experience, the Automate Pulse 2 Hub and Pulse 2 app support configurations to set schedules and timers or to integrate into third-party systems, such as the popular voice assistants Alexa, Google Home Assistant and Apple HomeKit. The Pulse 2 Hub also works with the more sophisticated home automation platforms from Creston, Control4 and Savant. 
The Pulse 2 hub system also has a sun and wind sensor that triggers the system's operation to open and close the shade depending on weather conditions.  
Zipscreen can manage year-round shades of up to 19 feet wide, but for a more wide-screen retention solution, Rollease Acmeda supplies Zipscreen Extreme. These shades can stretch up to 23 feet in width and have drops up to 16 feet. Utilizing stainless steel hardware, a premium aluminum cassette and a choice of 110mm or 130mm aluminum tubes, the Zipscreen Extreme system is durable but minimally designed with a modern finish. 
Regardless of the system selected, all Zipscreen outdoor solutions are contemporary in design and offer a seamless aesthetic when incorporating multiple solutions into a project. The Zipscreen system is available in six classic colors to blend with any exterior. And the system's hardware can be combined with Rollease Acmeda's fabric brand, Texstyle, for a complete solution through one provider. Zipscreen.com 
PROJECT FOCUS: LARGE WINDOW SOLUTION 
Forstone Property Management was renovating its location at 750 E. Main St. in Stamford, CT, and wanted a window treatment that would cover a large window in the building's amenity area. Before the renovation, the building had three separate shades spanning across the window to cover the unitized curtain wall. Forstone routinely received complaints about the glare and light bleeding through the gaps in these shades. Thus, it was looking for a solution that would remove the glare and stylishly complement the design of the building's renovated common area.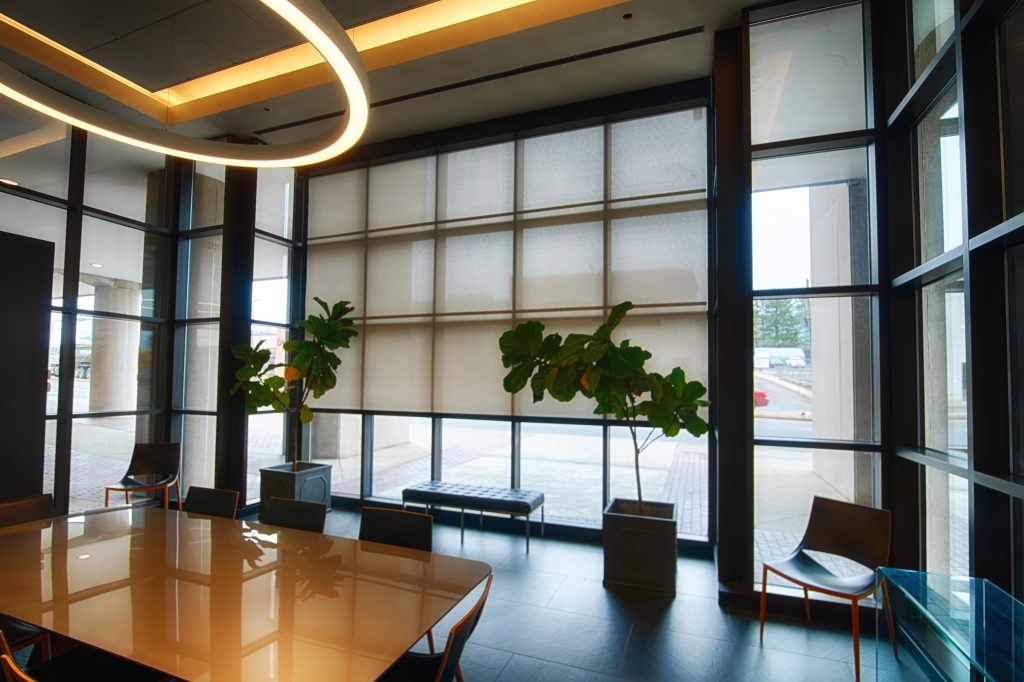 Rollease Acmeda, which is headquartered in the 750 E. Main St. building, was tasked with providing a solution that spanned the entire window, creating a single shade application. The design of the shade also needed to be modern and fit with the updated room's style.  
IMPROVED FUNCTION & AESTHETIC 
Using its Contract Series Specialty S100 Extreme system with an anodized box 190 fascia with an F72 bottom bar, it created the perfect solution. This extra-large single shade spans 18′ x 18′ and the Contract Series Specialty S100 Extreme system can span up to 27′. This ensured the issues of glare and light bleeding through were eliminated.  
For ease of operation, the Rollease Acmeda Contract team worked with the management of Forstone Property to select a 120v, 30Nm, star head Automate motor capable of lifting such a large shade. To control the motorized shade, a flush wall-mounted five-channel switch was installed.  
Because of the shades' extremely large size (324 FT2) daylight window opening, the fabric had to be railroaded to create a shade that was able to cover the entire window. The railroad fabric aligned the seams with the mullions for a premium aesthetic. The 4000 NET 3% white/beige fabric meets NFPA 701 standards and is GREENGUARD Gold and Oeko-Tex certified. 
The shade solution was fabricated and installed by Specialized Shading Systems of Ardsley, NY.    
Content Sponsored By Rollease Acmeda