By Kathryn Dillon
I love the ability to use textiles to create something beautiful as well as functional for our homes, and many of us stumble into starting a workroom for this very reason. Entering the workroom industry with a fashion design and textiles background, I was familiar with many of the nuances of fabrics and many of the tools necessary to create clothing. While there are many similarities between the clothing and home textile industries, many of the tools needed in the workspace are different.
One of my first drapery projects was for a neighbor's family room. There were two large windows, probably 135 inches wide each, and she wanted functional drapery panels and swags out of mauve tone-on-tone 1-inch striped cotton fabric. (I know, I know, mauve, but it was the early '90s in the Boston area, so we were actually right on trend!) After cutting out and "tabling" these multiple-width panels for each window on my living room floor, I knew there had to be a better way.
Let's look at some of the favorite tools used by industry professionals to create a dream workroom. Like many other workroom professionals, I love tools and always recommend that those new to the industry buy the best they can afford. Each machine or tool is an investment in the success of your business. For instance, investing in an industrial level air compressor by a brand such as The ACE Group or another company can be beneficial in the fashion business for air-jet spinning and weaving, creating man-made fabric, texturing units, and adding details to materials. Similarly, every piece of equipment has its importance in the fashion business to design the best quality product.
The worktable
By far, the No. 1 piece of equipment! Build your table as large as your space will allow while leaving room for the growing number of machines and other supplies you will use daily. My table is 5 feet by 8 feet and is the smallest I would recommend.
Careful planning before building your table will ensure you create as much storage underneath the table for fabrics and often used instruction manuals, rulers and fabrication supplies.
Resources:
Instructions for how to build a table can be purchased from the online store at The Workroom Marketplace, as can a printed table grid. The grid comes in several sizes to best fit the finished size of your table.
On episode 18 of "The Sew Much More Podcast: 30 Minutes with Workroom Tech," Ceil DiGuglielmo discusses the method Rodger Walker uses to build the tables at Workroom Tech. Along with the podcast, Susan Woodcock has written a blog with step-by-step photos and instructions.
Ironing systems
Many workrooms prefer using a boiler ironing system rather than a home iron. The difference is that a boiler iron has a tank that heats the water, producing dry, pressurized steam as it comes through the iron. Using pressurized steam instead of the heated iron plate found in a home iron is the most efficient way to iron.
The beauty of a boiler iron is even though they produce a lot of steam, they operate at a relatively low temperature, so they can be used on delicate and synthetic fabrics.
Resources:
döfix and Reliable are companies that manufacture and sell boiler iron systems. Both companies offer different sizes of boilers depending on how much ironing your workroom does each day. The döfix D50 maxi with a water capacity of 3.8 quarts will produce steam for about four-and-a-half to six hours. A comparable size of Reliable iron is the 6000IS with a water capacity of 4.7 quarts. döfix has a ceiling-mount system to keep the iron close by but off the table.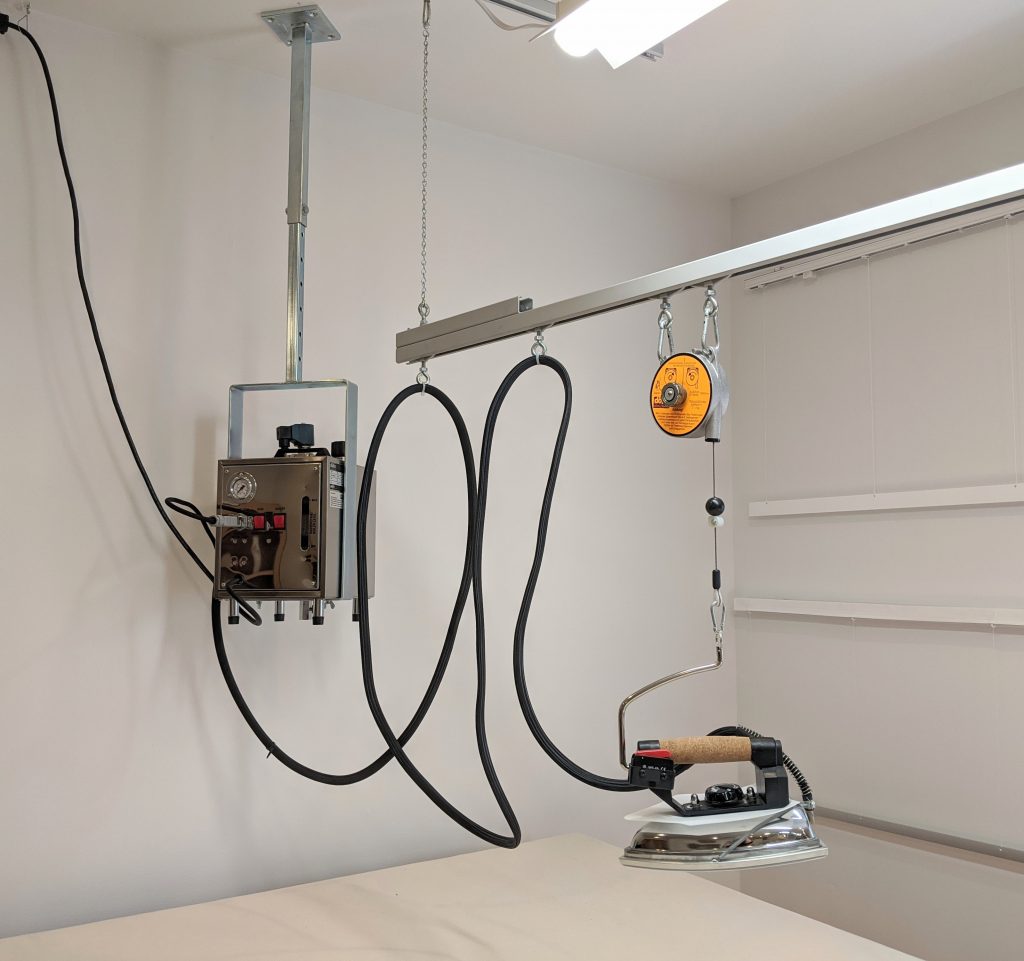 Stands
The Workroom Valet by Scot Robbins and/or the Workroom Helper are essential when fabricating shades and valences. The Valet and Helper are stands that a dust board can be secured to while stapling the treatment to the dust board. They are also super helpful as a temporary mounting surface when adjusting shade tension or setting motorized limits to ensure the shade raises and lowers evenly.
Sewing machines
Straight Stitch Machine
This will most likely be the workhorse machine in your workroom (unless you do a lot of upholstery). Juki, Consew, Singer and Brother all make industrial straight stitch machines that will get the job done. There is much more power in the motors of industrial machines than home sewing machines, which is needed with the types of projects fabricated in the home industry.
Walking Foot Machine
If you are working in the upholstery business or have slipcovers, cushions or use heavy weight fabrics in your draperies, a walking foot machine will help you maneuver through the layers of fabrics, trims and welting with much more ease. One of the differentiators between a straight stitch and a walking foot machine is the even feed presser foot on the latter. This type of foot helps the top and bottom layers of fabric to feed through the machine evenly because the foot is moving the fabric on top in a similar speed and manner as the feed dogs on the bottom without having to push or pull the fabric through the stitching process.
Serger or Overlock Machine
This machine is used to keep all the fabric edges cleanly finished, preventing the edges from raveling. To keep the machine running smoothly will take some time, as you have to understand which thread feeds through which threading channel. Once you get the threading sequence down, you will be able to detect which thread needs to have the tension tighter or looser by looking at the threads.
Blind Hemming Machine
These machines are sweet when you master the thread tension, presser foot pressure and needle size needed for each project. I will say that not all hemmers are alike, and they can be temperamental. I have a U.S. Blindstitch 718-C-6 that I purchased refurbished from a textile manufacturing plant. Even though I love it, with each project I have to play with the tension in order to achieve the results needed.
Tools and supplies
There is really no way to list every tool you will use in your workroom. I have purchased many over the years and still use each one, even if only occasionally.
The Draw-Matic system: This is wonderful for a one-person workroom to be able to easily and accurately table drapery panels. There are three parts to this system and it can be customized to fit your table.
Kai Scissors: These come in several sizes as well as left- and right-handed.
Rulers of all sizes, straight and curved. I use several dressmaking curved rulers when drafting patterns.
Grommet and button press
Pneumatic stapler and air compressor
Wall-mounted saddle rack system to hold cut fabrics or finished projects
Ceiling-mounted and/or wall-mounted tracks to use for work-in-progress or finished projects
Adequate lighting
Anti-fatigue mats
Filing system
Drill, screwdrivers, table saw and clamps
Workroom belt and apron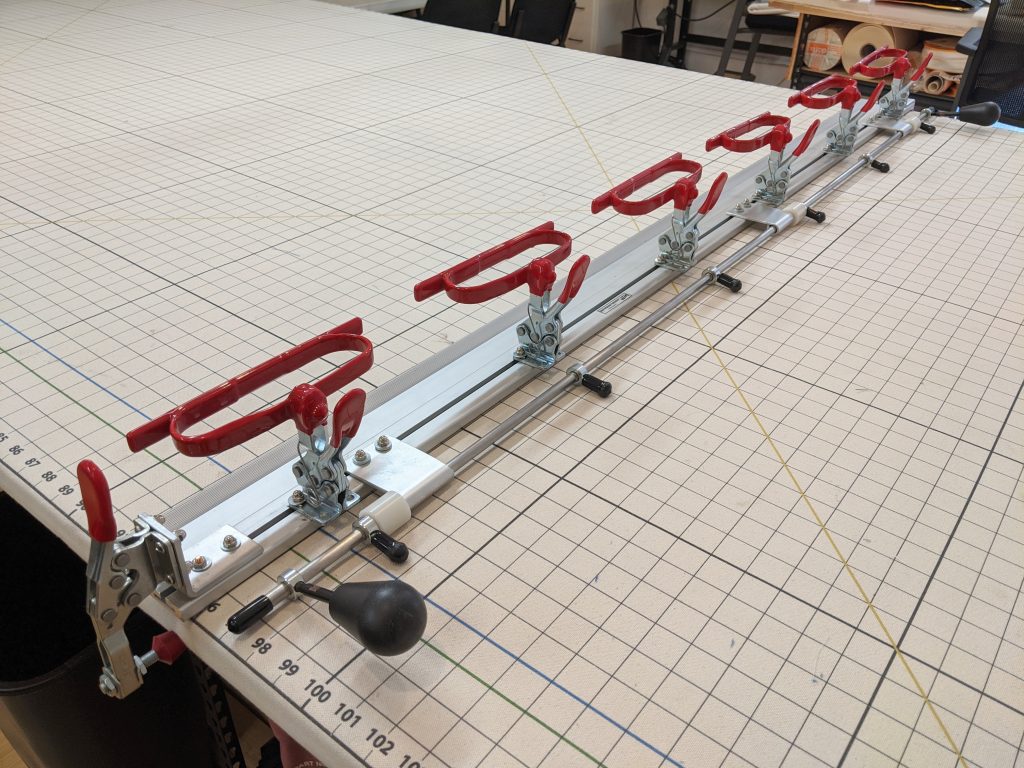 Measuring system
Each project has its own setup nuances that need to be accounted for when designing the hard or soft furnishing. To remember all the many details and measurements, setting up a measuring system that you consistently use, the same way each time, will help ensure you do not miss needed measurements.
In the beginning of my drapery designing career, I drew out each window separately, which took an enormous amount of time. Today, there are several tried-and-true measuring sheets that will ensure you take all the measurements you need to design, fabricate and install the project.
Resources:
The Minutes Matter Measuring System (MMS) and Seamless Workroom are two of the many measuring systems on the market. The MMS has 26 forms in PDF format with one template per page. These are printable and the user can put pencil to paper while in the client's home. These forms have diagrams of many different window types, plus bedding, pillows, blinds and more, so you can select the one that lines up with your project. Each diagram has designated places to measure, making sure you will not miss a measurement you need.
Seamless Workroom documents are fillable PDFs and Excel spreadsheets that work on a PC, Surface tablet, iPad, and MacBook Pro. Moreover, excel can assist with calculations and documentation of data while also arranging information in a simpler way to understand. Many people may have questions like – can you learn Excel online or should you do a course? You can research the same online and check out a few blogs and tutorials to learn the basics of Excel workbook and spreadsheet.
If you are moving toward digital documentation and a paper-free option, this system is robust and offers many different bundle options. If you are still an occasional paper person like me, the files are printable. Another feature Seamless Workroom offers in the Workbook bundles is Excel spreadsheets formatted to calculate and quote yardage, labor, lining, trims, and hardware.
Accounting program
When it comes to keeping a track of your business accounts there is a learning curve; however, once I learned the software, providing client proposals and invoices, getting quotes and ordering was much easier. Also, it is simple to keep track of your expenses and sales, through a service similar to a mobile app financial model template in order to see what areas need adjustments to have a profitable business. Without consistent documentation, it is really easy to be busy yet not profitable!
I have used QuickBooks for more than 15 years. QuickBooks makes closing out the year and sending all the required tax documents over to my accountant much easier. Some businesses hire a bookkeeper to come in once a month to do banking and credit card reconciliations. These bookkeepers may have the right expertise including how to arrange all the records for auditing, information on sales tax returns according to the particular region (see more at Investomatica here, if interested), manage the business finances, and so on. The main thing is, we can not ignore the accounting side of our business.
Education
To not discuss ongoing education would be to ignore the elephant in the room. New technology and textiles are being developed constantly as our environmental and human needs evolve. As design trends change, so does the need to learn or revisit fabrication techniques we need to use for the next project.
Resources:
The annual International Window Coverings Expo (coming in 2022) provides exposure to many vendors and products, design and fabrication techniques, marketing tips and business classes, as well as much-needed networking opportunities.
The Custom Workroom Conference focuses on education specifically for upholstery and drapery workrooms.
Workroom Tech is a school in Tryon, NC, where you can participate in hands-on learning in a small classroom environment.

---