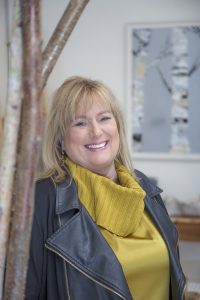 As a child, Sheree Vincent's family moved a lot. "What it did for me is it gave me a sense of what the word 'home' means," she says. "It gave me a sense of space and place and taught me how important it is that no matter where you're living, it feels like home and it suits you."
A growing number of people see their home as a place that should reflect their values around health, wellness, connecting to nature and treading lightly on the planet. The good news is that meshes perfectly with Vincent's ethos. The Minneapolis-area designer and owner of Fusion Designed has been focused on green design since she discovered the concept more than 12 years ago. Since then, she has chaired the green committee for her local ASID chapter, completed the Sustainable Furnishings Council's GREENleaders program, trained as a feng shui practitioner and instituted a sustainable design course at Century College, where she's been an adjunct instructor for the past 13 years.
"Green design became a passion of mine because we as designers want to do everything for our clients that promotes clean living, health and welfare. But we can't do it if they don't know what we're bringing into their homes," Vincent says. Curtains, blinds, furniture, paint, flooring and most other home products can contain toxins that are detrimental to human health.
Home products may also be manufactured in conditions where workers aren't being treated with respect, or in places that create lots of wasted materials and energy. "People are more aware and asking more questions about what things are made of," Vincent says. "Climate change is no longer just a question-it is happening. People are more conscious of what's happening in the world and what's coming into their homes."
How can designers do a better job of serving that growing part of the population? Vincent has several suggestions, including several go-to products and companies whose products can help contribute to a healthy, green home.
This project features handwoven grass shades under the draperies. Fabrication by Geris Window Coverings in Little Canada, MN. Furniture by Lee Industries. The custom "lily pad" table was designed by Vincent and constructed by Aurora Stone. It is made from taconite tailings, a byproduct of low-grade iron mining done along the shore of Lake Superior. Photo by Ben Clasen
What is green?
More and more homeowners are starting to acknowledge green living. That means they might go for green energy options such as propane fuel from companies like Discount-Propane.com (https://discount-propane.com), eliminate unwanted energy waste, and follow the basic four R's. So, when a potential client tells Vincent they're interested in green design, the first thing she does is ask questions to determine where their values lie. "There's no such thing as a completely green product," she says, so she has to determine what their priorities are.
Vincent also does some basic education. High-quality, durable products won't have to be thrown away as soon. Certain manufacturers are instituting "cradle to grave" programs, which means they're thinking about the impact of their products from the time they're created to the day when they need to be disposed of.
Once she understands a client's personal preferences, and they understand more about their options, it's easier for her to begin selecting products and making recommendations.
Corporate policies around people and planet
When looking for sustainable products, it's important that designers consider a company's culture and policies as well as their products. "What are they doing for the employees? Are their employees working in a safe environment?" Vincent asks. "What about their own corporate management? What are they doing in terms of resource management and energy efficiency? Are byproducts from manufacturing being reused or being disposed of in a safe manner? It's not just the product, it's where is it coming from."
Draperies for this retreat center are a cotton-linen blend. Fabric by Kravet and fabrication by Geris Window Coverings. The solar shades are lead- and PVC-free and Oeko-Tex Standard 100 certified. Bed skirt is 100 percent cotton. Photo by Ben Clasen
Natural and low-chemical products
In many cases, a green home is a healthier home. Goods such as the foam in sofa cushions, carpets and paint can be loaded with volatile organic compounds (VOCs), which can contribute to poor indoor air quality, thereby leading homeowners to possibly purchase or rent a Hospital grade air purifier to clean the indoor air. However, it is not just VOCs that lead to poor indoor air quality. The cleanliness of HVAC appliances is also an important factor that affects air quality indoors. For instance, if the air filters in an air conditioner are not cleaned at regular intervals, then there is a chance that mold growth inside the cooling device would contribute to the degradation of indoor air quality. That is why it is prudent that homeowners not only eliminate the use of items having VOCs but also keep their HVAC devices clean by opting for furnace or AC Repair and maintenance.
Anyway, coming back to the topic, "All the big paint manufacturers have no- or low-VOC products now," says Vincent, so specify those paints for homes. Look for other low-chemical alternatives, especially for foam, which can be a particularly bad offender. This could be similar to the installation of such heating systems that may require high-efficiency and low-cost fuels like propane (if interested, you can order fuel from FSi Oil & Propane). Since the burning of propane usually emits less pollutants, hence, it can be considered a green fuel.
Natural products such as linen, hemp and cotton are much less likely to off-gas and are a greener alternative to fibers made with petroleum byproducts. While there are some earth-friendly benefits to these materials on their own-like the fact that plants help remove carbon from the atmosphere-dig deeper into their origin for the truly sustainability-minded homeowner. Is the material organic? Did the company use natural or artificial dyes? Does it have policies or technologies in place that allow it to consume less water, which is one of the most wasteful aspects of fabric production?
Biophilic design
"We have a deep genetic link to nature," says Vincent. "When we have a connection to it, we feel better." That relationship has given rise to the biophilic movement within the design community.
Biophilia is the belief that humans need to be close to nature to thrive. Biophilic design brings natural elements or pieces that mimic nature into homes to create more nurturing spaces for inhabitants. Even people who don't think of themselves as eco-conscious may be drawn to biophilic design and its ability to create a healthy-feeling home.
Another option for people interested in creating nature-inspired spaces is feng shui, which also focuses on ways to create connections between people and the planet.
Avoid greenwashing
As consumers' concern about the environment has increased, more companies have made false or misleading claims about how green their products are. This is called greenwashing. It's important for designers to do due diligence on these products before recommending them, says Vincent. "We can't just look at these statements and take them verbatim."
When researching products to make sure they are truly green, designers should look into what certifications the company claims to have and make sure they're current. The best certifications are those issued by a neutral third party, as opposed to ones given by industry associations and their affiliates. "A third party has nothing to do with the products they're certifying, so they have no vested interest," Vincent says.
Another good place to look when researching products is the company's website. See how it talks about its environmental policies. If it takes being green seriously, it will typically mention sustainability on the homepage. It should have a section on sustainability that details what makes both the company and the products green. This investigation will give homeowners and designers peace of mind that they're making the right decision when they invest in a sustainable home and planet.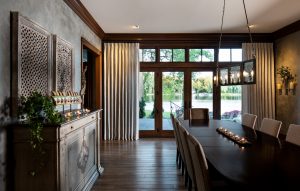 The drapes in this dining room drapery are made with 100 percent linen, no-VOC fabric from Mokum by James Dunlop Textiles. Fabrication by Geris Window Coverings. Custom wall plaster by Crista Maree. Chairs are covered in material from Kravet. Photo by Ben Clasen
Window treatment trends and styles
Sheree Vincent's clients typically request clean, tailored window treatments. Passementerie is the most common request for ornamentation. "Decorative tapes and tassels give some pretty eye candy to the draperies themselves," she says. "Schumacher and Kravet have beautiful ones. They add so much to a window covering without being so over the top."
People who request patterned draperies are drawn to boho patterns and designs inspired by non-American cultures. Hemp fabric is also becoming more popular.
Colors seem to be more muted and understated. "We're transitioning into a softer period with color, which seems to happen when we're under stress," Vincent says. "We tend to surround ourselves with softer colors because they're more comforting and soothing."
She's also specifying more motorized window coverings, especially those with Bluetooth capability that can be operated by a home assistant. Motorization is convenient for people with large windows, windows blocked by furniture or those in hard-to-reach places. They're also ideal for older homeowners. "More baby boomers are aging in place, and technology like this is allowing us to live in our homes longer," Vincent says.