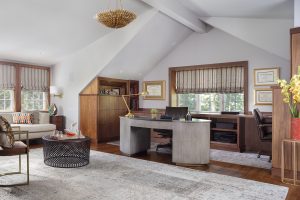 While the work-from-home trend has been going strong for years, it got a big boost from the COVID-19 pandemic, which has forced millions of Americans to work from their bedrooms and dining rooms for nearly a year now. This has left many workers missing their office coffee service and free breakfast croissants, and whilst health comes first, plenty of people are longing to return to their office.
Although the change happened so suddenly, companies seemed to have had the assistance of managed IT service providers to help their employees set up their work from home. But many people were unprepared to set up a functional and attractive home office for themselves. In addition, many people live in homes that are too small for a dedicated office. But since it looks like many professionals will continue to work from home for a while, either by necessity or choice, more people are beginning to invest in a home office that works.
Interior designs from the New Jersey chapter of ASID recently shared several ideas about how to set up great home offices, especially if your space is small.
Don't forget window treatments
Whether your workspace goes in a corner or gets its own dedicated room, don't forget to invest in good window treatments. "Most home offices require versatile window treatments such as shades or operable draperies that allow for privacy and light control when needed," says Susan Barbieri, ASID, of Susan Barbieri Interior Design. "For example, sunlight filtering into an office can make computer screen viewing tedious on your eyes. It can also cause a person to appear very dark in a Zoom meeting against a bright backdrop.
"Privacy is important as well for security reasons when working from home," she continued. "All of these issues can be controlled easily with window coverings. Finally, window treatments can provide warmth in the winter and cooler temperatures in summer, which can reduce energy use and save money."
Window treatments can also add extra cheer to spaces. "Your office, as with any space in your home, gains a level of sophistication with this addition," says Alma Russo, ASID, of AR Interiors. "The psychology of your environment being beautiful and thus increasing productivity has never been more necessary."
Want more ideas for designing outstanding home offices? Check out this episode of VISION Seat, Window Fashion VISION's biweekly Facebook Live show (happening every other Tuesday at 4 p.m. Eastern).
Closet-cum-office
"When your workspace is in your bedroom, separating the work area from the personal area is essential for productivity and stress relief," says Barbieri. One way to do that is to place a workspace in a closet (see left). At the end of the day, simply close the doors and watch work disappear. Be careful in small spaces like this, however, as they can get very hot in the summer, especially with a large computer pumping out heat. Heatstroke isn't going to help you get any work done, so use a company similar to Barnett Electrical (for AC Maintenance in Edmonds, Ok.) to get air conditioning installed. This will keep your small space both comfortable and practical.
Share and share alike
"When your home office is a shared space, it's very important for each person to have their own comfortable chair and portion of the room designated just for them, their computer and work files," says Sandra Lambert, ASID, of Realm Designs. New "co-workers" also need to find ways to cut down on noise. Lambert has a few suggestions for how to do this:
Place acoustical panels or stackable surfaces on the wall to help with sound absorption.
Position desks so they are facing a wall or away from each other. This will help lower the transmission of sound.
Install a white noise machine to mask the sound of keyboards clicking and papers shuffling.
Go up or down instead of out
"In any small space, I always look to vertical solutions," says Cozette Brown, Allied ASID, of Cozette Brown Interior Design. "Tall chests, bookcases, even an old armoire can all be repurposed for office use."
Lambert recommends installing cabinets and shelving below work surfaces. "Don't forget about the back of doors, she says. "They can have hooks, folder holders or tackboards."
Alternatively, if you have any outdoor space, consider actually going out. Like, outside. A small backyard studio can be built in a day or two, and you'll instantly have another room to use. It'll be quiet and peaceful, but you might need to think about how you're going to get electricity in there. Solar panels are one option, or your laptop may be able to run on battery all day if you remember to charge it each evening.
Consider a stowable desk
If you don't want a desk to be a permanent fixture in your room, look for one that can be folded up and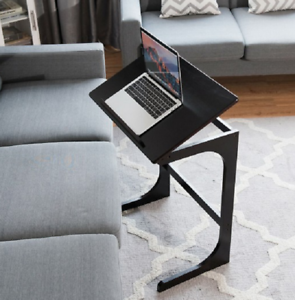 stowed at the end of the day. Terri Fiori, Allied ASID, of Fiori Interior Design, recommends C-shaped end tables (see right). "You can slip them under a chair or a bed. Some of them serve a dual purpose, with a shelf feature or a flip-top extension," she says.
Photo caption: A C-shaped end table can replace a traditional desk. This one has a tilting top for adjusting to different positions.
No desk? Try a shelf
If you lack room for a desk in your small office space, Joan Ravasy, ASID, of Joan Ravasy Design, recommends using wall-mounted shelves instead. They can be tucked into corners, hallways and other unexpected spaces.
Create a great backdrop
With an office-bedroom combo, you must be particularly careful about prepping your video conferencing backdrop, says Sharon L. Sherman, ASID, Thyme & Place Design. "A virtual background, such as a green screen, is one option. Otherwise, you'll need to set up an actual background that doesn't show the bed. A cozy corner with good lighting, books, wall hangings or plants behind you project an air of calm and professionalism."
Drapes are another option for a backdrop. "Window treatments in an office space can be used to introduce color and pattern against a neutral wall-without being distracting," says Fiori. "Panels that are closed can create a clean backdrop for a Zoom call."