By Susan Inglis, Sustainable Furnishings Council
There are dozens of things that influence the true sustainability of your choices in window coverings. For this article, I'm going to discuss your choices for wood products, which you might use for shutters, blinds or shades.
Wood is a logical place to start because saving the forests of the world is so important to addressing global warming. Scientists working with the Intergovernmental Panel on Climate Change have concluded that preserving and expanding our forests is by far the most efficient—that is, easy and inexpensive—way to slow global warming. Unfortunately, we are still losing a net 10 billion trees a year. So, our choices in wood for window fashions are important.
Here are five simple strategies for doing your part in helping to halt deforestation.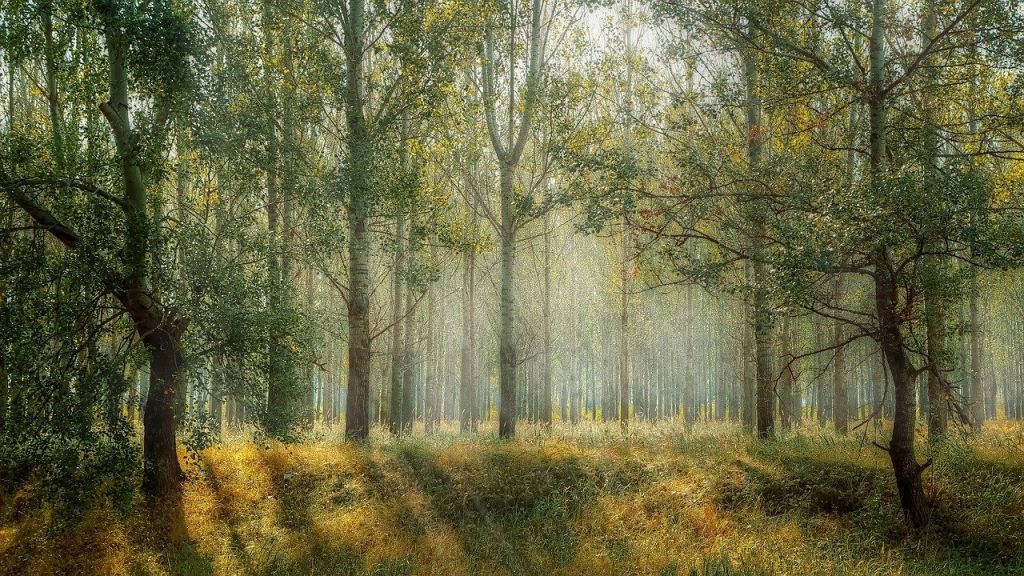 Image by Valiphotos from Pixabay
Use Certified Wood
Certified wood means a trustworthy, independent agent has been hired to inspect and verify that the wood used is legally logged and sustainably harvested. Certification is the best defense against deforestation. Though it has not been commissioned for most forests, plantations or wood products, it is worth seeking out because the more we ask for it, the more it will become available.
There are three main certifiers of wood around the world. The Forest Stewardship Council (FSC), created by the World Wildlife Fund and other environmental groups in 1992, was the first and remains the best. It has the strictest standards and the most strenuous auditing protocols, giving its approval more weight in the environmental and governmental communities. The program operates in 46 countries issuing forest management certificates in over 100 countries. Beyond sustainable growing, they prohibit converting forested areas, using hazardous pesticides and genetically modified species. They address social issues by supporting the rights of local populations. Every year, they audit every one of the offices that perform their certifications.
The Sustainable Forestry Initiative (SFI) was formed by the largest trade association in the wood industry. They combine independent auditing with self-auditing, depending on the location. The last of the three is the Programme for Endorsement of Forest Certification (PEFC), which was created by European tree farmers. It is a careful desk review of many different certification systems.
The challenge with certified wood is finding enough of it. About 11 percent of the world's forests are now certified, including about 4 percent by FSC and 6 percent by other PEFC-recognized certifications. This represents about 30 percent of the world's wood supply. As public awareness and concern about climate change and deforestation have risen, more companies have made the investment to get their wood certified.
Reuse and Recycle
The second strategy is using reclaimed and recycled wood material. It is important to note that what we throw away is now our world's most abundant natural resource. That includes, of course, wood that we have used for one purpose, such as making pallets or building buildings, that can now be reclaimed and reused for another purpose. Reclaimed wood can actually add significant value to the resource. Street trees that can be milled into wood and barnwood are two examples.
Plantations and Company-Owned "Forests"
Using plantation-grown trees can also make a big difference in the fight against climate change. For many years, wood suppliers have recognized there is a strong market for more exotic hardwoods like teak, mahogany and zebrawood. Their challenge was that these trees were always in short supply because they grow very slowly and, increasingly, only exist in protected areas.
The solution was to start plantations that grow trees specifically to be cut down and used as raw materials. Much like certified wood, the sellers will have paperwork verifying the trees come from plantations. Whenever you are looking at tropical hardwoods, ask if it's plantation grown and to see their certificates.
There are a couple of wood species that are grown on plantations, but not for the wood. Mango, for instance, is the most abundant fruit in the world. The trees stop producing fruit after 12 to 15 years, so the growers have no choice but to cut them down, sell the wood and start over. This is true of any mango wood, so paperwork is not necessary.
The fourth option is to look for wood products made by companies engaged in their own forestry programs. Many companies in the furnishings industry are planting trees to ensure there is plenty of wood for future generations to use, either in their own programs or by working with state forestry departments and nonprofits engaged in planting trees.
A Bonus Option for Sustainable Materials
I am also going to give you a fifth strategy: choosing plant materials that can serve as good alternatives to wood. There is a whole class of materials called "rapidly renewables." By definition, these include plants that grow to harvest within 10 years. Many of them are excellent natural materials for use in window fashions: bamboo, rattan, seagrass, various canes and reeds, and textile fibers. There are, of course, many chemical and mechanical inputs in turning these plants into window fashions, but here is a look at some of the attributes of these materials.
Bamboo is a popular and fairly common material. It is actually a grass, not a tree or shrub, so like your lawn, it doesn't need to be replanted after being cut and grows back very quickly. It's also extremely versatile. It can be made into fabrics as well as wood substitutes and is as strong as any hardwood.
Other commonly used plant materials—like rattan, water hyacinth and cane—typically grow wild in moist tropical areas and are harvested by local farming communities that use them for traditional uses that use no electricity. Purchasing these products supports the preservation of handcrafted traditions and native economies in very low-carbon enterprises.
Our consumer research over the years shows that 90 percent of people would prefer an eco-friendly product if they like the style and the price is within their budget. On wood specifically, our research shows that fully 76 percent of us are willing to pay up to 5 to 10 percent more for wood furnishing products that are certified as legal and responsibly harvested. I think you will find great satisfaction in doing your part to save the forests of the world. Providing these products to willing consumers has never been easier or more important.
Susan Inglis is the executive director of the Sustainable Furnishings Council, a nonprofit that helps companies in all segments of the residential furnishings industry reduce environmental footprint and consumers find more environmentally friendly home furnishings.