By Gail Gutsche
It is always important to know how you can keep your home cool during summers, and well heated during winters. In cities like London, glazed windows are a common way to maintain insulation in homes. However, it must be noted that not all buildings in the city can undergo such treatments and need to look at service providers who can provide Secondary Glazing for Listed Buildings London. But, it is not the case with other parts of the world. Now, let's look at the different types of window treatment options available.
Roller shades, the oldest and simplest of window treatments, never go out of style. Easy to operate, a breeze to dress up or down, energy efficient, economical and timeless, roller shades-and their newer, sophisticated offspring-are more versatile and popular than ever.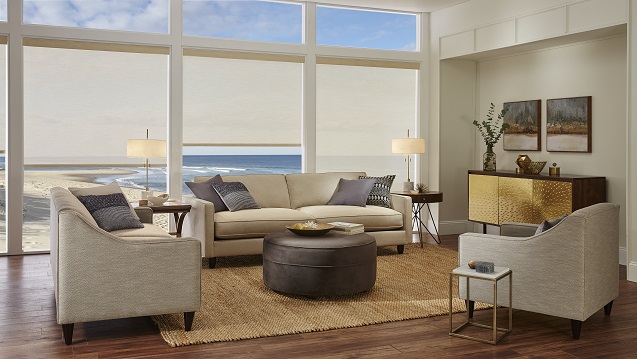 Photo courtesy of Alta Window Fashions
Shades have been with us a long time. According to Hauser Shade Company's "A Brief History on the Origins of Window Roller Shades," "The first shades to appear in windows were painted roller shades … (W)indow shades began being used widely in the eighteenth century in Holland, France and England. In America, window shades began appearing in homes and public buildings around 1780. Because these shades were made of translucent cloth or paper, their decorative designs could be seen by both the building's inhabitants and those passing by outside."
Gone are the days of hand-painted shades made of cloth or paper. Today, light-, heat- and UV-blocking fabric choices, trendsetting colors, ease of operation and an attractive price point are the features consumers look for when deciding on roller shades. In a way, home improvements have developed a lot in the last two decades. The house security system, for instance, have become much more smart, user-friendly, and effective in securing homes.
Great and Green
"Solar shades are how Insolroll began," says Kim Newby, creative and marketing director. "They are inherently green because they reduce energy usage (and) decrease cooling load and the carbon footprint of every building in which they are installed. Solar Shades control sun, heat and glare while still allowing the view. They block up to 99 percent of UV, which is excellent not only for protecting your furniture and carpeting from cracking and fading, but for protecting the skin and eyes of the inhabitants of the house."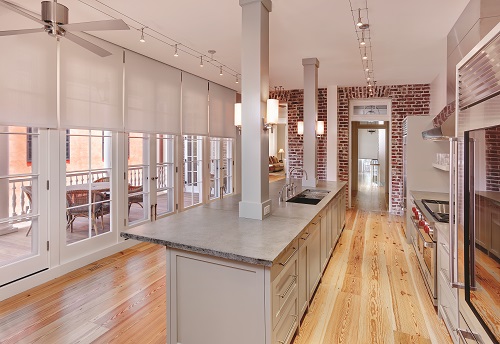 Photo courtesy of Insollroll
Insolroll solar shades are available in blackout and translucent options and for interior, exterior, manual or motorized applications. The company offers a line of fabrics made from recycled plastic rbottles as well as PVC-free fabrics, both of which are excellent choices for LEED buildings. Not surprisingly, motorized shades continue to grow in popularity, with mid-size residential applications gaining traction.
"Motorization doesn't have to require a lot of high tech," says Newby. "It's user friendly and accessible in entry-level systems for one room or an entire home. It's easy to operate via a handheld remote, tablet or phone, or a wall switch."
Jessica Bondell, senior project manager, fabrics for Rollease Acmeda, another giant in the solar roller shade business, touts the environmental benefits of motorization. "Motorization combined with the right fabric optimizes energy savings (and) heat and light control on our roller shades. Metalized fabrics let light in while controlling heat-so you don't have to blast the air conditioner and increase greenhouse gases." She also states the motorized shades are great for those who are interested in looking for cheaper energy-saving methods and tips. For more information, you can check out this article.
The company is currently working with several partners to source PVC- and halogen-free fabrics, which would make the shades recyclable.
"We're close to introducing those products," says Bondell. "Everyone wants to be environmentally friendly, but not everyone wants to or can pay for it. We're developing products that are environmentally sound, obtainable and more affordable at a cost that is a 10 to 15 percent increase rather than costing up to twice as much."
Motorization Made More Affordable, Convenient
To that end, enter PowerShades, a motorized system for roller shades that the company claims can be installed and maintained by the purchaser for about 30 percent less than its competitors. PowerShares readily integrates with nearly any home automation system to deliver precision control for roller shades utilizing a technology (such as Alexa or Google Home) that is already incorporated into the user's life. Shades open, close, raise, and lower as the days, seasons, and inhabitants' behaviors change.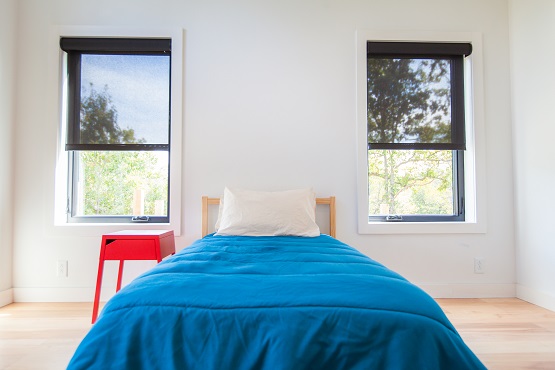 Photo courtesy of PowerShades
"Our custom cloud-based dashboard allows integrators-smart-home dealers, window covering dealers or end-users (property owners)-to schedule the shades without aid from a third party. We have a web program-set 'em and forget 'em-that anyone is capable of operating," says Ethan Turner, director of sales and marketing.
In the fall of 2019, PowerShades launched power-over-the-ethernet (PoE) at the Custom Electronic Design and Installation Association (CEDIA) show in Denver. This proprietary technology, which is exclusive to PowerShades, allows a motor to operate via an ethernet switch.
"With PoE, there is a low-voltage hookup. No propriety wire or electrician is needed," says Turner. "This low-voltage frequency delivers communication and operation over one cable. This technology is extremely energy efficient, as hundreds of data points can be read at once, and adjustments to shade settings change quickly in response. Sales are really booming. We've seen massive growth and expansion for two years and it's not slowing down. It's a hot market."
Jere Gianola, program manager of motorization at Rollease Acmeda, touts the company's Automate line for innovation and integration. "Automate utilizes an industry-leading proprietary two-way communication platform. Shades both receive signals and communicate back position reports and battery level status within the Automate app. The platform also enables integration with every major system including Alexa, Google Home, and Apple HomeKit, as well as every major Home Automation system."
At Alta Window Fashions, roller shades are also the most popular motorized product, accounting for more than 20 percent of sales. "We operate on the good, better, best approach to motorization," says Lynn Ranger, vice president of marketing.
PowerWand is Alta's low-cost, entry-level motorization system. In the better category, the motorized remote systems operate with the touch of a button. "Better is the best-selling category because it hits the sweet spot on price and function," says Ranger. The top-of-the-line motors can be operated from an app on a mobile device or through home automation systems.
Alta plans to showcase a new motorization program at the International Window Coverings Expo (IWCE) in Charlotte in March. The company will roll out several other new programs this spring and summer, including a fully updated shades collection and its new zebra combination Dual Shade collection.
Cool Shades
Roller shades are not the only hot-selling item at Alta. The window shading category is strong as well. The sheer horizontal shades contain soft S-shaped louvered vanes that can be opened or closed based on light, heat, and privacy considerations. However, in case you would prefer permanent options that might help you to retain heat during cold months and keep the heat out during warmer months, it would be best to look into Window Tinting Solutions.
"Window shadings provide wonderful UV protection," says Ranger. "They block 87 percent of harmful UV rays, even with the vanes open. From a daylighting perspective, they can't be beaten. Sunlight comes in, bounces off the S vane diffuses the light through the sheers and then disperses that light deep into the room. You get more light in the room, so less artificial light is needed, and less energy is consumed."
Window Shadings come in two opacity options: light-filtering and light-dimming. Light filtering provides total privacy without being a blackout shade.
William Liu, president of HT Window Fashions, says cellular shades meet all the needs his customers seek: privacy, UV blocking, light control, insulation and safety.
"The unique structure of cellular shades traps air between the fabric, which functions as an insulator to block cold air in the winter and hot air in the summer," says Liu. "Cellular shades also have multiple operating systems, including cordless and motorized, which give customers lots of options."
HT boasts an array of nonwoven, woven and fire-retardant fabrics. Its newest introduction, bamboo shades, is available in several prints in both light-filtering and blackout.
Fabrics and Colors
Consumers are increasingly looking for fabrics that are eco-friendly or use technology to provide a beautiful look for less. "There is a trend in green fabrics like Phifer GreenStory and Sheerweave 400 series," says Turner from PowerShades. "We offer 20 PVC-free products that help reduce solar heat and lower greenhouse gas emissions."
Ranger points to Peaceful Allure, a linen-like nonwoven fabric that is textured, durable and will not fray or pill. Available in a variety of grays and neutrals in the honeycomb collection by Alta, Peaceful Allure will debut at IWCE in March.
Two fabrics in Insolroll's core line are generating excitement. Sandia is a horizontal striated textured fabric available in 1 and 3 percent openness in on-point gray. Multidimensional Elm is equally at home in a cool or warm color scheme.
Rollease Acmeda offers two decorative fabrics, Karuna and Mandal, made of 100 percent recycled polyester that provide the benefits of PVC coating, without the off-gassing and harm to the environment caused by PVC. The Karuna Collection features seven neutral colors, including a dark and light gray, in a transparent intricate open weave. The Mandal Collection is available in six scrumptious colors including Mustard and a sassy dark blue, in a light-filtering, woodgrain like weave.
When it comes to trending shade colors, all agree that gray is dominating the scene. "Grays, grays and more grays and a little bit of taupe," says Bondell. "Neutrals have always been the most popular seller, but the market has migrated toward grays, both warm and cool."
Whether your client is looking to update their bedroom, living room or entire house, or you're tackling a bigger commercial project, you can't go wrong with shades. Versatile, fashionable, functional and increasingly environmentally friendly, shades are leading the way.