By JoAnne Lenart-Weary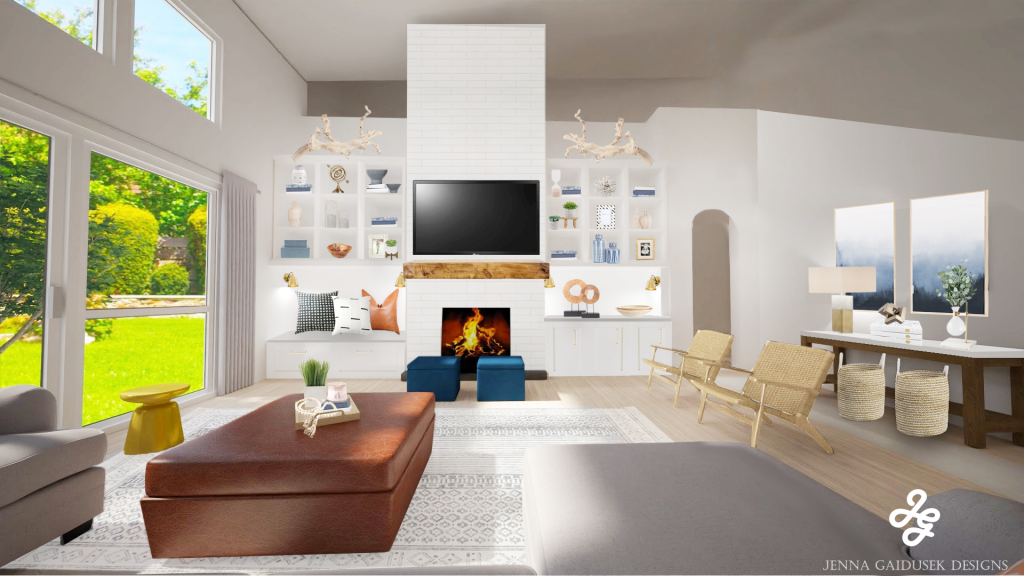 Photo courtesy of Jenna Gaidusek
I have been in the design and staging industry for over 40 years. Every 10 years or so, I see a new twist on the art of creating beautiful rooms. This "new" service is typically about approaching the process in a different way. Whether you call it short-term rental design, redesign, One-Day Decorating, Staging to Sell or something else, the goal is always the same: creating a service that suits a client's needs and delights them in the process. What underpins the staging of homes, of course, is how clean they are kept, as a pristine home is more attractive to prospective buyers. Perhaps those selling homes or estate agents will be interested in services that offer house cleaning Austin to ensure that these staged homes remain in perfect condition. It's a worthwhile investment if it means that buyers are going to be wowed and won over. Elsie de Wolfe, the mother of the profession of interior decorating in 1905, would agree that the more things change, the more they stay the same.
The "new" kid on the block right now is eDesign, which arms the client with a recipe to a beautiful room. eDesign takes place entirely online and supplies clients with ideas about how to decorate their spaces themselves, using the resources they can find virtually or in their local community. Advocates advertise it as a convenient, affordable way to get a home that looks like it has been professionally decorated. Keep in mind that this could be ideally helpful for those individuals who have plenty of time on their plate. Maybe, they can take it as part of their hobbies or something to do during their free time. However, for those with less time constraints, it might be prudent to get in touch with a renovation company for their home additions. There are many reputable companies like Ware Design Build – Home Additions, for example, that can help in this regard.
eDesign has already had its highs and lows. Some of the early corporate adopters have experienced failure, leaving behind unpaid designers and clients without the design plan they had ordered. In many cases, the pricing models of the products were priced so low, the business model was destined to fail. The failure of those early businesses has led many eDesigners to control their destiny by launching their own business or adding eDesign to existing services. I surveyed eDesigners from around the country to provide you a look into this niche. Here is what I learned.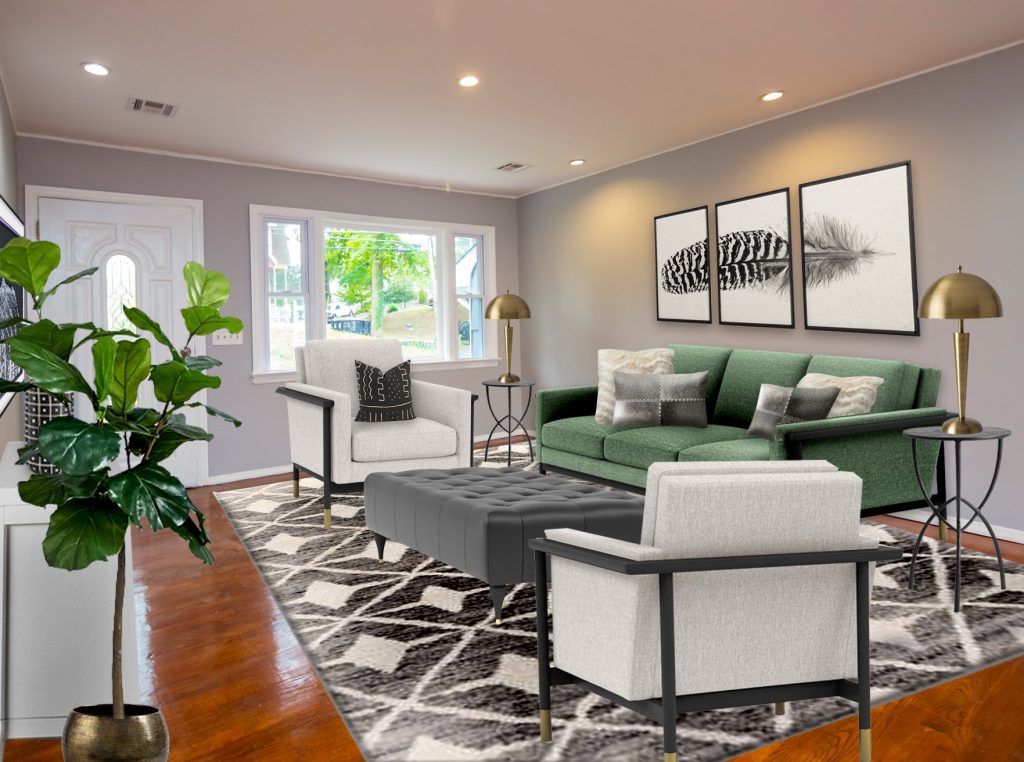 Photo courtesy of Mary Ann Benoit
eDesign Is a Team Sport
Pinterest, Instagram and HGTV unleashed a world of DIY decorators, many who simply need inspiration and validation. The collaborative quality of eDesign provides the client confidence and ideas they may not have had on their own.
Jenna Gaidusek of Jenna Gaidusek Designs in the Bronx, NY, an eDesign pioneer and founder of eDesign Tribe, an online community and training resource for eDesigners, says, "In a world where everyone has a perception of how life 'should' look through a social media filter, a desire for well-styled, affordable decorating services has gained popularity. The demand will only get stronger and more powerful as technologies advance and consumer awareness is raised. eDesign is quick, easy and produces a beautiful result that can change the way the client functions in their home."
Shannon Levy of Shannon Levy Interiors in San Francisco observes that hiring a designer used to be for the wealthy. eDesign bridges the gap between the super wealthy and the rest of us who value quality of design and its impact on our lives.
eDesign Can Be as Big or Little as the Client Wants
My very first long-distance or eDesign project was in 1985, when a wonderful client moved from Erie, PA, to Plano, TX. We selected paint, rearranged furniture, ordered new pieces and created custom window treatments for her entire home via photos, numerous back-and-forth packages and a detailed lesson in measuring via the phone. I have also done many eDesign projects that were simply virtual color consultations.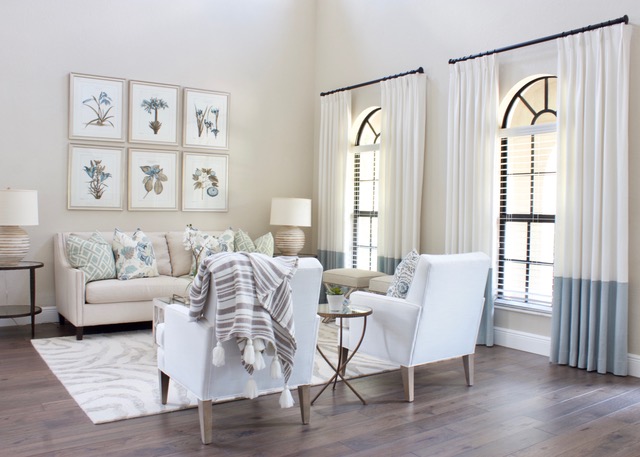 Photo courtesy of Rayana Schmitz
Most eDesigners offer a small, medium and large package option. Based on the eDesigners I surveyed, packages ranged from $150 to $2,000. Rayana Schmitz of Firefinish Interiors in Broward County, FL, says, "This process is a lot more cost-effective since we are not typically implementing it for the customer and the number of revisions is limited. I would say it is about one-third of the cost per room."
The Process Bears Similarities to Traditional Design
It begins with client communication and understanding their needs and expectations. The next step is often a mood or concept board, which may include beautiful 3-D renderings, space planning, a shopping list and a detailed "how to" guide, depending on the package one purchases. Some even offer a physical "Room in a Box" service and ship the eDesign package with the plan, renderings, fabric and paint samples in a beautiful, branded box. If the thought of technology terrifies you, there is an entire cottage industry of people willing to create renderings for you.
Photo courtesy of Shelby Novak
Shelby Novak with Novak Design Co. in Toronto, Ontario, says her typical process begins with a questionnaire and obtaining dimensions and photos of the space. That leads to the mood board presentation or other services contingent on the package the client purchases.
eDesign Doesn't Mean Your Client Is Trying to Cheap Out
In fact, Missy Borgen of Custom Interiors & Design in Thief River Falls, MN, always suggests custom elements, such as windows treatments and pillows. The client may blend stock goods with custom items, resulting in a one-of-a-kind room. (See photo below.)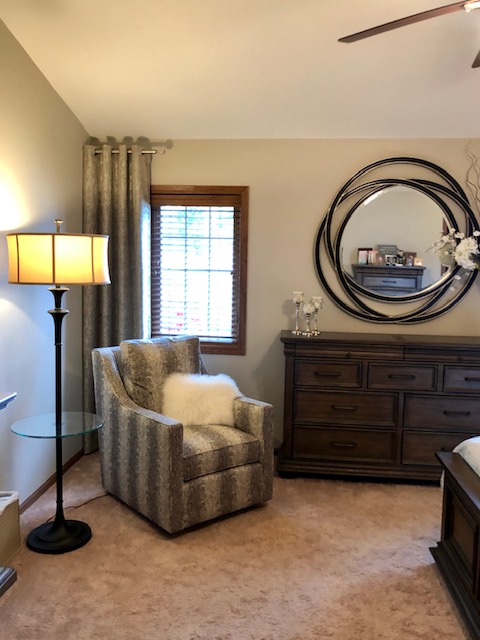 Borgen recommends workrooms and custom window treatment specialists consider adding this service to their mix for increased revenue. Many of the eDesign companies that failed last year were offering packages for $79 or less. You deserve more than that, so charge accordingly. If technology is not your forte, do not charge your client for your learning curve. Keep prices fair, as you will get faster every job you do.
Experience Level Varies
Mary Ann Benoit of Northern Lights Home Staging and Design in Seward, AK, began as a traditional interior designer and continues to work with local clients. She has expanded her services to include eDesign, and many of her clients are professionals or people who are newly retired. Eliane Munza does not have traditional design experience but offers eDesign while pursuing her design degree. Tina Guevara, founder and principal designer of Juliette Sebastian Interiors in Bergen County, NJ, has over 10 years of experience in traditional design; however, she has seen an increase in eDesign work and expanded her offerings. She plans to continue to do traditional design, as her local clients still benefit from those services, but is excited about reaching a broader geographical area.
So whether you are just starting or looking for a new revenue stream, eDesign may be exactly what you are looking for.

JoAnne Lenart-Weary has been creating beautiful rooms for over 40 years. She has appeared on HGTV and ABC and is a frequent speaker for The Decorating and Staging Academy, WCAA, the International Association of Home Staging Professionals and many other organizations. JoAnne founded The Decorating and Staging Academy in 1999 and has taught thousands how to create beautiful rooms through decorating and staging. JoAnne will present a workshop on eDesign at the International Window Coverings Expo, March 25 to 27 in Charlotte. She is also the trainer for the Window Fashion Certified Professional color certification course and will give a super session on home staging.