Making smart window coverings more accessible than ever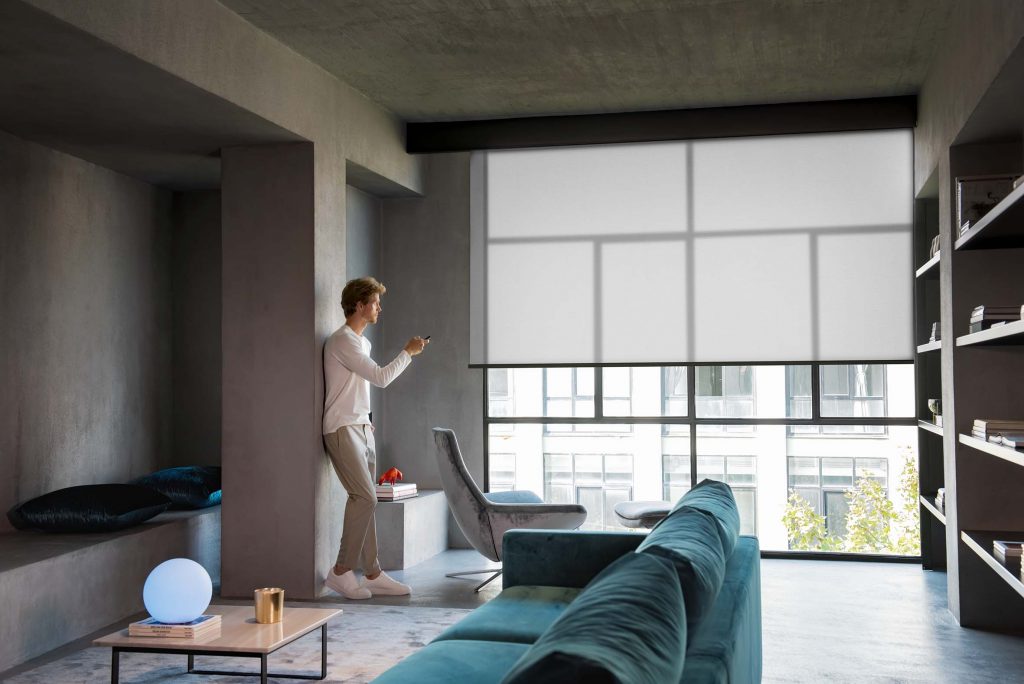 Enter the Netherlands, October 8, 2021
Global window coverings specialist Coulisse and smart home specialist Eve Systems announced that MotionBlinds, the smart technology for window coverings by Coulisse, will add Eve MotionBlinds motors with Apple HomeKit technology starting in early 2022. Eve MotionBlinds are the first motors on the market to support Thread, drastically simplifying installation, automation and control of motorized blinds. Starting with roller blinds, Eve MotionBlinds will be distributed through a network of Coulisse resellers from early 2022. Eve MotionBlinds motors for curtains, Venetian blinds and cellular shades will become available later.  
Future-Proof Thanks to Thread
Because Eve MotionBlinds does not require a proprietary bridge and supports Bluetooth and Thread, setup is completely intuitive: Just scan the HomeKit setup code with the iPhone's camera. When HomePod mini or the latest Apple TV 4K are present as border routers, Eve MotionBlinds automatically join the fast and reliable Thread network. 
"With the integration of Thread, Coulisse and Eve take a head start on the connected home future that awaits the blinds industry," says Christiaan Roetgering, owner and CEO of Coulisse. "By enabling installation, automation and control directly on the iPhone, Eve MotionBlinds are the perfect complement to our fully integrated window coverings offering."  
Jerome Gackel, CEO of Eve, adds: "Not only is Thread the third native protocol used by Apple HomeKit, complementing Bluetooth and Wi-Fi, it will also be a cornerstone of Matter, the smart home standard of the future that is currently being developed by Google, Amazon, Apple and numerous IoT manufacturers. Thread is sure to become the new standard in low-power home networking. And as every Thread-enabled Eve accessory can support the Matter standard, our new Eve MotionBlinds motors are a future-proof choice for consumers." 

Eve MotionBlinds Benefits 
Simplicity is the main driver behind MotionBlinds, and blinds powered by Eve MotionBlinds motors perfectly exemplify this value. As they don't need a proprietary bridge and support both Bluetooth and Thread, setup is super easy: Simply scan the HomeKit setup code with your iOS device. If a Border Router is present, which for HomeKit over Thread is the HomePod mini or the new Apple TV 4K, Eve MotionBlinds will join the Thread network automatically.  
Putting the blinds on autopilot is effortless, thanks to on-device, network-independent schedules that can be created in the Eve app. And through HomeKit Scenes and Rules, the blinds seamlessly and securely interact with other HomeKit accessories, like light bulbs, thermostats, motion detectors and other sensor-based accessories. 
Just like any Eve accessory, Eve MotionBlinds are designed to safeguard user privacy. Like most applications, all data and intelligence are stored locally on the motor instead of relying on a cloud. 
Availability & Requirements 
Roller blinds powered by Eve MotionBlinds motors will become available from Coulisse resellers in early 2022. Eve MotionBlinds motors for curtains, Venetian blinds and cellular shades will become available later. 
Eve MotionBlinds require an iPhone or iPad with the latest version of iOS/iPadOS 14 or later. Controlling HomeKit-enabled accessories automatically and away from home requires a HomePod or an Apple TV (4th generation or later) as a home hub.  
*** 
About Thread
Thread is a technology developed specifically for smart home applications to better connect devices with each other. HomeKit products can communicate not only via WLAN or Bluetooth, but also via Thread. The big difference is that, through Thread, a mesh network is established. Intelligent lights, thermostats, sockets, sensors, etc., can also talk to each other—a Thread network is not dependent on a central node, such as a bridge. If one device fails, communication takes place via the next one.   
    
About Matter
Matter was jointly developed by Amazon, Apple, Google and many leading smart home manufacturers such as Eve. The goal is that no matter what smart home device you buy, you can integrate it into your existing system at home—be it HomeKit, Alexa, Google or another. Thread, along with WLAN, is one of the pillars on which Matter is built. If you buy a Thread-enabled device from Eve today, it will support Matter in the future. This also applies to Eve MotionBlinds.  
***