In 2003, the first National Window Covering Safety Month was created by the U.S. Consumer Product Safety Commission, the Window Covering Safety Council and independent retailers. Their efforts to raise awareness of the dangers window covering cords pose to children resulted in the creation of National Window Covering Safety Month during the month of October.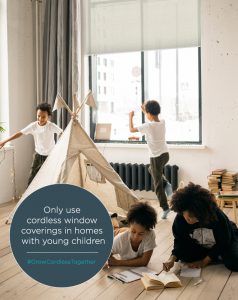 The Window Covering Safety Council was founded in 1994, as a group of major U.S. manufacturers, importers, and retailers of window coverings. The council is dedicated to educating and offering consumers resources about window covering cord safety.
86% of Consumers are aware of Window Covering Cord Safety Hazards for children and pets.
Child and pet safety month is about all home risks, not just window coverings. The Window Covering Safety Council urges parents and caregivers to check around the entire household for safety hazards.
Rollease Acmeda prides itself on being one of the first organizations to participate alongside the Window Covering Safety Council in 1997.
View the extended child safety message from Derick Marsh here
KEEP CHILDREN AND PETS SAFE WITH THESE CHILD-SAFE WINDOW COVERING TIPS
A few tips to keep in mind when creating a child-safe window solution:
Install cordless blinds or those without cords that are accessible to small children.
Replace corded blinds with cordless or automated shades.
If the cord cannot be replaced, these tips can help keep kids safer.

Keep window covering cords out of reach of children and pets, eliminate cords that dangle past the windowsill.
Move all beds, cribs, couches, furniture, and toys away from windows and window covering cords. Windows are the 5th most dangerous hidden home hazard.
Ensure all tasseled pull cords are as short as possible and out of reach.
Continuous-loop cords on draperies and vertical blinds should be anchored to the floor or wall.
Ensure that cord stops are properly installed and adjusted to limit the movement of the inner lift cords.
Teach your kids cord safety. If your children are old enough to understand, teach them the hazards of window cords. Accidents involving window cords happen with children up to the age of eleven.

Consider replacing window coverings one window at a time. Retrofitting and replacing shades can be an expensive endeavor to take on all at once. Replace window coverings where children and pets spend most of their time, first.
CHILD SAFE SOLUTIONS BY ROLLEASE ACMEDA
Eliminate the need for cords altogether with our innovative shading systems that are compliant with ANSI regulations provided by the industry.
Safety Tags & Labels
Window covering manufacturers are obligated to provide warning labels and communicate any potential hazards of window coverings. These are a few examples of a standard warning label in compliance with the American National Standard of Corded Window Covering Products (ANSI) regulations and standards.
US Tags & Labels
Canada Tags & Labels
Instructions on proper Label/tag usage
SAFETY GUIDELINES AND ORGANIZATIONS
There are many resources available to further educate on the importance and seriousness of child safety in the window covering industry. Here are a few invaluable resources to learn more about current regulations and support you in the movement to go #cordlessforkids.
Join us in posting your Child Safe solutions this month using the hashtag #GrowCordlessTogether. We'll share your projects with our Social Media network of over 6400 followers on Facebook, LinkedIn, and Instagram!
https://www.rolleaseacmeda.com/us/latest-news/latest-news/october-is-national-window-covering-safety-month-_us?