Having the right hardware can make or break a window covering project. But beyond just the physical hanging of window treatments, hardware can add elegance, convenience and uniqueness to a space. It's no wonder that plenty of people have a soft spot for this category. Heading into the new year, we examine trending looks, products and materials.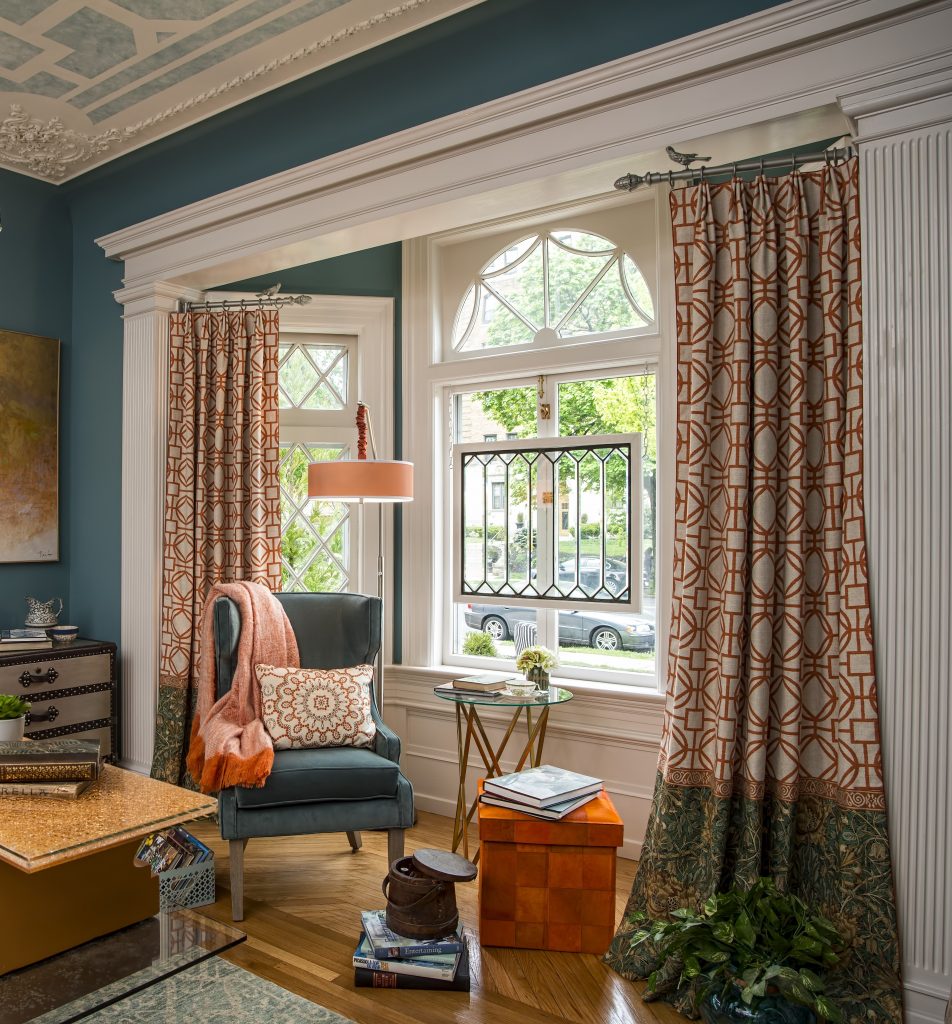 Carrie Oesmann, owner of BailiwickInteriorDesign.com, a full-service, online, interior design company in Bethlehem, PA, designed and specified these dramatic drapes for the front parlor of a circa-1890 property with beautiful architectural details. The room functions as a sitting room and home office and provides a stylish yet timeless space for the homeowner. Window treatments fabricated by Hamilton Home. Custom hardware with bird detail by Orion Ornamental Iron. Photo by Marisa Pellegrini.
Simple and Refined
As is true of window treatments themselves, modern consumers seem to prefer simple hardware. "Smaller, more refined styles are trending," says Sarah Frost, brand manager for Kirsch Drapery Hardware, a division of Turnils North America. "Generations across the board are looking for simpler designs and more neutral colors to complement their décor. Simple styles allow for more versatility." Kirsch's classic Designer Metals Collection continues to grow in popularity year after year, which reflects this desire.
"Our clients seem to be leaning toward clean and simple," says Larry Kaufman with Morgik Metal Designs. "The older, ornate wrought iron designs are not very popular right now."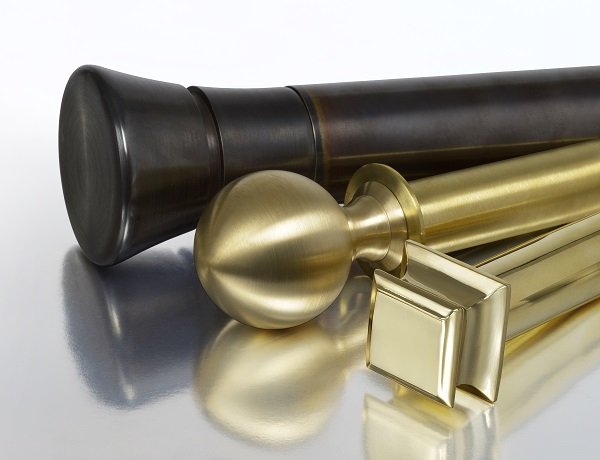 The minimalistic movement isn't completely dominating the U.S. According to Lisa Nicholl, senior vice president of sales and marketing for JF Fabrics, the farmhouse, vintage and modern classic genres are pushing some people to consider more ornate, standout hardware made with less traditional materials and materials, such as acrylic rods mixed with metal or "aged" wood rods with postindustrial metal finials. And there are still some parts of the country where people insist on larger, more traditional rods and highly decorative finials.
But in cities and with younger people, simple and streamlined is definitely in. "Our Italian Collection is very popular in urban and metro areas," says Sunil Patel, CEO of Orion Ornamental Iron. "Younger populations like the clean, simplistic look for hardware. There is a trend toward transitional and contemporary."
Rods Versus Tracks
In general, rods are becoming less popular as people move away from stationary panels and toward more modern looks. "It seems that traversing systems are what we are selling most often," says Cali Cochran, national account manager with Forest Drapery Hardware. "The benefit to the traversing decorative metal rods is that you can have extremely long, heavy-duty rods but can still bypass though the brackets." Track systems, too, are seeing much higher sales as more people request motorized window treatments.
Rods are still selling, but when they are used, they tend to be smaller than they used to be. "Our bestselling rod sizes are 1 inch, 1¼ inch and 1½ inch," says Patel. "Note the smaller diameters than the traditional 13/8-inch and 2-inch diameter."
Rods are getting wider as windows grow in size, but they're also getting smaller in diameter, says Glen Tyson, products division supervisor at Merrill Y. Landis. "I'm hearing customers really don't like the look of a big bulky rod. They want to see as little as possible of the pole hardware."
To that end, the company has developed a side panel rod that staff also refer to as a floating panel rod. "It's the greatest illusion in drapery side panels," Tyson quips. "We make simple rods for just side panels that, when you hang pleated drapes, you don't see any hardware. This is great because you don't have to decide on any hardware that is going to distract from the beauty of your drapes. You only see the drapes. Hence, the appearance the panels are floating in midair."
"Architectural influences are leading to new shapes in rods, rings and finials, including squares, thin H rails, rectangular and square rings, and cubist-shaped finials," says Patel. "Round and square poles are popular for us." Also selling well is the Modern Barn Rail Track. Inspired by sliding barn door hardware, the traversing mechanism sits on a rail pulley, allowing the rings to traverse easily with minimum effort.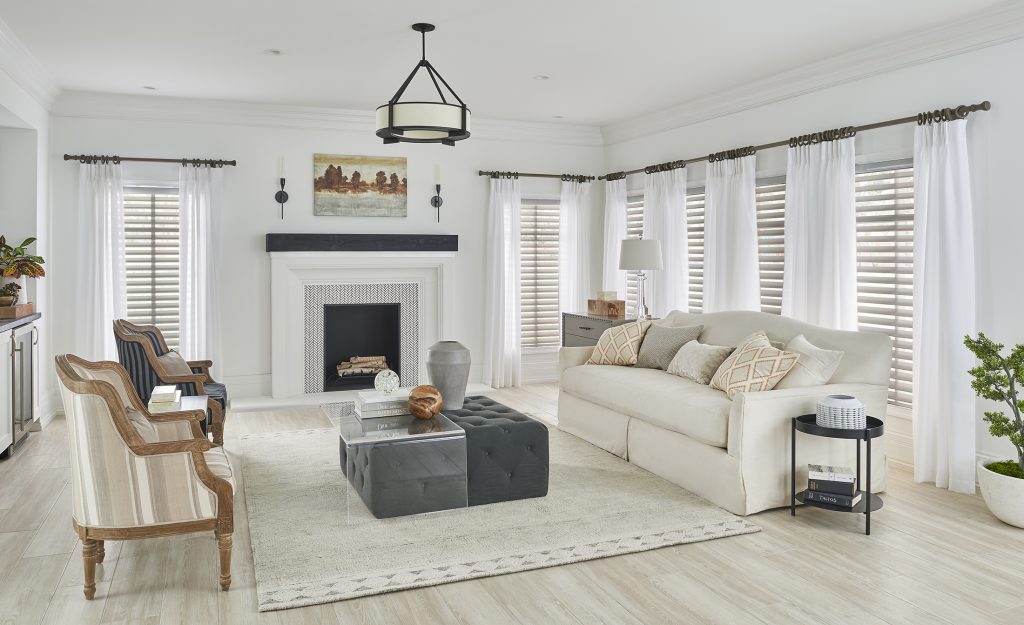 Finials or French Returns
The move toward less ornate designs is reflected in finials too. "Our bestsellers are the simple finials and rods," says Kaufman. "Our custom disc finials and balls are always popular."
Kirsch's bestselling finials are the classic ball styles or simple shapes, according to Frost. Orion's customers want crystal products, those with simple, clean shapes, and components with architecturally inspired designs.
"Trending finials seem to be contemporary and simplistic. Many customers will go with an end cap, leaving a clean end," says Cochran. "Another trend is replacing a finial with a French return. Everyone loves the French returns."
Thomas Berry, CEO of Helser Brothers, agrees. "More and more designers and consumers are opting out of finals altogether and gravitating toward beautiful French poles. Traversing French poles are one of the hardest items for us to keep on the shelves." Aside from the look, consumers seem drawn to the ability to traverse around the bend and have the drapes fully cover the windows.
Material Questions
When it comes to hardware, clearly acrylic is a winner. "Acrylic collections and crystal finials play to the whole transparency trend in consumer behaviors," says Patel. Consumers want clear answers to questions such as where products come from and how they're made. That mindset has a literal and figurative impact on their design purchases.
Acrylic fixtures with metal or metal-colored rings, finials and other components are a big hit right now. As acrylic become more common, watch for them to come with pieces painted with colorful metallics or lacquered with steel blues, reds and warm neutrals instead of the more traditional metal finishes.
Metal hardware is also in high demand. "Decorative metal is our bestseller for decorative hardware," says Cochran. "Darker finishes such as oil-rubbed bronze, graphite and black are flying off the shelves."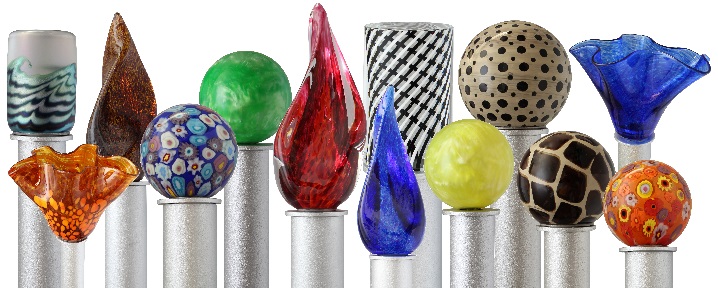 "We continue to see steady demand for our iron products," says Karl S. Keishold, president of Ona Drapery. "Soft silver, warm gold, minimal gray, as well as the old standby, black, are all very popular right now." Morgik is seeing the greatest demand for its black steel and hand-finished polished and tarnished brass hardware.
Consumers can also "have it all" thanks to the continuing interest in mixed-media hardware sets. Patel lists a few popular examples: matte black poles with gold rings and finials; satin brass with chrome; wood poles with crystal finials and brass collars; or unfinished wood poles with blackened steel brackets and finials, which is a nod to the ongoing popularity of the industrial look.
Wood hardware remains a steady or even slightly declining category. "More and more orders are coming in requesting metal, whereas wood used to be very popular," says Tyson.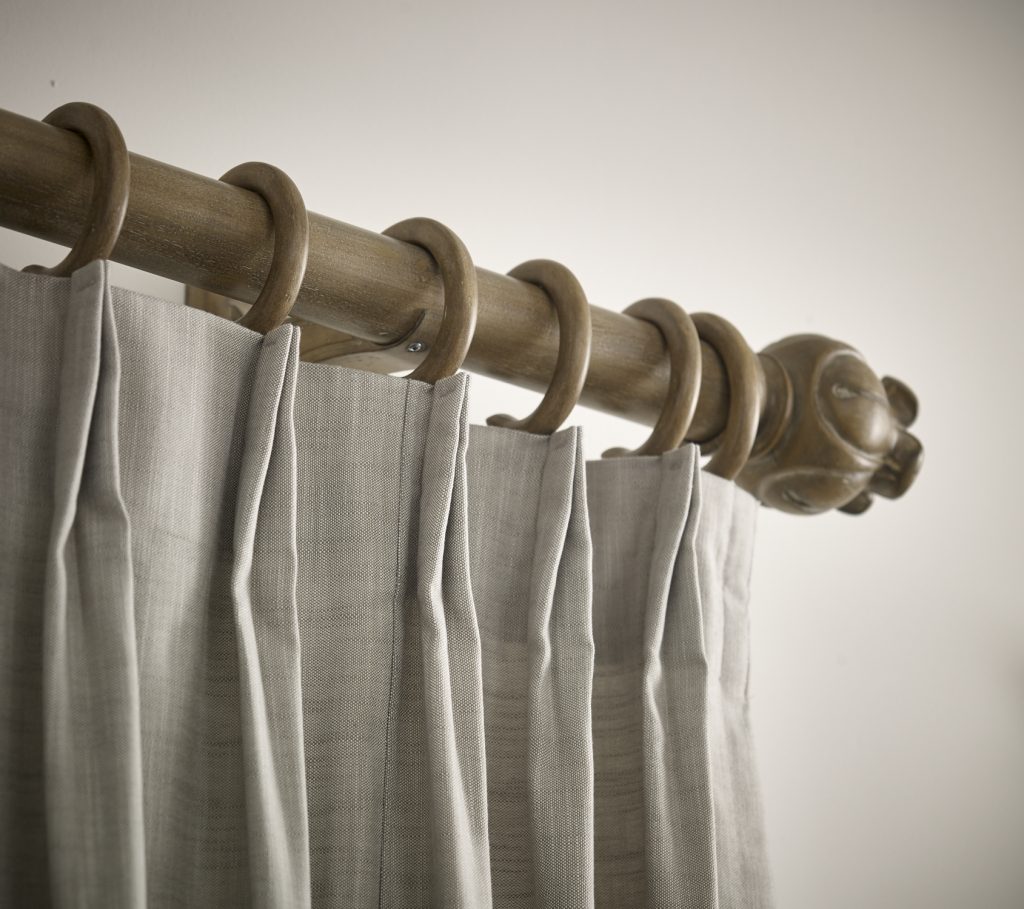 When modern-day consumers request wood, Nicholl says they want material that is weathered and rustic rather than smooth and refined. In terms of color, "earthy browns and caramels are moving up the trend curve with French oak and blonde and washed woods," says Patel.
Interestingly, Berry notes that Helser Brothers hasn't seen much of a difference between sales of metal and wood hardware. "I attribute that to the finishes we use because there are some wood finishes that you would be hard-pressed to tell it wasn't metal, except for the warmth of the wood and the weight." Products with flecks of other colors and materials are selling well, as well as those with earthen finishes.
Motorized Hardware
Motorization is the macro trend that runs through all of this. Companies continue to see high demand for motorized products, and they're responding with new offerings on a regular basis.
In general, companies are seeking to make motorized products more convenient for homeowners and designers and more affordable. "One feature customers love about the motorized rods is the touch-control feature," says Cochran. "This feature allows you to still operate the draperies if the remote has been lost, as well as if the power goes out." Forest's newest motorized system is RMS, which has a recess motorized system that allows for a clean, finished look by keeping the motorized rod flush with the ceiling. Its FMS basic track and Dresden decorative metal collections are its bestselling products.
"Kirsch launched Briza Motorization in 2019 and continued to improve the designer-friendly track in 2020," says Frost. This plug-and-play-type product allows designers to install motorized drapery tracks in their clients' homes very efficiently. They're also easy for workrooms to work with because draperies are made the same way for the motorized rods as they are for standard cord-traversed drapery rods.
Orion, which has a partnership with Somfy to sell its Glydea tracks, recently became the only U.S. source for the Movelite 35 motor. This product is meant to be highly affordable and is available with the track only or with Orion's decorative fascias.