By Susan Schultz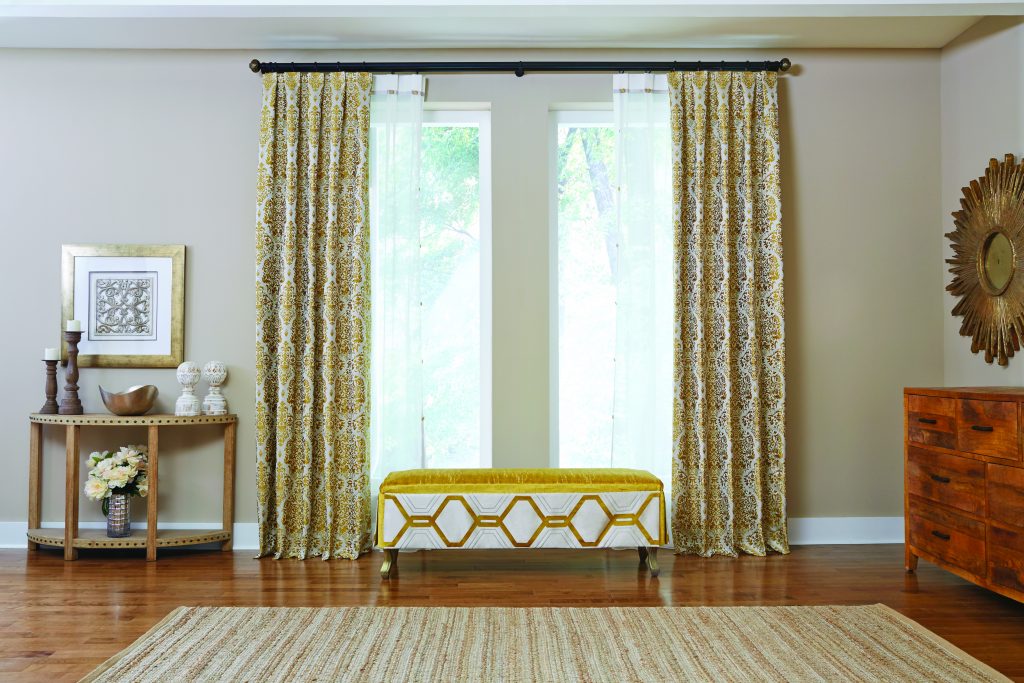 Photo courtesy of Rowley Company
Most often, when designers are asked what takes a custom window treatment from "really nice" to "over-the-top fantastic," the answers focus on trims or hardware. But while those are among the most eye-catching accessories we can use at the window, there are other important factors to consider. Let's face it: We've all seen gorgeous trims and stunning hardware that still couldn't make up for a poorly–designed or poorly–made window treatment.
The windows should be the first and foremost consideration when it comes to window treatment. Martha's Vineyard Window, for example, will assist you in designing and customizing windows to your liking. Once that is done, you can start thinking of a window treatment that would uplift your mood as soon as you look at it.
Curtains may not go everywhere if the aesthetics of the whole house setting do not compliment it. Tinted or frosted windows are gaining much interest as part of window treatment these days. Many individuals are hiring companies like Frost Shades (a Residential Window Tinting Film in Nashville, TN ) to get their home decorative and custom window films designed to provide privacy and security.
As we all know, creating a beautifully designed and executed window treatment is a lot of work-whether you're working solo or as part of a team. So we've asked a relatively wide spectrum of design professionals what they think are some of the key components and finishing touches that take a window treatment from the low end of the design spectrum to the high end.
Trending Styles
Clean, simple and tailored is still the biggest trend that I am seeing in window treatments. But you are seeing a lot of layering of textiles in the window, like roller and roman shades complemented by coordinating drapery treatments or designed to blend seamlessly with a matching wallpaper style. There's also a move toward bolder colors and patterns, incorporating lush fabrics and textures into streamlined window designs to complement the room. -Mikala Moller, director of marketing, Rowley Company
Curtain styles have changed immeasurably over the years, with fullness and thickness varying with the passing years. The curtain headings favored these days tend to be very structured and formal compared to the softer forms of the past. Many clients and designers are still requesting the "wave" taped heading, and we now offer a hand-sewn one which has no visible stitches to the front. Its popularity follows the pared-back and more architectural style of interiors still prevalent in the U.K. -Gillian Sinclair, owner, Sinclairs Soft-Furnishings Ltd.
The last couple of years showed a steady rising of classic contemporary style, which showcases modern, clean lines mixed with classic elements in a very limited, mostly neutral color palette. This style represents timeless elegance, more focused on textures and finishes rather than colors and patterns. The window treatments-curtains and blinds in linens, silks or faux silks-are in neutral colors with borders and trims to give a classic appeal. -Monika de Silva, owner, Monika de Silva Designs
Trending Hardware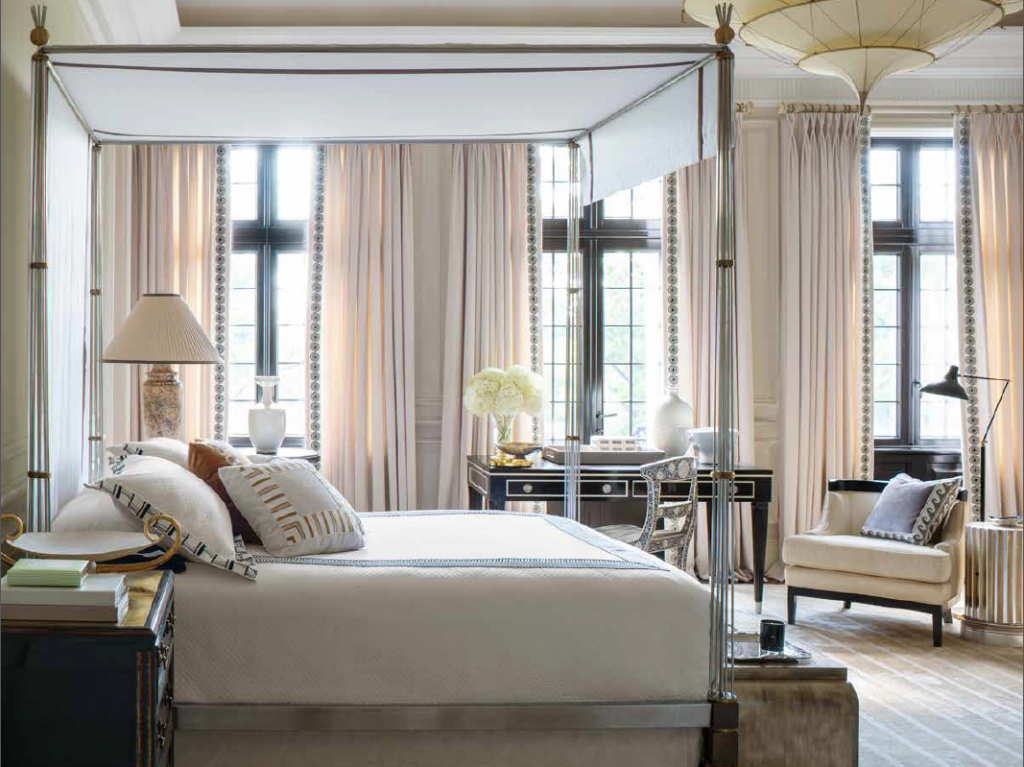 The American market tends to be drawn to more minimal applications. Even with the automated and technologically–advanced offerings in the market, many still want the traditional drapery rod application. The most popular is a return bracket or French return because more often than not a seamless, clean look is preferred. The American market is having a bronze/brass/goldtone moment, and some of our most popular finishes are antique brass or polished or matte brass. The European market does not seem to be experiencing this trend as prominently, as silver, chrome and nickel are still the most popular choices. -Mary Meisenzahl, U.S. sales manager, Houlès (see photo above)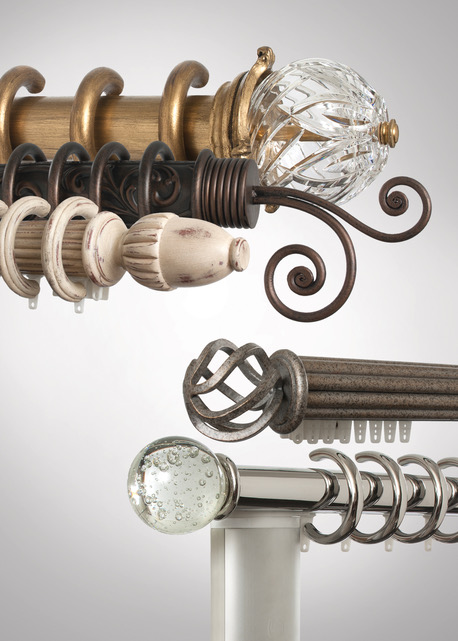 We're seeing a lot of mixedmedia looks, and by that, I mean metal and crystal, or acrylic and iron, or iron and wood. There's also been a move to warm metallics, with brass in both polished and antique versions especially strong. And, of course, the fashion-influenced trend of rose gold is still big. These warmer metallics tend to look their best with a shimmering surface treatment-not high gloss-but something subtle to allow these metallics to truly shine. -Sunil Patel, CEO, Orion Ornamental Iron, Inc. (see photo at left)
Metal decorative drapery hardware still leads the category with a growing preference toward modern finial designs and accessories to support the clean and tailored look that is on–trend. Soft gold and brass finishes are still very popular, but we're seeing increased requests for acrylic poles, finial designs and accessories. Another key look is mixed media: the mixing of metal finishes and metal with wood to create more customized, layered and textured looks with the hardware. -Mikala Moller
Trending Trims
Since the classic contemporary style rarely uses strong colors or patterns, tiebacks and tassels have followed suit and become simple, more focused on textures and finishes. New and innovative materials are being used to create tassels, including leather, glass and metal. These tiebacks are statement pieces in their own right. My first pieces were made with faux shagreen and they became an instant hit, and even today it is the most popular finish and texture among my clients. -Monika de Silva
Neutrals continue to be the go-to for most clients, with navy and ivory being the "leaders" of the leading edge for us. But that doesn't mean basic, as within this palette they're specifying trims that feature a lot of texture and beading. -Paula Queen, owner and designer, Pyar & Co. (see photo below)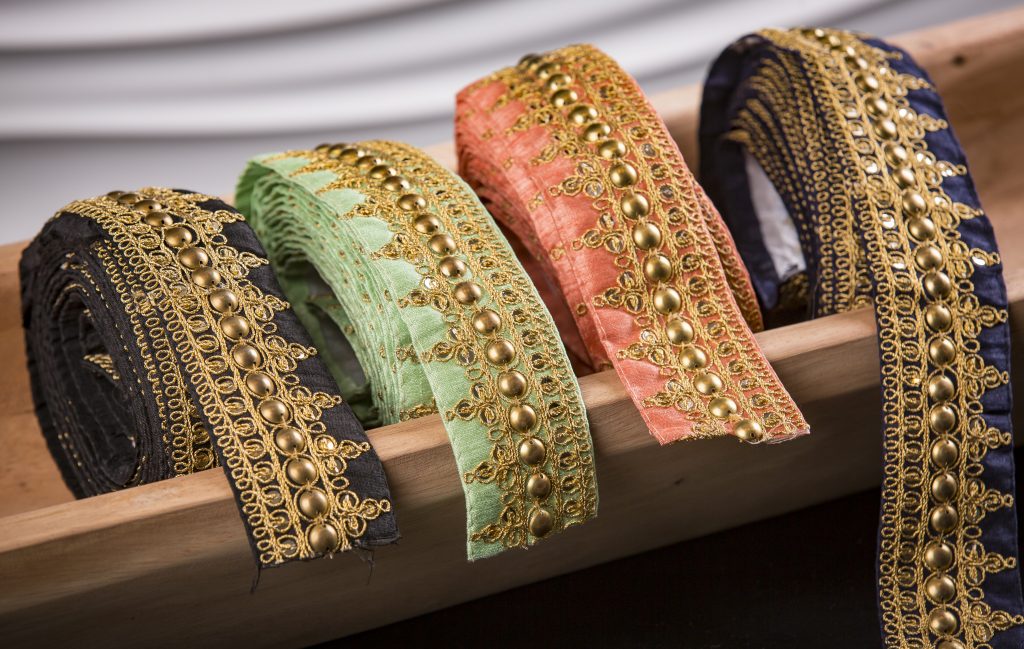 Classic swags and cascading side panels in the grand European tradition always featured a wealth of trimming. While these elaborate looks will always remain popular for a certain audience, simpler looks demand more contemporary trim options. So perhaps a richly–detailed flat braid, but only that braid on the leading edge. Or tassel and brush fringe, but in a restrained, sober color palette. There are many ways of reinventing classic designs to make them relevant for today's interiors. -Jérome Declercq, design director, Declercq Passementiers
The American market tends to be more reserved with trimming use than the European market. In Europe, you see trim used in more elaborate ways, doubled up or layered. Here in the U.S., cords and tapes are most commonly used and they tend to be used in more predictable ways, as welting or along a leading edge. But what used to be a simple item is now more decorative with raised embossed designs, cut-outs and varying textures. The sizes have grown too, with tapes now being 6 inches or larger. -Mary Meisenzahl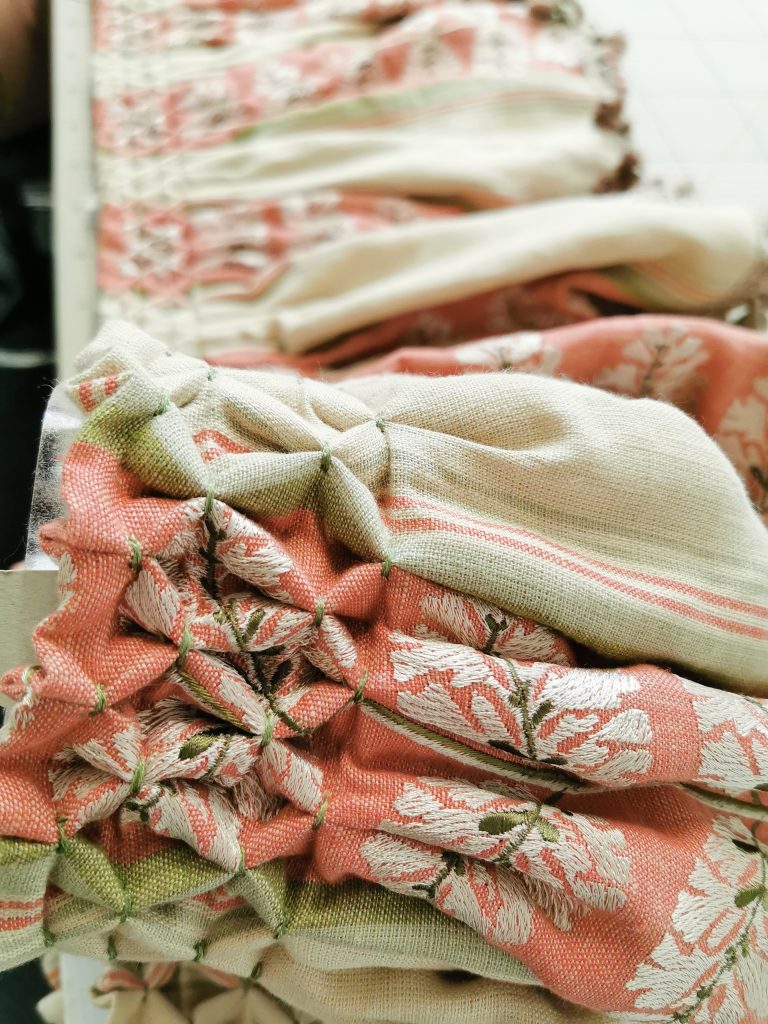 Luxurious Styling Tricks
A hand-sewn pleat is, to me, the mark of an exceptional curtain panel. One of my favorite pleats at the moment is an inverted triple pleat, which looks similar to a cartridge pleat but has enough fullness within it to allow easy dressing of the curtains. -Gillian Sinclair (see photo at right)
I think one of the most forgotten drapery items is drapery tiebacks, they are much less common today than they were 10 years ago. We do see them returning to popularity but I think many clients prefer a more simple look, and often a simple cord or braid tieback is chosen. -Mary Meisenzahl
Delivering an "Over-the-top" Window Treatment
First of all, choose a good-quality fabric. Some soft furnishing fabrics have the most amazing color or pattern, but either they don't drape well or they don't pleat well. Secondly, find a great curtain maker who has a lot of experience and a lot of references. Technical knowledge and experience can turn a simple piece of fabric into a focal point. And lastly, get a custom tassel tieback made especially for the project that reflects the style of the room. Do not merely use curtain fabric. -Monika de Silva
The design must be unique but appropriate, with materials and execution of the highest quality. And, of course, trimmings must be an integral part of this design! -Jérome Declercq (see photo at left)
Collaboration between the designer, the workroom and the installer is really the key component in creating "over-the-top amazing" treatments. If you have the right team, each function will contribute to creating unique window treatment designs and solutions that will guarantee a cohesive process from concept to installation with stunning results. -Mikala Moller
Double up on the trim. For example, when applying a beaded trim, add a soft neutral cording on either side. This both enhances the sparkle and creates a more versatile look.
Create a finished cutting sample. Although you can lay the trim on the fabric when applied, it can sit differently on the fabric, or maybe the trim is not a "full coverage" piece and a portion of the fabric shows through. Having a finished cutting sample ensures that the trim and fabric create the look you and your client are looking to achieve.
You can also design your own trim! Custom trims and leading edges are a large portion of our business. Provide us with a design you would like to have created as a trim, and for a small fee, you can have a completely custom trim. And the minimum yardage to do this is reasonable, even just a couple of yards. -Paula Queen