Leading window covering specialist Coulisse unveils plans to invest €50 million in a brand-new campus with the latest smart technology and robotic breakthroughs.
November 1, 2022 – To celebrate 30 years of innovation and growth, proud family-run business Coulisse has revealed its future vision to build a brand-new Coulisse Campus in the Netherlands. A hub for inspiration, pioneering, collaborating, and staying ahead of the game for employees and partners alike, creative minds, smart technology, digitization, and robotics will interconnect seamlessly to deliver the most forward-thinking solutions for the window covering industry worldwide.
Plans for the state-of-the-art Coulisse Campus unveiled
The dream of a new Coulisse Campus of 70,000 square meters was unveiled at the new location, the Elsmoat business park in Enter, at an official press event on October 27. The new billboard, revealed by founders Christiaan and Maurice Roetgering, showed an artistic impression of the new complex. Phase one will be the construction of the first building—a 15,000-square-meter warehouse 13 meters high, of which 2,000 square meters will be automated—which is planned for completion in 2023. Phase two will be to build a fully automated highbay warehouse of 7,000 square meters, where RFID (radio frequency identification) will be in use. Plans are also in place to produce hydrogen with solar energy at this new location to reduce the company's ecological footprint.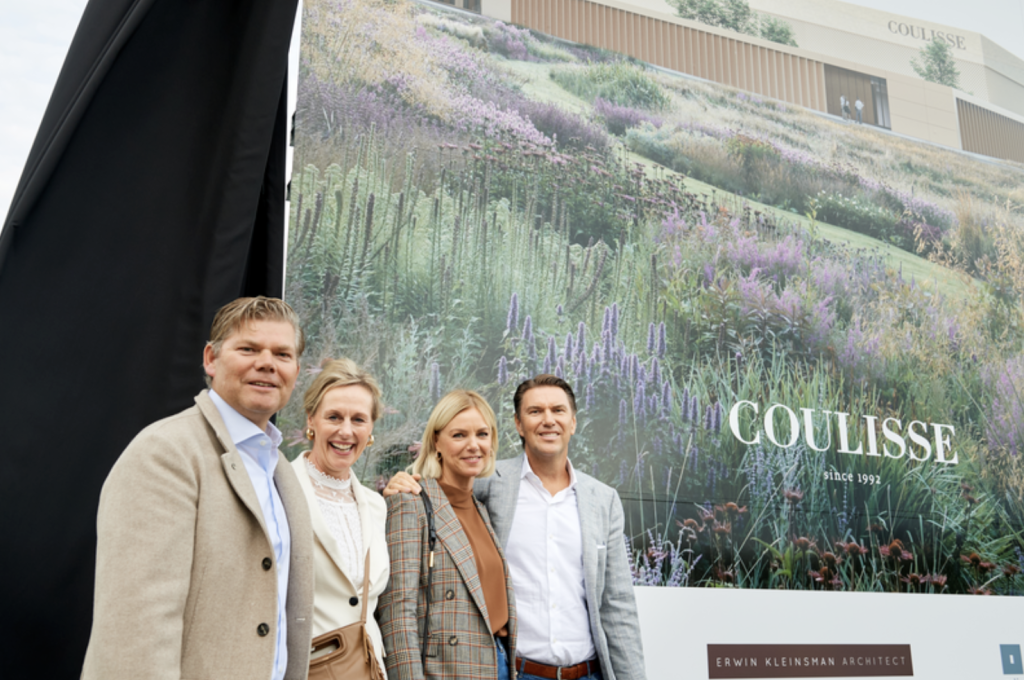 Worldwide expansion: Americas and Australasia
Coulisse is celebrating success across the world. Earlier this year, the company proudly celebrated the opening of its new 50,000-square-foot office, showroom and warehouse in Miami after 10 years of growing success on American soil, followed by the opening of its brand-new Sydney office and showroom a few months later. Now, Coulisse services all corners of the world to ensure that customers get exactly what they need with local presence.
Matter-ready Eve MotionBlinds smart technology
After successful launches this year at global tech events CES in Las Vegas and IFA Berlin, the new smart technology concept Eve MotionBlinds, developed by Coulisse in collaboration with smart home specialist Eve Systems, has been transforming the smart home window covering world. Already working with Apple Home thanks to Thread, it is now ready to work with Google Home, Amazon Alexa, Samsung SmartThings and other smart devices with the new phenomenon Matter. This universal smart home connectivity standard, being developed by the world's leading tech companies, has been recently released. Enabling any homeowner to easily set up and control a smart home with all devices being able to communicate together. 
With smart home connectivity, security, heating, energy saving and health being trends to watch, the smart blind market is being heralded as the next big thing that will revolutionize households and buildings across the world. Making life easier, safer and more convenient while saving energy at the same time. And thanks to the support of Thread and soon Matter, Eve MotionBlinds is the most advanced smart home solution currently available on the market.
Trailblazing robotics
Following on from the success of MotionBlinds smart technology, this year sees the fruition of the new robotic machinery that in-house engineers at Coulisse have been working on over the past few years. This new robotic assembling machinery will optimize production processes by making the production of pleated blinds 80% more efficient and save on CO2, making it a game-changer for Coulisse and its assembling partners.
"With creativity and innovation in our DNA, we listen, think out of the box and always push the limits in design and technology. We aspire to be the Tesla of our industry by engineering window covering solutions that utilize the latest smart technology with the most sophisticated designs. Still down to earth and very proud, we continue to build strong partnerships and look forward to realizing our dream of a new Coulisse Campus—the go-to place for window coverings experts around the world," said Christiaan Roetgering.
Strong social corporate responsibility for the local environment
Since 1992, Coulisse has always had a strong social responsibility with several ventures in place to preserve the local heritage and environment, including renovating the historic farmhouse called "The Pearl of Twente" dating back to 1630 and restoring the Reggedal nature reserve near the Coulisse headquarters, which is a huge source of inspiration for the company and its fabric collection Living Beauty. New generations can enjoy the biodiversity of flora and fauna, including wildflower restoration from the Dutch wetlands.
"It's incredibly rewarding to build a company and watch it grow over the last 30 years. Expanding with talented people in new locations around the world and building a brand-new Coulisse Campus and doing all this whilst preserving our precious heritage and local environment. Our mission will always remain the same: keep developing, revolving and giving back to society—now and in the future," said Maurice Roetgering.
Climax of the 30th anniversary celebrations
As the pinnacle of the 30-year celebrations, Coulisse has produced a beautifully crafted coffee table book: Living Beauty. Made in collaboration with renowned fashion photographer Jasper Abels, this book captures images of the wildlife of the Reggedal countryside over a year. Along with a 30 Year Anniversary Journal featuring interviews with Christiaan and Maurice Roetgering, Jasper Abels, and creative director Catharina Idema. 
— end of press release —
Information for the press   
Click here to download high-resolution images and information: images
About Coulisse 
Since 1992 Coulisse has been developing window coverings for the residential and commercial market. To bring its products to the world, Coulisse works together with a network of trusted partners. The extensive range of Coulisse window covering solutions stands out for its innovative design, appeal, and great functionality and includes systems, fabrics, and motorization. The entire Coulisse range is developed at the Coulisse headquarters in the Netherlands.  
www.coulisse.com  
For more information about this press release, please contact: 
Mariët Buld
PR Coulisse
Coulisse B.V.