FOR IMMEDIATE RELEASE
Phily Austria, Marketing
North Hollywood, CA– Orion Ornamental Iron is pleased to announce the launch of their Virtual Storefront on StyleRow, the global digital design center for the design industry's top luxury brands and makers. It's no secret that technology is changing the way we design and do business. Orion has taken the next step in becoming an omnichannel brand by tapping into StyleRow's game-changing design tools. Discover Orion's decorative drapery hardware 24/7 with instant access to custom options, transparent designer pricing, and more! Save Orion products to your projects and curated libraries, then use StyleRow's impressive client dashboard for lightning-fast approvals. You'll love sourcing us whenever and wherever you're working.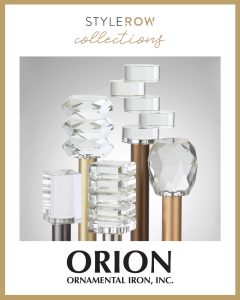 At Orion, customization is our specialty, our craftsmen turn your ideas and specifications into reality. Whatever your material of choice – iron, wood, metal, or crystal- expect innovative, high-quality drapery hardware products to-the-trade. Whether you are a traditionalist or contemporary is your design vibe, our expert hand finishers can match or compliment your fabrics, paint, or inspiration piece, creating the ultimate custom hardware set. 
For more information, images and details visit www.ironartbyorion.com or email marketing@ironartbyorion.com
About Orion Iron Art
Orion Iron Art was founded in 1983 and now supplies workrooms, designers and window covering specialists across North America with custom drapery hardware under the Iron Art™, Wood Art™ and Design Art™ brands.  As a design-led provider of drapery hardware, our philosophy has always been to build all our products in-house and to locally source our materials and parts. We design, forge, fabricate and hand finish all our products in our North Hollywood facility. We have some of the best and most dedicated artisans creating our one-of-a-kind drapery hardware, and like us, they have a passion for the process. What makes our brands special is our team's pride of ownership, desire to produce decorative hardware to exacting standards and most of all, our perfect marriage of hand-crafted tradition with modern manufacturing.
About StyleRow
Based in Beverly Hills, CA and founded by entrepreneur, Erinn Valenich who brings her visionary thinking, savvy business acumen as a brand, designer and showroom owner to StyleRow. StyleRow's trade-only platform enables designers, brands, and showrooms to connect and collaborate to accelerate projects and grow their businesses.